Plenty to love about Leadership Plenty
By Holly Tate
 "The most dangerous leadership myth is that leaders are born – that there is a genetic factor to leadership. This myth asserts that people simply either have certain charismatic qualities or not. That's nonsense; in fact, the opposite is true. Leaders are made rather than born." – Warren G. Bennis
Like most worthwhile things in life, becoming a good leader requires hard work, not just good genes. The more time we spend learning about and developing the characteristics of leaders, the greater our capacity to lead and serve others. Becoming a leader in Waco is all about taking our citizenship to the next level by becoming thoughtful, creative problem-solvers and visionaries for our communities. The LeadershipPlenty® Institute-Waco is one of the most impactful learning experiences available in our community for those who are interested in their personal leadership development and understanding of the diversity and complexity of Waco.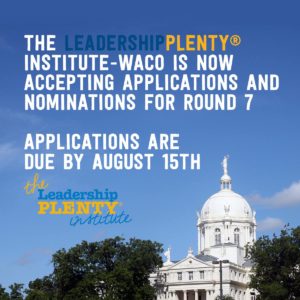 This FREE six-month program offers individuals the opportunity to develop and enhance leadership skills to become better leaders to work more effectively within their respective organizations and the greater community. When I participated in the program in 2015-2016, I loved getting to meet people from all different walks of Waco life and hear their perspectives and passions about the challenges facing our neighborhoods and organizations. I learned very quickly that there were not always neat and tidy solutions to addressing these complex and ambiguous challenges—and that's ok! Through relevant readings, case discussions, introspective exercises, engaging speakers and panelists, group discussion, and networking opportunities, we all gained a broader understanding of leadership best practices, organizational culture and dynamics, and gained a deeper appreciation of our vibrant and changing community. While the topics we discussed were extremely relevant to Waco, they also challenged the way we approach national and global issues because they gave us a skill set that was so much bigger and more impactful than just a localized approach.
My friend, and fellow LeadershipPlenty graduate, Megan Pike really enjoyed and appreciated the module on Communicating for Change, which taught us about effective press releases and engaging the media. This was a really practical session that has helped her in her professional work as she consider rolling out new programs and how to best engage the media regarding these programs. But it was the final session, Facing the Challenge of Racism and Race Relations
That was most profound for her. "Watching a portion of RACE: The Power of an Illusion has totally rocked my world to the point of sending me on a pilgrimage to better understand our nation's history around civil rights and race relations. I have been able to share this video series with a number of people with the hopes of spreading awareness and inspiring people towards acts of conciliation around race relations."
When I think back on my LeadershipPlenty experience, I think of all of the ways that it has helped encourage me to use my skills and talents to engage with my community in new and creative ways. Being a part of LP has also connected me with a network of peers and mentors representing both for-profit and not-for-profit organizations, as well as community and school volunteers, retired individuals, people who are new to our community who are all passionate about our city, it's capacity for awesomeness, and the active role each of us plays in making Waco wonderful for years to come.
If this sounds like something you'd like to experience for yourself, The LeadershipPlenty® Institute-Waco is now accepting applications for it's 2017-2018 cohort! Apply by Tuesday, August 15th to be a part of this unique (& FREE!) opportunity
Visit www.todaysactiontomorrowsleaders.org  to learn more. Questions? Contact Catherine Haynes Bauer, Director of Leadership Development and Engagement at Waco Foundation, at [email protected].
---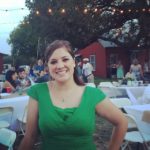 Holly Tate has called Waco home since 2009, and is a 2016 graduate of the LeadershipPlenty Institute-Waco. She is the Assistant Director for Missions at Baylor University—engaging faculty, staff, and students in opportunities to actively integrating their faith with service and learning all around the world. As a result of LP, she got connected to Act Locally Waco as a place to use her PR skills, and now volunteers behind the scenes for Act Locally Waco as our social media guru.  
 The Act Locally Waco blog publishes posts with a connection to these aspirations for Waco. If you are interested in writing for the Act Locally Waco Blog, please email [email protected] for more information.