Welcome to Waco, Dr. Nelson! I think you'll be glad you came.
By Ashley Bean Thornton
A few weeks ago I attended a welcome and "get to know you" reception for our new Waco ISD Superintendent, Dr. Marcus Nelson.  The event, sponsored by the Waco NAACP and the local chapter of educator sorority, Phi Delta Kappa Inc., was a terrific success.  Dr. Peaches Henry, NAACP president, told me they had put out 50 chairs before the event – by the time Dr. Nelson rose to speak they needed 200. Dr. Nelson made some fans for himself that night.  His introductory speech was masterful:  full of  humor, passion, challenge and confidence. His speech wasn't exactly a sermon, but there were plenty "amens" from the congregation as he shared key elements of his educational philosophy.
A few days later I happened to be walking out of a different meeting with school board member Norman Manning.  I told him I thought they might have hit a homerun with Dr. Nelson, and Mr. Manning agreed.  As we were talking, though, he mentioned some other conversations he has had about our new superintendent.  He told me several people had been asking, "Well, if he's so great — why does he want to come HERE?"
Why here?  I don't know Dr. Nelson yet, and I can't read his mind, but I can think of at least three big reasons why a superb educational leader in the prime of his career would want to come to Waco, Texas.
First, if you believe in the power of education, Waco is exactly where you want to be.   Sure, there are probably easier places to work.  But, for someone who believes in the power of education, that's not where the action is.  There are school systems with more money.  There are schools where the students have more advantages. There are probably even some schools where, honestly, the students are going to be fine if you are even a moderately competent educator.  But, where's the sport in that?  The purpose of public education is not to perpetuate the status quo.  The purpose of public education is to perpetuate the dream – the dream that a person, any person, starting from any circumstances, can work hard and achieve and build a good life.  Waco is a place where "the rubber meets the road" when it comes to that dream. Waco is a place where educators make a huge difference in students' lives every day.
Second, there is plenty to build on in Waco.  I'm an outside observer, I know, but I have some favorites: The Income Tax Prep program at the A.J. Moore Academy at University High; The Greater Waco Advanced Manufacturing Academy (GWAMA), the Greater Waco Health Career Academy (GWACHA) and the new Construction Sciences Academy; the fine arts programs including the amazing musicals; our support for homeless students…the list goes on.   We have terrific students at WISD.  When they are given the opportunity, they can knock your socks off.  We also have some terrific educators who are working and innovating every day to give them those opportunities.
Finally, the community of Waco needs a strong school district and we know it. I get phone calls and emails regularly from people who are moving to Waco and want the "inside scoop" on living here. I have not had one of these conversations yet that did not end up being a conversation about school districts.  These conversations reinforce for me what we all already know: Any community that expects to thrive must have a strong school district…and Waco expects to thrive. Our community has shown it is willing to join in the work of building up the school district.  Through community-wide efforts such as the Education Alliance (now a part of Prosper Waco) we have been rallying support for years. Organizations such as Avance and  Communities in Schools, tutoring programs sponsored by a variety of churches and community groups and numerous individual volunteers stand ready to help.
In 2015 our community showed its support for WISD by passing a Tax Ratification to direct new financial resources into the district – resources that have been used to improve literacy programs; to explore and implement positive, effective ways to work on behavioral issues; and to provide outstanding dual credit opportunities to WISD students.
Certainly, Waco ISD has its challenges. We also have the wisdom and the will to face those challenges head on.  By all accounts, Dr. Nelson did his homework before accepting the job as superintendent of our school district.  I think he saw a terrific opportunity in Waco, and was smart to jump on it.
For the first day of school the Waco NAACP organized a group of us to "greet the scholars" at J. H. Hines Elementary.   As we welcomed the children back to school and wished them a wonderful school year, Dr. Nelson showed up to do the same.  I had the honor of introducing him to Pastor Pam Rivera of St. Luke A.M.E. Church.  She welcomed him warmly to Waco, and as he acknowledged the welcome he lowered his voice a bit to say seriously, "We have a lot of work to do."  She didn't hesitate in her response, "and plenty of people who want to help."  Amen, Pastor Rivera!
Welcome to Waco, Dr. Nelson.  Hard work pays off!
---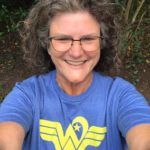 This Act Locally Waco blog post is by Ashley Bean Thornton, she has lived in Waco almost 20 years now.  Far longer than she ever lived anywhere else.  She likes to walk. If you see her out walking, honk and wave and say "hi!" 
 The Act Locally Waco blog publishes posts with a connection to these aspirations for Waco. If you are interested in writing for the Act Locally Waco Blog, please email [email protected] for more information.
(Visited 31 times, 1 visits today)