Exhibit on Women in STEM Fields Opens at the Mayborn Museum!
By Emily Carolin
This fall, the Mayborn Museum at Baylor University will host the exhibition, Find a Way, Not an Excuse: Women in STEM.  Focused on the lives of 19 women and their contributions to science, technology, engineering, and math fields, the exhibit also includes women with local connections. This project would not have been possible without the initial idea and input of Courtney Berge and Valencia Johnson, recent alumnae of the Baylor University Museum Studies Graduate Program. 
What is STEM?
STEM is shorthand for Science, Technology, Engineering, and Math.  These sectors work together to expand human knowledge and make the world a better place. Women have contributed in STEM fields for generations, often without credit. Some female leaders were discouraged by fellow scientists, and pushed out of research projects. Even without the recognition, their accomplishments live on today. This exhibit highlights some unfamiliar women who changed the world.
As we focus on pioneering innovations in STEM, we hope to inspire a fierce desire to learn continuously, and through perseverance allow curiosity to lead to discovery. We celebrate these female STEM leaders and are excited by all that remains to be discovered.
Here are a few female pioneers with a Baylor connection.  Come to the museum to see more national names and some amazing medical drawings by Ruth Sanders! 
Dr. Cornelia Marschall Smith
In 1895, Cornelia Marschall was born into a family well-versed in the practice of the sciences. She graduated from high school in three years, taught in a one-room schoolhouse, and entered the Baylor pre-medical program in 1915. Dr. Smith came back to Baylor, serving as Chair of Biology and Director of the Strecker Museum (now the Mayborn Museum Complex) from 1943-1967. While at the Strecker, her primary objective as museum director was to make sure the materials in the museum were used as teaching tools. Students in the biology department were required to attend demonstrations in the museum, and teachers used items from the collection in their classrooms. These practices continue today at the Mayborn.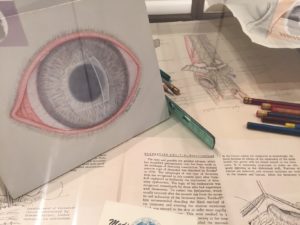 Ruth Maxwell Sanders
Ruth Sanders was a skilled medical sketch artist and wife of Strecker Museum Research Associate and herpetologist Ottys Sanders. She assisted as the illustrator for many of her husband's publications, and maintained a successful business herself. In her position at Southwestern Medical College (UT Southwestern), she worked with physicians to produce high-quality surgical illustrations. This allowed the physicians to teach precise methods to their students. Her collection of medical drawings and art supplies were given to the Strecker Museum and show a strong understanding of the human body. 
Dr. Allene Rosalind Jeanes
If you enjoy ice cream, salad dressing, toothpaste, or gluten-free baked goods, then you probably owe a word of thanks to this Baylor alumna who was recently inducted into the National Inventors Hall of Fame. Jeanes made discoveries in the science of mass production of polysaccharides (large sugar-chain molecules), including dextran and xanthan gum. Today, xanthum gum is commonly used in foods like ice cream, condiments and gluten-free breads, and in cosmetic, automotive, and healthcare products. It keeps substances like oil and vinegar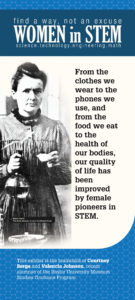 from separating, and prevents ice crystals from forming. 
Dr. Beverly Griffin
Earlier this year, Beverly Griffin passed away and medical and research communities around the world mourned her loss. She came to Baylor from her hometown of Delhi, Louisiana, and after graduating with her degree in chemistry, she went on to earn doctoral degrees from Virginia and Cambridge. In 1972, Dr. Griffin joined the Imperial Cancer Research Fund Laboratories in London. While there, she made a major contribution to science by completing the genetic sequencing of the mouse polyoma virus. With 5,293 base pairs, the virus was one of the longest ever sequenced when she finished it in 1980. She went on to become the first female professor at the Royal Postgraduate Medical School at London's Hammersmith Hospital, where she dedicated much of the remainder of her career to studying the Epstein-Barr virus. 
Dr. Hallie Earle
As a teen, Hallie Earle tracked Central Texas temperatures for decades. Baylor President Oscar H. Cooper praised Hallie for her mathematical abilities, suggesting that she could become a math teacher. Earle, however, sought to challenge gender roles by pursuing a professional career in medicine. Her quality of work was so widely appreciated that a copy of her thesis was placed in the cornerstone of the Carroll Science Building in 1902. Born in 1880, Earle was the only female in the class of 1907 at Baylor University Medical School in Dallas, and later became Waco's first female physician.
---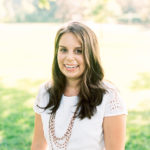 Emily Carolin is a Yankee living the grad school life in the South. She can often be found: devouring books and baked goods, wearing clogs, and wandering in museums. Emily is a graduate student at Baylor University, works at the Mayborn Museum Complex, and just completed her an internship in changing exhibits at the Mayborn.
The Act Locally Waco blog publishes posts with a connection to these aspirations for Waco. If you are interested in writing for the Act Locally Waco Blog, please email [email protected] for more information.
(Visited 13 times, 1 visits today)