Changing the Game by Levelling Up
By Liz Ligawa
Waco has been my home for a while now, but I am still learning how much there is to this beloved city.  For instance, did you know that there are an estimated 700 non-profit organizations in Waco?  I know- that's a lot, but it's not necessarily a bad thing.  With the existence of so many non-profits, I don't question that Waco is a community that cares.  It shows me that there are many people and organizations working to make the lives of Wacoans better.  However, I am curious about a few things.  And as a result of my curiosities, I approached my work toward improving the lives Wacoans differently, and would like to share a few lessons I have learned along the way from the "What's Up, Waco?" community visioning series.
Lesson 1: Ask powerful questions.
I have just reached my one year anniversary with Prosper Waco, and as the collective work of community change has continued, I have often been asked about the community's priorities around this work.  What I quickly learned is that many of us in the non-profit world were interested in an answer to a question that we were not really asking.  So this year, the Prosper Waco Community Engagement Council and I focused on bringing forward community priorities through a three-series long conversation: "What's Up, Waco?"
If you were to walk in on one of these events, you might mistake the DJ's tunes, the green leis, and the hopeful atmosphere to be someone's family reunion you stumbled upon.   That would be a fair assumption, but don't overlook what is really going on– the hard work of casting a vision and building a team around that vision.
The question that started the conversation was, "What are the results you want to see?" It may not seem like a powerful question, but it is not a question we frequently ask. Whether we are working with individuals, groups, or communities, I've learned that it is always appropriate to ask.  The charts below map out where each community has decided to focus their work: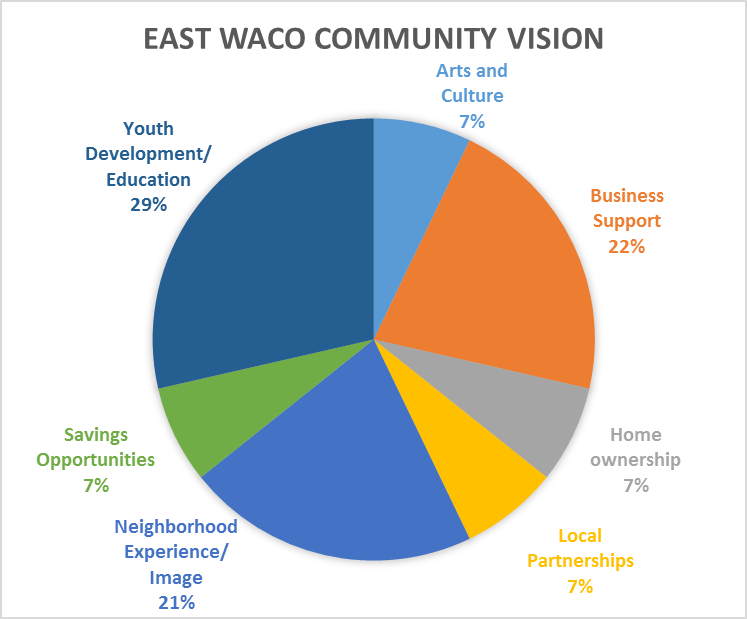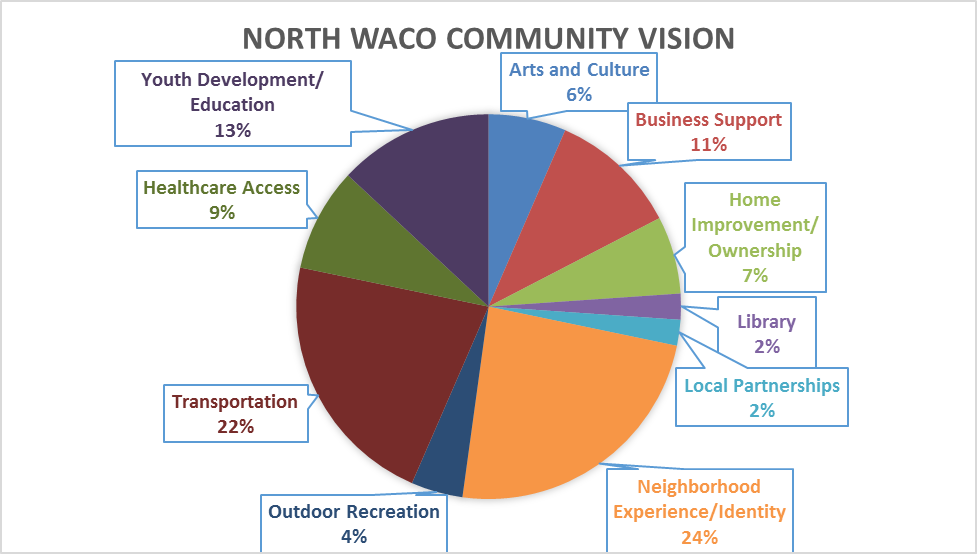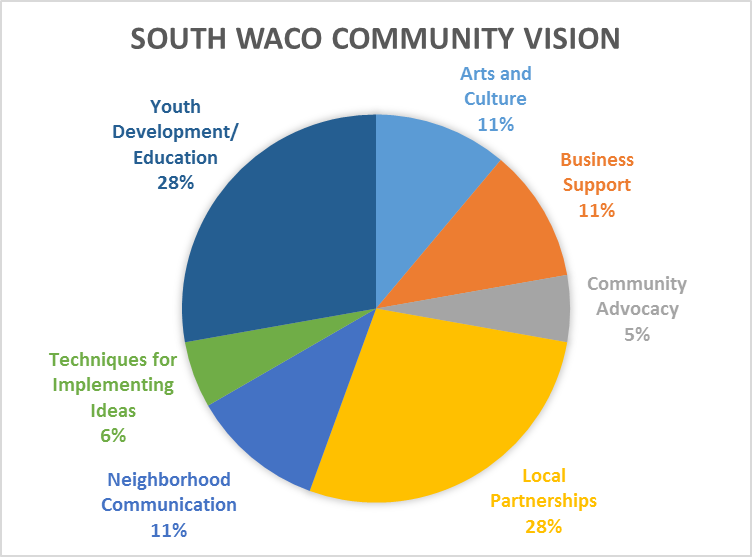 Lesson 2: Pity doesn't help us listen- Empathy does.
In the field of non-profit work, and other helping professions, we find ourselves in a bit of a quandary sometimes.  We are drawn to this work because of the change we want to see in the world, but often our desire to see change in the lives of people and communities paints a certain picture in our minds about people.  We tend to see people through what data says about them, or their community.  We receive messages about people as we look solely at the schools in their communities.  We subscribe to narratives about people without even having to think about it.  Messages are constant.  Messages contribute to our understanding of people.  Messages can be completely wrong.  Try Googling the word "pregnant" and look at the images that come up.  Now, put the word "poverty" in front of the word "pregnant" and hit search.  Look at the images.  Do you notice a difference?
I work with people in communities who bear heavy burdens of the stories that precede them before they even have a chance of showing up.  Stories that are heavily influenced by an outsider's perspective.  Stories which play a role in every interaction.  What learning has been affirmed for me in this series is that if I want to work with people, it is my responsibility to continually work at checking my biases and my pity (of whatever nature) at the door.  To commit to the hard work of listening to truth, I must listen with empathy and not pity.  When we engage people with pity, we run the risk of not affirming the agency of that person to contribute toward their own solutions for change.  When we lead with empathy, we open ourselves up to learn.
Lesson 3: People are amazing- We need to level up!
When I decided that my own answers to other people's problems would not create the change I hope to see in our community, I was afforded the opportunity to learn a lot more about the historical narratives and processes of change each community has been through.  As they reflected on the history of their community, and started putting together strategies toward their vision, I learned how powerful truth is in the work of restoring our communities, and how important it is for that truth to be heard.  In fact, 98% of more than 100 participants that have participated in the visioning so far responded "Agree" or "Strongly Agree" to the survey items: "I feel like my voice was heard", and "This information was helpful to me, and/or my organization".  So, this last lesson is about my part, our part, in coming together.  I leveled up by becoming proximate to the beautiful people and communities I hoped to see change in.  I leveled up by listening to the truths they shared.  And I leveled up by choosing to see what great things already exist, and what greater things we can create together.
Will you continue to level up with me?  Our last series, "What's Best?" will focus on putting the finishing touches on the vision, and finalizing the team that will carry this work forward.  These communities are putting in good work, and change is on the way because of it.  But it started by asking the right questions first.
What's Best Series Event Information:
Saturday, Sept. 9, 11:00 a.m. – 2:00 p.m., at Doris Miller YMCA
Saturday, Sept. 16, 11:00 a.m. – 2:00 p.m., University High School Café
Saturday, Sept. 23, 11:00 a.m. – 2:00 p.m., TBD (we will send you information soon with the location!)
For more information about What's Up, Waco?, you can send me an email at [email protected].
---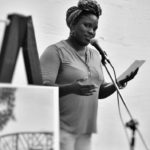 Elizabeth Ligawa is a recent graduate from Truett Theological Seminary, and the Diana R. Garland School of Social Work, earning both her Master of Divinity, and Master of Social Work.  Though her prized role is being a mother to her dear son, Elijah, Liz has a love for encouraging people to come together in ways that engender healthy communities.  Her role as the Director of Community Engagement at Prosper Waco allows her the room to work in and among the many faces of her beloved Waco community. She may be reached at [email protected].
The Act Locally Waco blog publishes posts with a connection to these Aspirations for Waco. If you are interested in writing for the Act Locally Waco Blog, please email [email protected] for more information.