By Rolando Rodriguez
Pumpkin spice lattes and Halloween decorations aren't the only things back this fall season. The 2018-2019 FAFSA (Free Application for Federal Student Aid) is NOW available.
FAFSA is a federal application for ALL current and prospective college students that is used to determine how much a student is eligible to receive in need-based financial aid, such as the free Pell Grant.  The FAFSA is used to collect information about a student's family income and other household information.  This information is used to determine a student's expected family contribution (EFC). The EFC number that is generated is used to determine how much financial aid for college the student is eligible to receive.
FAFSA is more than just an application for Pell Grant. It is also used to determine loan eligibility as well as eligibility for need-based scholarships and state grants.
Many separate scholarship applications, especially those with a financial need component, will ask for information from your FAFSA. Essentially, FAFSA is one application that opens multiple financial aid avenues.
To help guide you through the financial aid process, below are 10 tips you should consider before starting your FAFSA.
1. FAFSA doesn't actually start with FAFSA. – FAFSA begins with creating a Federal Student Aid ID (FSA ID) for both the student and the parent at fsaid.ed.gov. The FSA ID is essentially a username and password that the student and parent will use to log in to the FAFSA and sign the FAFSA electronically.
You will need unique email addresses for the student and parent, since your FSA ID is attached to your social security number.
If a parent already has an FSA ID from when they were in college or from an older student that has previously started college, then that parent will continue using the same FSA ID.
2. Go to the correct website. – Be sure to go to the correct website for FAFSA—fafsa.ed.gov.  Some sites that are similar to the official, government FAFSA website, will ask the student to pay a fee in order to submit the application. You should NEVER have to pay for FAFSA. It is in the acronym—FREE Application for Federal Student Aid.
3.Use the IRS Data Retrieval Tool. – FAFSA will ask for both parent and student tax information, specifically the 2016 tax return.
Consider the IRS Data Retrieval Tool (IRS DRT) on the FAFSA your own personal, virtual tax accountant. The IRS DRT takes all of the hard work out of your FAFSA by directly importing your tax information from the IRS into your FAFSA.
4. Correctly define your dependency status. – In addition to financial information, FAFSA will also ask about household information, starting with determining the student's dependency status. Most students will be using their parents' tax information, but there are a few situations that can classify a student as independent. In the cases where a student is considered independent, the student does not need to report any parent information.
Please review the dependency flowchart below provided by the Federal Student Aid Office: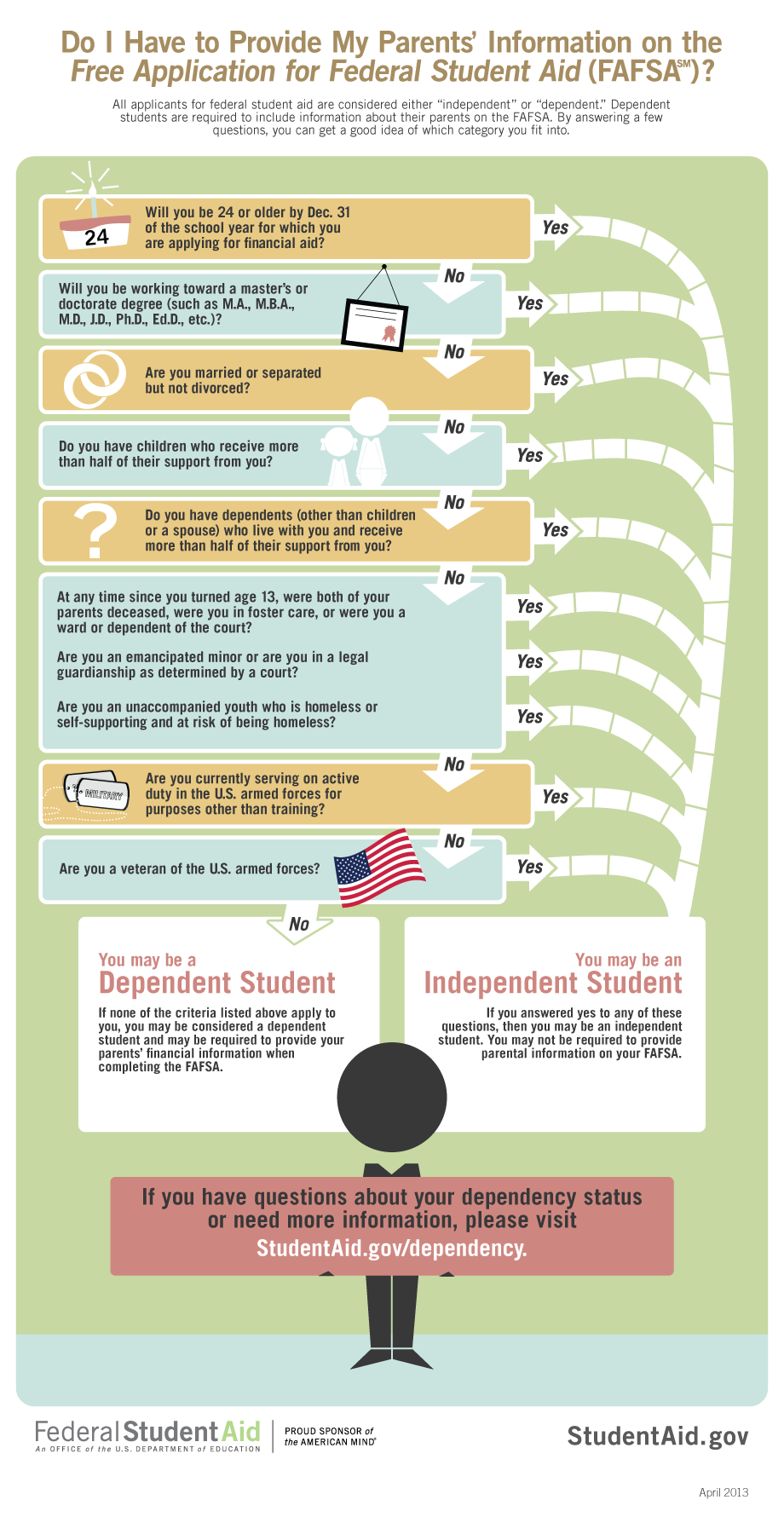 5. List multiple schools on your FAFSA. – If you're not quite sure what school you want to attend yet, you can list up to 10 schools on your FAFSA.  You could potentially receive an award package from each college listed, and you can compare which college offers you the more advantageous financial aid package. However, you will only receive financial aid packages from the colleges to which you were accepted for admissions.
6. Correctly report your financial information. – Unfortunately, the IRS DRT does not answer every financial question for you. One of the more complex questions on FAFSA is regarding assets. Since parents are seen as having more financial responsibilities than a student, their assets won't impact a student's financial aid eligibility as much.
However, for a student, any funds in their checking or savings account will be considered funding for college. Federal Student Aid will assume you do not need as much financial aid if you have a large sum generally over $500. Contact the MAC College Money Program for more information about reporting assets. Please contact Rolando Rodriguez by email at [email protected] or phone at 254.752.9457. Office hours are Monday-Friday from 9:00 a.m. to 5:00 p.m.
7. FAFSA doesn't actually end when you click submit. – After you click submit on your FAFSA, you will receive your confirmation page with your Pell Grant eligibility. Do not assume you are finished with the financial aid process.
Some students are randomly selected for a process called verification, which means the college needs to confirm the financial and household information you submitted in your FAFSA. The college will inform you via email if you need to submit additional paperwork.
Using the IRS DRT reduces your chances of being selected for verification because it is a more official and secure process coming directly from the IRS, so be sure to use the tool if it is available to you.
8. Everyone has to submit FAFSA. – Every student who will be attending college should submit a FAFSA even if he or she is not expecting to receive any need-based financial aid, such as the Pell Grant. Most colleges will not award the student any loans, academic scholarships or even athletic scholarships until the FAFSA is on file.
9. Don't wait until the last minute. – Do not wait until the last minute to submit your FAFSA or to go through the verification process because financial aid offices tend to be at their busiest right before the beginning of the school year. Don't be the person waiting on hold on the phone for an hour. It's best to have your FAFSA submitted by December 1st to provide enough time to go through an additional processes, such as verification or comparing different award packages.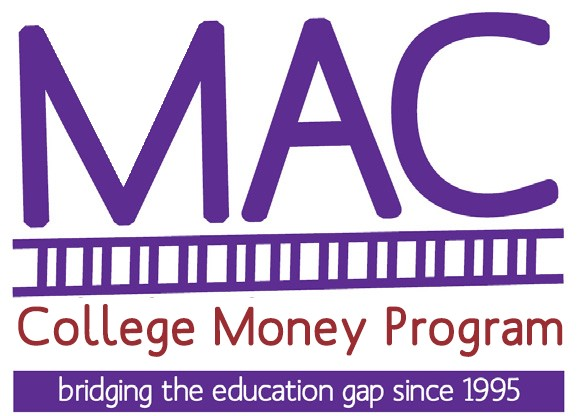 10. The MAC Program is your resource. – The goal of Waco Foundation's MAC College Money Program is to make the financial aid process as easy as possible whether you are a high school senior starting college next year, a returning student or going back after a break. We are available to offer you personalized assistance in submitting the FAFSA and completing the financial aid process.
If you need assistance with submitting your FAFSA, please contact the MAC Program at 254.752.9457 or by email ([email protected]) to set up an appointment at our office. A highly trained FAFSA expert will be available to walk you through the financial aid process. Our services are FREE to anyone!
MAC Grant
In addition to one-on-one FAFSA assistance, the MAC Program also offers the need-based MAC Grant to McLennan County students. The Grant is up to $1,000 per semester for two years at either MCC or TSTC to cover the gap between financial aid received and the cost of tuition.
Students must apply by May 1st of their senior year. The application can be found on our website.
MAC Scholarship
 The MAC Program also offers a third and fourth year MAC Scholarship to those students who were accepted into the MAC Program as seniors in high school even if the student did not start at MCC or TSTC or use the MAC Grant.
The scholarship is a total of $5,000 to be used for the student's third and fourth year of college, and the scholarship can be used at any institution.
MAC Grant recipients should apply for the scholarship by December 1st of their college sophomore year, and they should have a 3.0 GPA and 60 credit hours by the end of their college sophomore year. The application can be found on our website.
---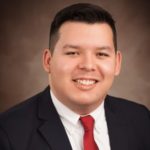 Rolando Rodriguez was raised in Waco, TX, and he graduated with honors from Baylor University with a bachelor of arts in professional writing & rhetoric. He has recently joined Waco Foundation as the MAC & Scholarship Coordinator as an advocate of higher education for all students in McLennan County regardless of financial circumstance.  His role with the Foundation is to help McLennan County students with the financial aid process for college.
(Visited 55 times, 1 visits today)