By George Stonikinis
The importance of spending time with my children was instilled in me by my father who always made it a point to make time to take my sister and me to some museum or an afternoon movie during the long days of summer.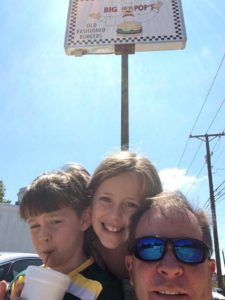 My father is an excellent cook, and he often would whip up some great repast for a summer lunch. However, my fondest memories of those days were of lunches at the "The Steer," a local restaurant in my hometown in Virginia. In answer to my protests requesting a burger at one of the fast food joints, my father always answered, "Nothing interesting ever happened at a fast food place."
Oh how right he was! The entire local color of my hometown would pass before me as Dad and I ate our bacon cheeseburgers with fries (Dad was an onion ring man). Many unspoken lessons were learned in that velvet painting festooned dining room: how to treat people, the wisdom of an old regular who always had some interesting story, or just the life story of Janice, the waitress whose delivery of our food was always accompanied by a strong smell of hairspray. I valued those times with my father. Living 2,000 miles away from him I don't get to share a lunch with him as often as I'd like.
As a teacher, I am blessed with the ability to spend summers with my 7 and 8 year-old daughters. This past summer, faced with the challenge of filling days with indoor activities that would avoid the heat, my daughters and I came up with the idea of The 2017 Burger Tour of Waco.
If you are looking for reviews of our dining experiences, you will not find them here. Initially I had intended to rate our experiences and have even been implored to publish our rankings on social media, but I came to the realization that to do so detracted from our adventure. If we began to evaluate our experience then it began to devalue it in many ways. I did not want our time together to be relegated to a Yelp! Review.
We chose eight locally owned burger joints (no fast food allowed) over the course of the summer. Cupp's Drive-In, Tom's Burgers, Health Camp, Kitok's, Dubl-R, Kims, Captain Billy Whizbang's, and Big Pop's were our chosen destinations for our culinary tour. I will not describe all of our stops and omissions should not be seen as negative reviews. Rather, some of the memories are a bit more indelible than others.
Our first stop was Health Camp, where we partook of a cheeseburger combo with fries and I got to watch their eyes light up as I introduced them to their first peanut butter and chocolate milkshake. As we ate I described to them how long the restaurant had been there and discussed the traffic circle and the nearby Elite Café. It was there that we started our tradition of taking a group selfie in front of the signs of the restaurants.
At Cupp's, one of my daughters let it be known that we were on a burger tour which immediately raised the staff's competitive spirit. They wanted to know what other places we'd visited and how they compared. As they would at Dubl-R, the girl's loved sitting at the counter watching their food being cooked and hearing the stories of the history of the restaurant.
Kitok's was a repeat performance for us as I had introduced them to the place last year between soccer games. They remembered it as the place I had tried to sneak vegetables into their diet via the oriental fries. Sadly, they didn't fall for it this time. We did, however; use the time to celebrate my hiring to a new teaching position. We are still working on the vegetables.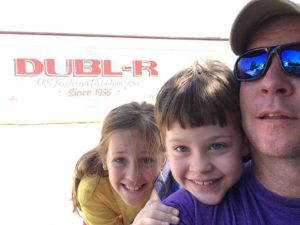 Big Pop's brought an unexpected church reunion as it seemed like half of our congregation was dining there that day. The impromptu gathering along with the juicy burgers, made the place feel like home and the relaxed atmosphere allowed the girls and I to joke and laugh with our friends.
The topic of our summer challenge comes up in conversation sometimes as we plan are for next year's challenge, with taquerias, breakfast places, and sandwich shops in the mix (sadly, vegetables are still not on the list.) My girls seem less interested in the type of food and more so in the time we will spend together. What began as as a simple way to idle away the hours of a hot day has grown into a shared family memory with pictures to boot!
To this day I do not know if my father took us out to lunch just to eat or if he had some deeper, educational motive in mind. I'd like to think that he, like myself, discovered that while life will always teach you a lesson and we will always have food; the time we have with our children is far more precious.
---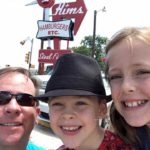 George Stonikinis is a Texas History teacher at La Vega Junior High School. He is the father of 3 daughters, 4 cats, and one crazy dog. A self-described nerd, he enjoys history and metal detecting.
(Visited 45 times, 1 visits today)