HOT P-20: College is what's next
(The Heart of Texas P-20 Council includes representatives from K-12 education, higher education and employers. They meet regularly to help coordinate efforts to launch our young people into productive lives as workers and citizens. This post is one in a monthly series of posts intended to share information about the work of this important group in our community. For more posts in this series, click here: P-20 education. – ALW)
By Christine Holecek
All across Texas, students are finding their voices, setting goals, and taking steps towards securing their own successful futures. Through these efforts, they become an integral part of a growing movement known as Generation TX. These students are what's next for our state. They have the power to become the most successful generation ever.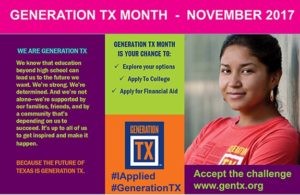 What is Generation TX Month? Generation TX Month combines college admissions and financial aid application efforts into one. Generation TX Month events are designed to take place when schools and community organizations typically host college fairs, financial aid drives, and other college and career-related events. The Generation TX Month provides the perfect opportunity to build on these initiatives around college and career readiness, pull them together to make a broader impact, and expand their reach.
Generation TX Month focuses on getting students, especially those in middle school and high school, thinking about their future with a range of actions and next steps that they can take toward college and career readiness, including:
Prepare (Middle & High School Students)
Career Exploration
Finding a Mentor
Creating a Brag Sheet
College Visits
PSAT, SAT, ACT
Apply (High School Seniors)
College Applications
Financial Aid Applications
College Scholarships
The Heart of Texas P-20 Council believes that achieving college and career readiness allows students to reach their fullest potential. By accepting the GenTX challenge the council is acknowledging the focus on the future of our workforce and encouraging them to focus on their goals for college and career. GenTX also provides a college planning and financial aid guide to help parents and students make decisions about the future.
Student Tools
ApplyTexas – If you are applying to a public two-year or four-year institution in Texas, you will need to complete the ApplyTexas application. This application is available at www.ApplyTexas.org. Once completed, you can use this one application to apply to many schools across Texas.
Applying for Financial Aid – The FAFSA is the primary form you will need to apply for most financial aid
College Major – What College Major is best for you? Find out at MyMajors After taking this assessment, you will be recommended the top majors, colleges and careers based on your academic achievements, interests and personality.
---
Generation Texas Month supports the regional efforts and goals of the 60x30TX Texas Challenge to Reach Higher, an initiative to increase college applications, FAFSA completions, and college readiness across Texas.
---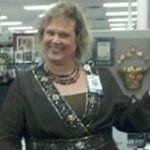 This Act Locally Waco blog post was written by Christine Holecek. Christine is an Education Specialist at Education Service Center Region 12 in Waco. She has worked in the area of Adult Education and Career & Technical Education for the past 25 years. She earned an AAS degree from MCC, a BAAS and Master's Degree from the University of North Texas and is currently enrolled in the Doctoral Program in Educational Leadership and Policy Studies at Tarleton State University.
The Act Locally Waco blog publishes posts with a connection to these aspirations for Waco. If you are interested in writing for the Act Locally Waco Blog, please email [email protected] for more information.