The Artist's Gift of Love
By LuAnn Jennings
I'm a theatre director, and recently I was talking with an actor who was suffering from stage fright. This actor is a person of faith, as am I, and I said something like this: Sometimes people will suggest combating stage fright by imagining the audience in some non-threatening way. But I suggest the opposite. If we think about the audience as people God has given to us to love and serve, then we can be eager to share what we've created even at the risk of failure and embarrassment.
People of Judeo-Christian faith are told in our scriptures that our job is to love others as God loves us. It makes sense that God would uniquely craft each of us with abilities to do the thing that God tells us to do. Artists are created with skills to make works of art.
So, in this month of February when we celebrate love, I want to use a well-known system of thinking about the expression and receipt of love, Gary Chapman's Five Love Languages, to unpack how artists love through creating.
Words of Affirmation: When an artist expresses something in a painting, dance, story, or song that you relate to, and then shapes your experience into something beautiful, the artist validates and affirms you. "Beautiful" isn't the same as "pretty" – sometimes the artist's job is to find and communicate meaning in things that are anything but pretty. Remember that sad song you couldn't stop listening to in high school? Didn't it make things seem better and more bearable somehow?
Quality time: Art takes a great deal of time to create. When I direct plays, I try to plan an hour of rehearsal for every minute that you see onstage. That doesn't include the time that goes into costumes, lights, scenery, and more. Great musicians and dancers practice daily. You might think a painting looks like the artist created it quickly, but there were many sketches and plans that happened first. In return, you give the artist quality time as you engage with the work she created for you.
Giving Gifts and Acts of Service: Artists don't do it for the money. In most cases your purchase of an artwork doesn't begin to pay for the time it took the artist to learn to do it, prepare it, and present it to you. Art isn't free to create – artists have materials costs and they're taking time from other paying work to create art. They may need you to share in the cost. Think of it this way: if you brought me a sack of groceries and I used it to make you a truly amazing meal, the meal is a gift and act of service to you which is far more valuable than the materials I started with.
Physical touch: If you've ever been to a great museum and seen a painting in-person that you'd seen photos of before, you know that experiencing the real, physical work of art in a special place made for it is entirely different than seeing it in a book or online. It's the "physical touch" of the artist. Live, local arts experiences require presence. Receive your neighbor's creative gift of love to you in the way he made it for you. Go to galleries, plays, and concerts as well as experiencing art that was recorded so you could engage with it on your own terms (TV, iTunes, etc.).
If you want to share an expression of love with someone special, check out all of our live, local opportunities here in Waco! Visit Creative Waco's Creative Directory for suggestions on venues and check out our many local arts calendars.
---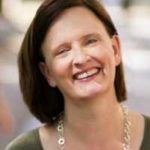 Luann Jennings is a local theatre director, arts educator, and advocate. She juggles several part-time arts-related jobs including projects at Creative Waco, the Good Neighbor Settlement House, and Waco Civic Theatre, where you can also see her upcoming production of The Three Musketeers. You can reach Luann at [email protected].
The Act Locally Waco blog publishes posts with a connection to these aspirations for Waco. If you are interested in writing for the Act Locally Waco Blog, please email [email protected] for more information.