Read Locally Waco: Don't eat me, Monster!
Read Locally Waco is a project to promote literacy in Waco.  Throughout the semester we will post stories that use sight words our children are learning in Waco ISD.  You can print these stories and lists of words to use with your children or with other children in your life.  This week's story uses words from the First Grade Sight Word List.  For a printable version of this story and word list, click here:  Don't eat me, Monster.
Don't eat me, Monster!
What was that sound?  I heard it again!
I think it's a monster – please don't let him in!
I know I am little and look very sweet,
But please, Mr. Monster, I'm not good to eat.
I come from a town where the kids all taste bad.
Don't eat me! Don't eat me! If you do, you'll be sad.
I'm yucky and greasy and covered with fuzz.
Who tastes better than me?  Almost everyone does!
I'll make a burrito out of big brother, Zack.
When I add a few chips, he will make a good snack.
I'll give you a tip, because you're my good buddy…
My sister tastes good.  She's crunchy and nutty.
If I were you, Monster, I'd go for a pizza.
Or maybe some nachos topped with old Aunt DeLisa.
I didn't bathe. My breath really stinks.
You could eat Uncle Tony. He smells like hot links!
DON'T EAT ME, MONSTER!  I TASTE LIKE GREEN SLIME!
Oh… Hi, Momma and Daddy…I saw you the whole time…
First Grade Sight Words Used in this Story
was
what
didn't
don't
eat
from
give
good
make
of
out
saw
were
when
again
because
could
does
---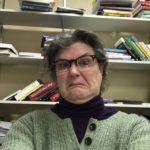 This Act Locally Waco blog post is by Ashley Bean Thornton, she has lived in Waco almost 20 years now. Far longer than she ever lived anywhere else. She likes to walk. If you see her out walking, honk and wave and say "hi!"
The Act Locally Waco blog publishes posts with a connection to these aspirations for Waco. If you are interested in writing for the Act Locally Waco Blog, please email [email protected] for more information.
(Visited 22 times, 1 visits today)