(In this post Rudy Solano shares thoughts and memories about the neighborhood where he grew up, known to those who lived there as "La Calle Dos."  If you would like to learn more about La Calle Dos, you may enjoy this link from the Waco History Project: Calle Dos. – ALW)
By Rudy Solano
Some years ago, one of the early astronauts was interviewed about his experiences in space.    I am paraphrasing, but the interviewer asked him:  "What did you feel when you went up in space and saw what no other person had ever seen—planet Earth from that perspective?"  "What was going through your mind?"  His answer, so simple but so meaningful,   has stayed with me all these years.  The astronaut thought  about the question for a moment and then replied,  "I couldn't get over the feeling that our planet Earth looked so small. "  "That in the vast universe  this  tiny little speck  was our home and  we all lived here!"  Implicit was the notion that we all must learn to get along with each other.
From time to time I have visited the small corner of the world that we affectionately called "La Calle  Dos"—we moved away  in 1950.   Invariably, I am   overcome by similar feelings.    I ask myself:   Did we really live here in this tiny little space?   Could this be the same place where all those homes used to be?    Where are all the people lived?   Trying to orient myself, I look for something familiar.  I should be standing where Don Marcial's grocery store was, I tell myself.  Instead, I am confronted by an immense   building complex covering an area where several neighborhoods would have been.   The large marquee by the road tells me this is now a middle school named Indian Springs.
In a way, "La Calle Dos" is a misnomer.  Although the phrase literally means "Two Street," or "Second Street," in Spanish, the name came to represent   an amorphous area that around the 1900's became an enclave for primarily –but not exclusively–immigrants of Mexican descent.  The red-light district of Mollie Adams notoriety gradually gave way to families of modest means who were seeking to provide for their families as best they could.  In the case of my maternal grandfather, who was born in Aguascalientes, Jesus Maria, Mexico, all his children (with the exception of an infant daughter who stayed with her grandmother in Mexico) were born in the United States.  During the years that we lived there,  a preponderance of the residents were Mexican, Latin, Latino, Hispanos, Hispanics, Chicanos—take your pick—and  several  Negro, Black  or African-American families.  We were also blessed with at least one American Indian family and an Anglo-American, who– as far as I know– was single.   Mr. Cooper, as we referred to him, was an entrepreneur—a one-man Lipsitz*, buying scrap metal, rags, bottles or any article of value.
La Calle Dos, was by financial measures, a place of modest circumstances. By a curious coincidence, as I write this I am reading a book titled Being Rapoport, Capitalist with a Conscience.  Mr. Rapoport, a Waco icon who founded the Audrey and Bernard Rapoport Foundation, traces his roots to a very humble beginning.  His father, an immigrant from Russia, was a street peddler on the streets of San Antonio, Texas.  This man of great renown, who was known to have conversations with people in the White House, to be a personal friend of ambassadors and powerful people in politics and business, never lost that precious virtue so rare and so highly prized: humility.
Referring to the ethnic makeup of our old neighborhood, I have always believed that this experience, limited as it was– with  African-Americans in particular–  served me well in later years in the Community Relations Division  of  the Waco Police Department.
Reminiscing about the years I spent in La Calle Dos as a youth, I am aware that some might wonder why this ordinary-seeming place could be considered special at all. It is a fair question. Assuming agreement on two basic points, I would gladly attempt an answer by sharing my thoughts.  The two presuppositions would be:  One, that we are all the same, different and unique. Two, that Will Rogers had a valid point when he stated, "We are all ignorant; only about different topics."
Few people outside of our family and a small circle of friends have ever heard of Martin C. Solano.  I am aware of two separate monuments that bear his name.   At Rosemound Cemetery a small granite tombstone quietly announces to the visitor:
Here rest the remains of
Juanita Colmenero Solano
Died   Oct 17, 1930
at the age of forty
Rest in Peace
A remembrance from her son
Martin Solano
At St. Francis of the Brazos Church are fourteen large wall sized murals that mark the Catholic "Stations of the Cross."    The seventh mural, which was donated to the church by my grandfather, has a small plaque on the bottom that reads: "In memory of Martin Solano."
By most l accounts Martin Solano was a caring person who loved life.  At the height of the Great Depression he told his sister, my Aunt Jessie, "Don't you worry none, I'm going to take care of you."
He was a boxer.  He was in the Civilian Conservation Corps with another Wacoan, Nieves Rodriguez.   Joe   Nieves  Rodriguez, who later  became a Waco police officer, graduated from the  FBI Academy and retired with  the rank of Assistant Chief of Police, related to me that Uncle Martin had helped him out of a tough spot while in the CCC.  It seems that Captain Joe was boxing with another person and getting the worst end of it.  Thanks to my Uncle Martin giving him some timely tips about his opponent, he said, he was able to come out on top.
Like countless others, Uncle Martin was called to serve his country after the consequential bombing of  a faraway place called Pearl Harbor. The only time I remember seeing my uncle alive was when he knelt on the bare wooden floor at 538 North Second Street to receive his father's blessing.  My mother recalled that, on the eve of his departure, her brother was saying goodbye to his friends, playing the guitar and singing a popular song of the day, "El Soldado Razo," a plaintive song about a young man going to war who is ready to die for his country, but laments leaving his mother behind.
Uncle Martin entered the service on July 4, 1942, and remained on active duty until he was mortally wounded by an enemy hand grenade in an Italian campaign.  He succumbed to his injuries in a California veterans' hospital.   On April 30, 1945, PFC Martin Colmenero Solano of Co. F, 349th Infantry gave up the spirit.   Another native son had been sacrificed as fodder for a cruel and senseless war that shook the global village to its foundation.  By an ironic twist of fate, on that same date, 5,280 miles away, a man named Adolph Hitler inside a Berlin bunker died as well.  This is part of what gives La Calle Dos relevance.   At Oakwood Cemetery in Waco, Texas, a monument marks the gravesite of a Texas son who died too soon and came from a place called La Calle Dos.  Our family and a few friends mourn his loss yet.
I see the river–El Rio Los Brazos de Dios—Spanish for "the arms of God."   It's still there, I think to myself, somewhat amused at my unspoken reaction.  Looking westward, I spy another familiar sight, the Spanish mission, San Francisco de Assisi.  I don't remember it being so close!   St Francis is on Third and Jefferson Street.  There is Jefferson Street.  So, if I follow it till it meets up with the Brazos River…Yes!  There it is!  I cannot believe my eyes.   La Pila!    The artesian water fountain we called La Pila (Spanish for "basin") is still there!  It's been covered over, but part of it is still visible.  I don't remember that pecan tree growing almost on top of it.  Riverside Drive, now called University-Parks, is virtually at the outer rim of the fountain, encroaching into what was once a large lawn area.   The lawn around the water fountain, always green and well-maintained, extended farther out to First Street.  Through the years, I am almost sure, the Brazos River (now renamed Lake Brazos) has eroded the bank, forcing the road to be constructed closer to the fountain.
Standing at the Pila site, several Waco historical landmarks are within view.  A few hundred yards away is the suspension bridge designed by the same person who designed the famed Brooklyn Bridge, the bridge that was a crossing for the Chisholm Trail cattle drives of the storied wild West.  Literally a few feet away from the bridge is located a freshwater spring in the aptly named Indian Springs Park.  This was a source of fresh water for the Huaco Indians (from which the name "Waco" derives).   Finally, the viewer can see the building which was the tallest structure West of the Mississippi River when it was built.  We called this building "la veintidos."  Why?  Probably because the Alico building is twenty-two stories high and veintidos means 22 in Spanish.
---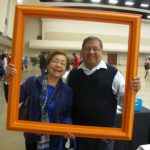 Rudy Solano is retired from the City of Waco. During his career at the City of Waco his role included Community Relations Specialist for the Police Department a position he treasured. He and his wife Adela are Waco natives where they raised their four children. He is a proud husband, father, and grandpa!
*The Lipsitz Scrap Metal Company is a well-known, highly successful  Waco business known for its philanthropy and many civic endeavors.
(Visited 85 times, 1 visits today)