Charity, CHIP, Medicaid and the Community
By Glenn Robinson
Each year, thousands of Texas patients must rely on charity care to receive the medical services they need. Hospital charity care means no payment is expected for the services the hospital provides, which means that patients who qualify for such care typically receive no hospital bill and are not subject to collection efforts.
While Texas may lag far behind other states when it comes to number of residents who have health insurance coverage, it was the first state to establish a required level of community benefit for non-profit hospitals in exchange for state tax exemption.
This community benefit requirement means that Texas not-for-profit hospitals must spend four percent of expenses on charity care, and a total of five percent overall on charitable activities.
While exact criteria to receive hospital charity care may vary, generally patients who receive care at a non-profit hospital may apply for complete or discounted charity care if they are either financially indigent – meaning they are uninsured or underinsured with an income at or below 200 percent of the federal poverty level; or are medically indigent – meaning their medical or hospital bills exceed a certain percentage of their annual income after payment by insurers, leaving them unable to pay the remaining bill.
A hospital's total uncompensated care is the sum of its charity care provided and uncollectable patient debt. Since 2000, U.S. hospitals have provided more than $538 billion in uncompensated care.
Funding for Medicaid and the Children's Health Insurance Program recently have been the topic of a lot of hot political talk in Congress, so let's take a closer look at these two government-administered health insurance programs.
Medicaid covers about one in five Americans. It reaches many low-income children, adults, seniors, and people with disabilities.
In Texas, children, the disabled, and seniors represent 90 percent of those covered by Medicaid. The remaining 10 percent are working-age adults – three-quarters of whom are employed, but do not earn enough to afford health insurance or do not work for an employer offering insurance.
Medicaid is the nation's major source of long-term care financing, which is particularly important in supporting seniors and helping relieve the care burden that often falls on families. It also provides benefits for people with disabilities who are unable to find or afford other coverage.
The Children's Health Insurance Program, or CHIP, is low-cost health coverage for children of families who earn too much money to qualify for Medicaid.
Medicaid, together with CHIP, has resulted in improved access to care for children and helped bring the uninsured rate for children to record lows. Children with Medicaid or CHIP have greater access to care than uninsured children and comparable access to children with employer-sponsored insurance.
But enrollment in Medicaid and CHIP have positive impacts on children and families beyond improving access to health care services. These programs may provide financial protection for families who have very little otherwise.
When we talk about a changing approach to healthcare in this country, many people's minds immediately go to what is going on in Washington regarding healthcare policy – or perhaps some of the latest and greatest treatment technologies.
These are indeed important, impactful facets of the changing healthcare landscape, but perhaps even more impactful is the shifting mindset of many hospitals and healthcare organizations who are now focusing on overall community wellbeing.
Central to these efforts are innovative and effective community partnerships. Through community partnerships, hospitals and health systems seek out new and nontraditional partners to improve both health and overall quality of life in the communities they serve – regardless of the ethnic, racial, socioeconomic or physical circumstances that make up a community.
These non-traditional partners for hospitals may include police and fire departments, food banks and grocery stores, community recreation centers, churches, and local non-profits addressing issues such as housing and education.
The esteemed Robert Wood Johnson Foundation believes hospital-community partnerships are indispensable when it comes to building what it calls a "Culture of Health." While often viewed as non-traditional, these partnerships make good sense because good health is dependent on far more than the medical care available to a community. A safe environment and dependable access to healthy foods are essential to the cause, as are a range of other factors.
These partnerships have the potential to reshape communities and change lives. And in the end, isn't changing lives for the better what great healthcare is all about?
This report, and other episodes, are available at KWBU.org. 
---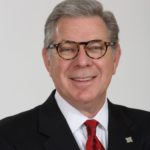 Glenn Robinson is the President of Baylor Scott & White Medical Center – Hillcrest. He has over 30 years experience in hospital and health care management, and currently serves on several Boards associated with the Texas Hospital Association and the American Hospital Association. In addition, Glenn is Past-Chair and an active member of the Greater Waco Chamber of Commerce, and serves on the Prosper Waco Board.
The Act Locally Waco blog publishes posts with a connection to these aspirations for Waco. If you are interested in writing for the Act Locally Waco Blog, please email [email protected] for more information.
(Visited 17 times, 1 visits today)