(Para leer este artículo en español, haz clic aquí.)
By Jaime Carias
Over the past decade, I have had the honor and privilege of working with parents across the country from all walks of life. Working with parents at different schools and community centers has impacted my outlook on family engagement. Every experience in my line of work has reinforced my belief in the importance of parent engagement during their children's K-12 educational journey. The earlier that we work with parents to demonstrate the value that they bring to the educational success of their children, the better chance we have at keeping them engaged.
Parents always ask me, "Mr. Carias who do you like to work with the most? Our children, their teachers, or us parents?" To which I reply, "I enjoy working with everyone." In order for our children to succeed in and out of the classroom and pursue a college education, all three teams: students, parents, and teachers need to work collaboratively and not against each other. Communication is key towards establishing trust amongst all three teams. Parents continue to ask me, "but if you had to choose one group to work with who would you choose?" When asked that question again (it has happened multiple times) I can't help but stop and look at the parents asking me this question. The answer is simple: I enjoy working with parents. I am a firm believer that student success begins at home, and I have made it my personal commitment to work with parents across the country to help change the toxic narrative that parents do not care to be involved. For so many years this false narrative has hindered underrepresented communities and students of color by being portrayed as disinterested in education. Instead, educators need to create opportunities for parents to become involved. Most importantly, educators must help parents understand the value that being involved brings to their children's personal, academic, and professional success.
In our book "Buscando Vida, Encontrando Exito: La Fuerza de La Cultura Latina en la Educacion" (Accomplishing Success: Supporting Our Children with The Power of Culture) we highlight the journey and obstacles parents encounter when discussing educational success, educational goals, college enrollment, and career paths with their children. It's not unusual for low-income families to fail to understand why their sons or daughters might want to go away for college. Our book is a practical guide meant to help parents understand how to become proactive advocates in their children's educational journey. The influence of family on a student's college-going decision is huge. Other times, parents are not involved at all and the student is left on their own to make very difficult decisions. Through our research, we have discovered that parents want their children to succeed in school, yet very few of them fully comprehend the role that they play in helping their children fulfill that vision. In my presentations, I seek to change this narrative. I focus on having parents understand the value of developing growth mindsets to create college-going cultures in their homes. Changing the narrative from a fixed-mindset to a growth-mindset allows parents to understand the value of continuous learning and family engagement. As educators, we have to develop culturally competent programming for parents of color so that they can feel welcome and can actively participate in the K-12 school system.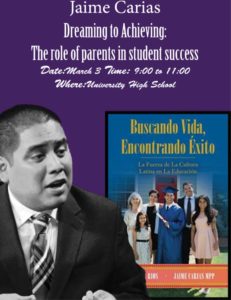 I am very excited to visit Waco ISD for student and parent programming. As a first-generation college student who was born and raised in South Central Los Angeles by Guatemalan parents, I understand the struggle and journey of the students and parents I will be serving this week in WISD. Collectively we will continue to work together to provide the opportunities parents seek for their children. Our children need to thrive and not just survive in the world of the 21st century. We need to remember that it all starts at home, as we move forward and develop student and parent programming. We are all equally invested in the future success of our youth; educators and parents need to collectively work together towards that common goal. I look forward to meeting everyone in the WISD.
---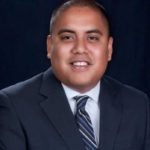 Jaime Carias was born and raised in the low-income community of South Central Los Angeles to Guatemalan immigrant parents and has dedicated his entire career to helping young people and parents seek better opportunities in school and in life. Carias has been featured on several national and local media outlets for his work developing educational and community-engaging programs aimed at creating access to higher education and empowering underserved communities across the country like his.
(Visited 31 times, 1 visits today)