Why I am a Member of the League of Women Voters
by Steve Orr
When people ask me why I, a man, am a member of the League of Women Voters, I find it helps to recount my voting journey.
I've been voting for almost half a century. I find that realization sobering. To think that this country allowed a mere 18-year old to attempt to shape it. And I did do that —attempt to shape this country— and I did so every chance I got. I haven't always succeeded, but I have always made my best effort to do so.
Sometimes I voted for winners. Sometimes, my vote went to the eventual loser in the race. And sometimes, when I voted for the winner, I was later unhappy with the conduct of that elected official. Regardless, I still voted. I still made my attempt at shaping my country. In those instances when the eventual outcome was disappointing, I vowed to do better the next time … knowing full well that I would vote the next time.
In addition to people, I also voted into existence school and road bonds, resolutions expanding or restricting how people could act, and, from time to time, non-binding resolutions that, for good or ill, never produced any activity at all. Yes, I have done all of that in my near half century.
But I didn't do it alone.
And I didn't do it without guidance. I have been referencing the League of Women Voters Election Guide for most of my voting life.
From the very beginning, it has been a companion on which I depended … for a clear description of the candidates, the issues, and the pending legislation. In the flurry of political advertising, flyers, mailbox stuffers, and phone calls, I welcomed the calm, objective descriptions I found within the pages of those guides. They were unique in that they contained just the information I needed to make an informed decision … and nothing more. No candidate was ever favored or pilloried. All I found was the facts … and in plain language.
And so, having a long appreciation of that particular aspect, when our local LWV chapter was reenergizing and reaching out for new members, I was intrigued to consider active membership. Yes, I was a bit surprised to be invited to do so. I had always assumed only women were members; and so, though admiring from afar, I had never thought I could be a member.
Today, I am a dues-paying member. I attend our chapter meetings. I am active on the Voter Education Task Force. I participated in our recent Candidate Forum as a Table Moderator. I have found LWV to be exactly the right place for me, politically. I can be active in the political arena with a group of people, gender considerations aside, who always leave the divisive side of politics outside the door.
To me, that sounds like an organization for everyone.
I've been voting for almost half a century. LWV has been advocating for voters for almost an entire century. That's a perfect team-up for me.
---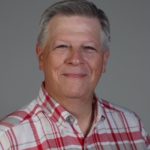 Stephen Orr has been active in the Waco community since he and his wife, Pattie, moved here in 2007. Past community service has included building wheelchair ramps at area homes, assembling recycle bins for distribution at sporting events, and serving on the Waco Convention and Visitor Bureau Advisory Board. He is a graduate (with Class 5) of the LeadershipPlenty Institute-Waco. Currently, he is an active member of the Board of Directors of The Cove, serves on the Waco-McLennan County Library Advisory Commission, serves on the Membership Council of the Baylor Club, and is a member of the DaySpring Baptist Church. The Orrs love cheering on the Lady Bears basketball team and enjoying time with their daughter, son-in-law, and grandkids. And, of course, both are active in the Waco Chapter of the League of Women Voters.
 For more information about the Waco Chapter of the League of Women Voters, link to their Facebook page (League of Women Voters of Waco), working group, or join the email list by sending an email to [email protected]. Connect with them on Twitter or Instagram.
(Visited 45 times, 1 visits today)