Homelessness comes from any number of causes
By Major Anita Caldwell
Homelessness could involve my son, your sister, your father who just didn't want you to know about their problem and didn't want to be a burden to you.  Homelessness is not caused by The Salvation Army or any other organization; but our goal is to end homelessness by all means possible.  The homeless belong to Waco and McLennan County.  They belong to all of us.  They are the people created by God who walk a broken road.  They are the broken souls of our community, our county.
While at our community kitchen, I had the privilege of interviewing five of our homeless citizens of Waco.  They represented our veterans, college students, mentally ill and those waiting on disability.  Here are their stories.
As a teenager, Ellen had experienced a difficult time and was sent to the Methodist Children's Home.  At age eighteen, she was released and with nowhere to go, she chose to live on the streets of Waco.  As I sat with her on the green grass beside the Community Kitchen, I asked her how long she had been on the streets and her reply was ten years.  She felt safe in Waco and besides, all her resources were located downtown including the food stamp office, the health center and her lawyer, who was working on her disability case due to a car accident.  She said she really didn't need The Salvation Army but appreciated the clothing we provide her from time to time.  She wanted to talk with her grandfather, so I called him, but her grandmother had just had a stroke and he could not invite her to come home.
Bob is a veteran with PTSD.  He admits that he can't keep a job but says that he can hold signs for stores going out of business.  He has family in Waco and this always brings him back home.  He said that The Salvation Army was the only safe place to stay.
Jake has COPD and was approved for disability two years ago but so far had no received any support.  All his resources are located downtown Waco, so he lives in his car and eats one meal a day at The Salvation Army while waiting for payments to begin.  He worked all his life as a welder, but his illness no longer permitted him to work.  He is angry with life and not open for much conversation.
Peter said that he was a foreign exchange student who left school and had been homeless for four months.  All he wanted was a job, a bed, and a shower.  He is only nineteen years old and had studied at TSTC.  From his experience, there are just too many rules.   He recognizes rules are not always easy and they are a choice necessary to reach goals.
Peter's father had been a veteran but died and his mother is in a nursing home. He had lived with his parents in Waco much of his life, but that home had been sold.  His greatest fear was the Illuminati who had set dogs to chase him and bite him.  His one goal in life is to create signs that make people smile.  I quickly realized that Peter would not be able to work but needed the care of PATH and Mental Health.
When these people cross the path of The Salvation Army, we encourage them to enter a true program for change.  We invite PATH from MHMR to meet with those who are mentally ill.  We contact our veteran's liaison to meet with the veterans who need help (and we work together to find them housing when possible.  If individuals are suffering from addiction, we offer to take them to a free Salvation Army six-month rehabilitation program.  We provide safe shelter, hot meals, a place to shower, and refuge from the streets.  Our case managers also provide guidance and work to identify the underlying cause of crisis, finding ways to resolve these issues and implement permanent solutions.  Our goal is to help mend the broken road they're on.  Those we serve are created by God; they are His children. The Salvation Army is committed to meeting human need without discrimination and without judgement. We don't ask their religion, heritage or orientation.  Our call is to walk with them from a place of street life to permanent housing, regardless of what that might take in time or patience.  Jesus asks that we care for the "least of these" as if it was Himself.   This we will continue to do with honor, respect and diligence thanks to a supporting community which recognizes that the faces of our homeless, and how we care for them, reflects the character of our community and the character within ourselves.
---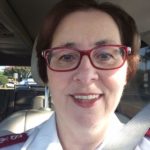 Major Anita Caldwell was born in Olean, NY, to a family of ministers.   She attended and graduated from Kentucky Mountain Bible Institute with a BA in Religion.  Her MA is in Pastoral Leadership from Olivet Nazarene University.  She and her husband, Bradley Caldwell are Majors in The Salvation Army and are Regional Coordinators for this area.  They have served as ministers of the gospel in The Salvation Army for 24 years.  After serving in three USA appointments, they were transferred as Regional Leaders in Moldova, Romania, Russia and the country of Georgia over a twelve-year period.  They received their Waco assignment after serving at International Headquarters in London, UK.
The Act Locally Waco blog publishes posts with a connection to these aspirations for Waco. If you are interested in writing for the Act Locally Waco Blog, please email [email protected] for more information.
*Names changed throughout to protect privacy.
(Visited 17 times, 1 visits today)