Read Locally Waco: Rosie Likes to Drive Around
Read Locally Waco is a project to promote literacy in Waco.  Throughout the semester we will post stories that use sight words our children are learning in Waco ISD.  You can print these stories and lists of words to use with your children or with other children in your life.  This week's story uses words from the First Grade Sight Word List.  For a printable version of this story and word list, click here:  Rosie Likes to Drive Around.
Rosie Likes to Drive Around
Rosie likes to drive around. Robert likes to walk.
For weeks she drove right by him. Then, one day she stopped to talk.
"You are very boring!" Rosie stopped and said that day.
Said Robert to Miss Rosie, "Well, you don't have to stay."
"Every day you walk and walk. You go so very slow.
Why don't you drive a car like me?  That's all I want to know."
"If you really want to know me, all you have to do is ask.
You never stop to talk to me; you always drive right past."
So, Rosie stopped her yellow car, and parked it on the street.
She took her sneakers from the trunk, and put them on her feet.
As she and Robert walked along, he showed her many things…
He showed her where he liked to play and pushed her on his swing.
They said "Hello" to Mrs. Jones and patted her dog Chico.
They waved to June and Christopher and their new baby, Rico.
They bought a sno-cone from a truck and each of them ate half.
"Your lips are blue!"  "Your lips are blue!"  They both said with a laugh.
When they walked back to Rosie's car, the moon was big and bright.
They had walked and walked and walked and walked till day had turned to night.
Rosie likes to drive around. Robert likes to walk.
Now she never drives right by him.  She always stops to talk.
First Grade Sight Words Used in this Story
Every
Laugh
Many
New
Night
Very
Walk
Why
His
Put
Him
By
Day
Your
Them
Had
Know
Ask
---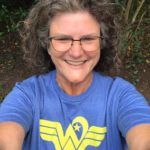 This Act Locally Waco blog post is by Ashley Bean Thornton, she has lived in Waco almost 20 years now. Far longer than she ever lived anywhere else. She likes to walk. If you see her out walking, honk and wave and say "hi!"
The Act Locally Waco blog publishes posts with a connection to these aspirations for Waco. If you are interested in writing for the Act Locally Waco Blog, please email [email protected] for more information.
(Visited 34 times, 1 visits today)