The Northern Triangle: Using an exhibit to spark an important conversation about the refugee crisis
By Andrew Patterson, Kristopher Ruiz & Caroline Capili
400 hundred years ago, immigrants from all over the world boarded ships to escape persecution, to start a new life. A life free from fear, a life with endless possibilities, a life with hope for a better future. Today, that same thing is happening with children ranging from a few years old to teenagers. Only these children are not boarding boats or sometimes not even traveling with their family. These children are jumping on moving trains, trekking across deserts, crossing streams all the while trying to evade those seeking to exploit them. These children are fleeing domestic abuse, violence, poverty, and food insecurity in hopes that they may have a better life and help out their families.
Our project began last fall when we, Caroline Capili, Kristopher Ruiz, and Andrew Patterson signed up for a brand-new class at Baylor University led by Dr. Victor Hinojosa and Dr. Lori Baker focusing on the issue of child migration in the Western Hemisphere with an emphasis on the Northern Triangle countries. We attended weekly lectures, read reports and books, and met with numerous experts in the field. We were asked to develop an innovative project to address the child migrant crisis. We spent many classes going through the process of design thinking to come up with ideas about what we wanted to accomplish and how we were going to do so. After months of going through this process, we agreed that we wanted to bring attention and awareness to this crisis and start a dialogue here in Waco. Once we had this purpose, we thought the best way to approach a problem with multiple facets was through art. We looked up different examples of art exhibits focusing on the issue of immigration, and that's when we first came across Northern Triangle.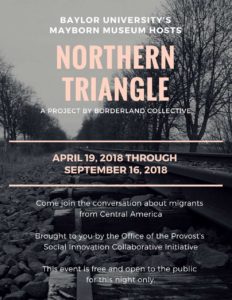 Northern Triangle is an exhibition created by Borderland Collective that opens a space for constructive dialogue and exchange around the current Central American refugee crisis along the U.S./Mexico border and the long and complicated history of U.S. intervention in which it is irrevocably entangled. The exhibit is comprised of pieces such as items collected along the border, pictures drawn by child migrants, news articles, and photographs. Northern Triangle is everything we wanted in an exhibit and more. We found Northern Triangle through one of the guest speakers we had, Mark Menjivar. Mark is a former Baylor student and friend of Dr. Hinojosa. He is one of the lead collaborators of Borderland Collective. Borderland Collective is a long-term art and education project based out of Texas State University designed to engage community members with complex issues in order to foster discussion on those issues. The lead collaborators of Borderland Collective are Jason Reed (Director), Ryan Sprott (Co-Founder), Mark Menjivar, Molly Sherman, Erina Duganne, Daniela Hernandez, and Cacey Wells. Mark Menjivar had been our point of contact with Borderland Collective.
Our panel discussion at the opening night event will consist of three portions. First, Caroline Capili, Kristopher Ruiz, and Andrew Patterson will introduce the project, the process they went through, their goals for this art exhibit, and how those goals brought them into contact with Borderland Collective. Second, Mark Menjivar, Jason Reed, and Erina Duganne from Borderland Collective will discuss the exhibit, Northern Triangle, and explain what they have learned in their time studying this issue's history and the current state it is in today. Third, Dr. Victor Hinojosa, Dr. Lori Baker, and Dr. Andy Hogue will discuss their many years of work on this issue in the areas of political science and anthropology.
Here are some of our reflections on how this project has affected us:
"This project has given us the opportunity to start a dialogue regarding the issue of child migration and address the misconceptions surrounding it. Tackling this issue starts with education about what is really happening and not just what is portrayed in the media. My perception of this issue changed more and more as I spent time learning about it, and my hope is that this art exhibit does the same with the community. As a college student, I never once thought I was going to be able to participate in a project like this that could actually make a difference in something as important as children risking their lives by attempting to come to America." – Kristopher Ruiz
"As a college student, I never thought that I would be able to engage with professional change-makers on a weekly basis. Through this project, I have been able to interact with many individuals with big dreams and big ideas. The "wicked problem" of migration from Latin America has been a hot topic in the news lately, and we wanted to create a space to foster conversation about the issue. I hope that this art exhibit will impact the way the Waco community views the migration crisis by showing them multiple perspectives, and allow them to experience the issue in a new light." -Caroline Capili
"Coming from a state like Wisconsin, I never had much of an exposure to the the child migrant crisis before I signed up for this class. If you asked me last fall what I thought was going to come out of this class, I would never have imagined I would develop such an interest in this wicked problem and become passionate about helping these kids. I never would have imagined bringing an exhibit like Northern Triangle to Baylor. This class has been one of the highlights of my college career and I am immensely grateful for everyone who made this class possible and helped us make this project into a reality." – Andrew Patterson
---
April 19 – 6 PM – Northern Triangle Opening Night Event at the Mayborn Museum – The opening night event will be free and open to the public. The Office of the Provost's Social Innovation Collaboration Initiative (BAY-SIC) will host a conversation at 6 p.m. to discuss the event's focus: The Central American refugee crisis. If individuals wish to visit the exhibit after April 19, the price is included with museum admission. The exhibit will be on display through September 19. There will also be light refreshments at the event.
---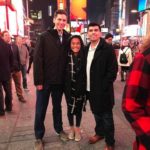 Andrew Patterson is a junior Political Science and Economics Major, from Mukwonago, Wisconsin.  Caroline Capili is a Junior, Political Science Major, from Beaumont, Texas, and Kristopher Ruiz is a junior, Political Science Major, from Round Rock, Texas.