Trails and Trials: Race your way to motivation
(This post is a part of a regular series "Trails & Trials," a monthly adventure series inspiring others to experience the physical, mental, and social benefits of cycling, running or swimming in Central Texas. For more posts in this series, click here: Trails and Trials.  – ALW)
By Natasha van der Merwe
"How are you doing with those New Year's Resolutions?"
"How is that training coming along?"
Sound familiar? You may have heard the words "The Race is the Reward for all your hard work in training". Others may say "Races prove resolutions." Both are true, but there are many reasons to enter local races, regularly and quite often.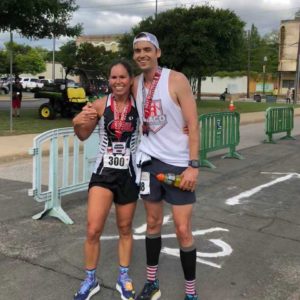 In April, I was invited to run the First Responders Half Marathon, and jumped at the chance. Apart from the fact that the course appealed to me because it would be a sneak peak of the run course for the upcoming TriWaco and Waco 70.3, I really just wanted to race.
Triathlon season typically runs from April through November in the US, due to the fact that the water temperature needs to be warm enough to swim. It had been many weeks of focused training, without the reward of a race or the opportunity to truly test my fitness in a way that no training session really could. That and I really wanted and needed to rejuvenate my motivation to train.
Well, that it did, and so much more.
Here are my top FIVE reasons I enter local races and you should too:
1. Racing forces me to set up a training schedule.
Having a set training calendar, gives me a plan and purpose for every workout. This gives me the daily motivation I need to get the work done. The argument of why triathlon is such a fantastic sport to train for, is that every day is totally different. Triathletes train for three different disciplines. The cross training impact is so much easier on the body, since the long run day is balanced with a swim the following day, which serves as the perfect recovery workout before biking and running again the day after that.
2. Racing tests my fitness both physically and mentally.
There is nothing quite like a race to show me exactly where my fitness lies. No matter how physically prepared I am, a race may expose that I still may be lacking in the mental preparation which can only be learned through race experiences. Racing also gives me insight into where my training discipline might have lacked in the build up. To me, every race is a new lesson in how well my training is actually working and I always spend a lot of time reflecting post race on how I can better prepare myself for the next one.
3. Racing presents opportunities to push myself beyond what I could possibly experience in training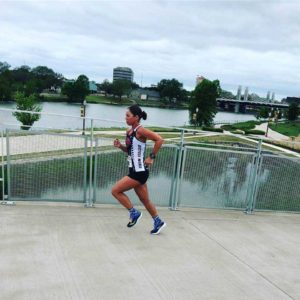 Be it a course I have never seen before, elevation higher than I've ever climbed, heat that I may have not been prepared for, or a time goal that I want to hit, racing always presents me with new challenges that I happily embrace. I don't believe one can grow in the comfort zone. I will not hesitate to sign up for a "hard" race in order to push myself past what I know I can already do. Participating in a race, gives me the opportunity to push harder and get tougher. With each race comes a new challenge.
4. Racing is FUN!
In every race I participate in, I always make a conscious effort to have a big smile on my face for every race photo. Why? Because racing is always a challenge, but should always be fun! There is no better and bigger endorphin rush than pushing yourself in a race. It will bring you a lot of satisfaction and joy, together with the attitude of gratitude. Every day you get to race and use the body God gave you, is going to be a great day!
5. Racing earns a celebration of food and drink.
I am extremely structured in my daily life with my training and my food. I have to make sure that I am eating cleanly, to feel good and recover well for my training sessions so I can be ready to train again the next day. However, after a big race I will be the first in line for a large burger and fries. I feel that this post race celebration is definitely needed to acknowledge the accomplishment of what I have just done and gives me a chance to celebrate with my family who have supported me through the training. It also forces me to have that much needed rest before focusing on the next race.
Let the celebration of life, challenges and friendships entice you to sign up for the next local running race or triathlon. It's time to put on the trainers and "Just Do it!". You won't regret it.
Find local races at:
---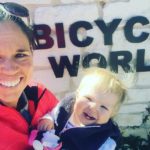 Natasha van der Merwe is originally from South Africa. She is mom to a 19-month old girl, former professional tennis player and tennis instructor, and a professional triathlete representing Bicycle World and Waco Running Company.  She has multiple top 10 finishes in Ironman and 70.3 events around the world. She is Director of Team Programs for Bicycle World, Texas
The Act Locally Waco blog publishes posts with a connection to these aspirations for Waco. If you are interested in writing for the Act Locally Waco Blog, please email [email protected] for more information.
(Visited 9 times, 1 visits today)