(This post is a part of a regular series "Trails & Trials," a monthly adventure series inspiring others to experience the physical, mental, and social benefits of cycling, running or swimming in Central Texas. For more posts in this series, click here: Trails and Trials.  – ALW)
By Natasha van der Merwe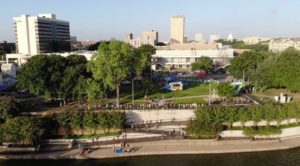 The big day had come, July 15th. The day of the 10th Annual TriWaco triathlon which takes place in the heart of Waco. We get to swim in the Brazos river, ride on the roads surrounding the Baylor University campus and run through Cameron Park and its daunting hills. All in the middle of July, which brings sweltering temperatures typically topping out at around 100 degrees for the day.
Preparation is taken seriously as putting all of the above together is no easy task. Many that stood on the shores ready to jump in the water at 6:30am that morning were also undertaking their first triathlon. We all do our best to prepare for all three different sports – swimming, biking and running – but when it comes to putting it all together, race day can bring in a number of new unforeseen challenges.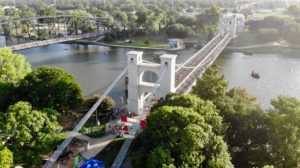 I have been competing in this sport for just over 10 years, 9 of them as a professional triathlete. Each race is a new experience which turns this sport into a lifelong endeavor. With the ever changing courses, conditions, competition, ones own fitness, and race adversity, one can never be too prepared. Unfortunately, what happened at Tri Waco for me this year was a touch of misfortune. Everyone will encounter a bit of misfortune sometime in their sporting careers.
My original goal going into the race was to give it my all and end up one step ahead of my competitors. This was not to be. 8 miles into the bike leg, and in the lead of the race, I encountered my first flat tire in my 10 years of racing. There were little shards  of glass on the road in which I just happened to ride straight over, slicing my tire. I don't race with a flat repair kit, so my only option at that point was to pull over to the side of the road. 30 minutes later Bicycle World's Support vehicle carrying spare tubes, found me on the course, and assisted me to get back on the road.
Some might have called it a day, saving their legs to get back into their next training block.
In this case, I made the decision that instead of bemoaning my bad luck on the side of the road, I was going to figure out a way to still benefit from this experience.  One often learns more from our setbacks than our successes.
Here are five ways to turn what might have been a bad race into a good outcome:
Be Flexible With Your Goals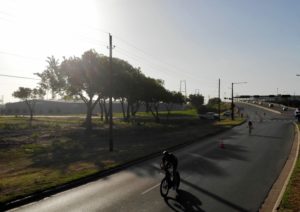 One reason many triathletes are disappointed with their races is that they have only one goal for the race, such as setting a personal best or placing in a certain position in their division. When they don't achieve that goal, they think they have had a bad race. Often those negative thoughts will overwhelm them during the race.
A better approach is to start every race with a series of goals. Start with the absolute best outcome you can reasonably hope for. That will be your "A" goal. A "B" goal, will be to just do one's best in face of fierce competition which will still be great, and a  "C" goal, is in the face of any adversity on the course one still finishes. This will still be an accomplishment for you on that day. That flexibility in your goals will help you to stay motivated and keep pushing during the race.
For example, on this day, my A goal was to win the race. As soon as I flatted, I turned to a new goal of turning my race into a training day. Not only did I benefit from some great fitness training finishing the race which was a 1500 meter swim, 25 mile bike and 10k hilly run, but I also got a fantastic preview of what I would experience at the end of October when I come back to race the much anticipated Waco 70.3 Ironman.         I now have those hills in Cameron park fresh in my memory as I prepare my running legs to stay strong through the half marathon that we will have to run that day.
Turn your thoughts away from yourself
I personally think that this is the number one strategy in overcoming any adversity in a race. Don't throw yourself a pity party but instead immediately switch your thoughts to "what can I do for others".  This will immediately lighten the mood, as you look around and realize there is always more to life than one race, and the attempt at supporting others always makes you feel better.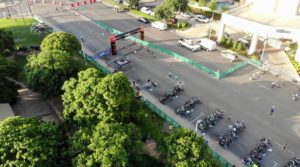 In the case of this race, I had flatted by riding over broken glass on the course. After pulling off to the side of the road, knowing I could not fix the flat, I laid my bike in the grass on the side of the road and proceeded to clear all the glass by picking it up with my hands piece by piece, which hopefully helped avoid future flats for my fellow competitors. While doing so, I also had the opportunity to see my fellow Bicycle World Racing Team mates come by along with other athletes I know in Waco and I excitedly cheered them on, telling them all how great they looked and how they were closing in and catching anyone in front of them. While doing so I was able to see the enjoyment they were having racing, which gave me that encouragement that I needed to finish the race once my tire was fixed by the support vehicle.
Appreciate the amazing crowd support
When I am typically racing all out, I am usually so focused on the task at hand that I sometimes fail to really appreciate all the spectators and volunteer support that is out on the course. Having the flat tire and taking a step back to just finish the course at a more leisurely pace allowed me to take in all the funny signs and bobble heads of their friends that they are supporting. I also took the opportunity to thank all the volunteers that were standing in the day's 90-100 degree heat. Volunteers handing us water, Gatorade and ice towels all why throwing in a few encouraging words as you run by them. Without all that support, there would be no race. The level of gratitude that I carried that day rose to a new level resulting in a ton of joy for the experience that I was having.
Reflect on What You Accomplished
After every race, don't forget to pick out all the positives of your race as you reflect on your accomplishment. In this race, I was extremely excited with how I felt in the swim, being less than a minute behind the leaders. This has given me more confidence in my training which is building excitement for my upcoming races. I was also proud that I never gave up, and there is nothing that can beat that feeling of accomplishment of finishing something you start, especially when you maintain a positive mindset throughout.
Start Thinking About Your Next Race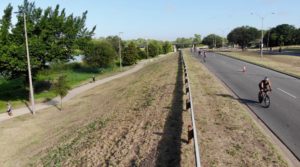 There are no failures, just feedback for future training sessions and lessons learnt for future races. All race experiences, good or bad, are always building blocks for a better future. I walked away from my TriWaco experience extremely excited to tackle the Waco 70.3 in October. From the downtown course with a homely feel with the camaraderie that is always had between fellow athletes on the course, and the sidelines filled with family and friends. You cannot walk away from a race like this and not feel rejuvenated and motivated to tackle yet another one. There is nothing quite like this experience to make you feel like you are living your best life.
Come out and watch us on October 28th in Waco for the 70.3 Ironman. You might just get the motivation you need to be on the start list next year.
---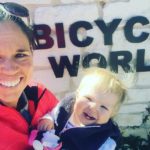 Natasha van der Merwe is originally from South Africa. She is mom to a 19-month old girl, former professional tennis player and tennis instructor, and a professional triathlete representing Bicycle World and Waco Running Company.  She has multiple top 10 finishes in Ironman and 70.3 events around the world. She is Director of Team Programs for Bicycle World, Texas
The Act Locally Waco blog publishes posts with a connection to these aspirations for Waco. If you are interested in writing for the Act Locally Waco Blog, please email [email protected] for more information.