Juneteenth 2018 Reflection: Because of them…we can!
(Most Texans probably know the history of Juneteenth, but just in case there are a few folks out there who don't know how this holiday started… On January 1, 1863, President Abraham Lincoln signed the Emancipation Proclamation ending slavery in the United States, but that message did not reach Texas until more than two years later…on June 19, 1865.  That day became known as "Freedom Day" or "Emancipation Day" – but most people call it "Juneteenth."   It is an official state holiday in Texas. Waco celebrated Juneteenth last weekend (June 15, 16, 17) with numerous activities including the first ever Mr. and Miss Juneteenth Scholarship Pageant.  Ashley Royal chaired the pageant and played an important role in helping to organize and implement many of the other events.  This is her reflection on the weekend.  Thanks for writing, Ashley! – ALW)
By Ashley Royal
Juneteenth is a Holiday that is not talked about much. Many people have no clue what Juneteenth is.  Generations that have come along after mine don't know of the significance of the day, or what we are celebrating; they just know it's time for the parade and celebration. That really bothered me. I found myself wanting to educate the youth more on the history of Juneteenth, and so I made it my mission.
I wanted the 2018 Juneteenth Weekend to be the biggest celebration Waco has ever seen.  This desire  birthed the vision of a three-day Juneteenth Celebration that would educate, uplift, empower and unify the community of Waco.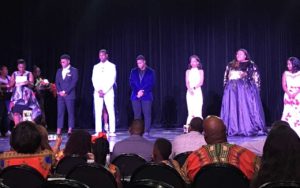 Friday night, June 15th was a monumental night for me. I had the privilege of chairing the Inaugural Mr. & Miss Juneteenth Scholarship Pageant hosted by FootPrintz Dance Company and sponsored by Creative Waco, Phi Beta Sigma Fraternity, Inc., The Waco Hippodrome, and Empowerment Driven by Knowledge Coalition (EDKC).  We began work on this event three months ago, and at the pageant we celebrated six phenomenal McLennan County High School Students:
Isaiah Montgomery, Junior from Robinson High School
Naomi McCullough, Junior from University High School
Darrell Sauls, Jr. 2018 Graduate of University High School
Sha'Queveon Ward, 2018 Graduate of University High School
Cameron Henry, Graduate of LaVega High School,
and Rachel McCullough, Graduate of University High School.
These six amazing young men and women showed off their talents, knowledge of Waco African-American history, and their style as they modeled casual wear and formal wear.  We even had a special guest, Dr. Linda Livingston from Baylor University, come and deliver a powerful message to the youth about the importance of higher education.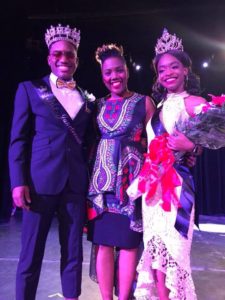 I was so proud Friday night! It was an honor to be among some of the finest people in Waco. And, it was such an honor and privilege to be able plant a seed into six young people and three months later see them bloom.  The winners received $1,000.00 each, 1st runners up $650.00 each, and 2nd runners up $350.00 each!  Everyone was a winner Friday night and it was an amazing site to see. Not only did they get scholarship money, but throughout the planning for the pageant they participated in training courses about topics such as Financial Aid, interviewing, and professional dress. I really wanted to give them tools they could use in the real world.  I am proud to say that with the help of many community partners we were able to do just that. That was the biggest event of my life!
Saturday we unified! We started off with with the Amazing Cen-Tex African American Chamber of Commerce Juneteenth Parade marching down Historic Elm Avenue. It was probably one of the biggest Waco Juneteenth parades I have ever seen. The Juneteenth Parade is always a blast, and I think the fact that we gather and march as one in unity celebrating the broken chains speaks volumes.
We continued our celebration in Brazos Park East at the Juneteenth Family Fun Day Celebration sponsored by EDKC, 94.5 The Beat, Allen Samuels and a host of other local sponsors. We had the reading of the Proclamation, tons of live entertainment, the Mega Kids Zone, all sorts of vendors, food, clothes, jewelry… you name it we had it! The big headliner Dru Hill put on a remarkable concert which closed out our Saturday.
Sunday was the finale! The Father's Day Gospel Blowout Sponsored by Creative Waco and EDKC. We lifted the name of the Lord in song and dance at the Second Missionary Baptist Church of Waco.  In attendance we had the Waco Community Choir, the Silent Saints of SMBC, Kupira Marimba, the Levites and more… and that was just the warm up! Headliner Myron Butler took the stage and completely put Juneteenth weekend over the top! It was the perfect ending to a phenomenal weekend.
I have always been proud of my culture and how far we as a people have come, but this Juneteenth Weekend I was proud of Waco!  I felt the support of the community this entire journey and it was such a great feeling.  This Juneteenth weekend I not only celebrated freedom, but I got to walk in purpose, leave my footprint, and make change.  I even got to kick off  an annual event, the pageant, that will start every Juneteenth weekend in Waco moving forward. The 2018 Juneteenth weekend was a success in my eyes. We accomplished so much in those three days which I hope will set a path for us to continue moving forward in the future.
This weekend we displayed excellence and proof that because of them… we can.
---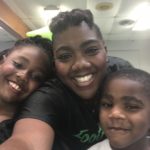 Ashley Royal is the owner and director of FootPrintz Dance Company. She is a servant of the community of Waco.  Ashley's mission is to promote high self-esteem, build character and help develop leadership skills in young people through the art of dance and community service. Ashley serves on the Board of Directors for The Youth Connection of Waco, she is a volunteer at Mission Waco, teaching the Hip Hop Dance Class and is also volunteers as a Pee Wee cheer coach for the Waco United League.  Ashley works full time for the Daniel Stark Law Firm as a Pre- Litigation case manager.  Through the service in the community Ashley hopes to build relationships that will lead to a stronger and better developed East Waco.
(Visited 28 times, 1 visits today)