(Editor's note:  This post was originally published in Karat Magazine. To quote their website, "The Karat is a Waco-based online magazine celebrating local people & history. Each person has a story, and every story is gold." To read more about the founders of Karat Magazine and their vision, click here. For this story and others like it, click here: Karat Magazine.  – ALW)
By Evan Hebert
I have spent my whole life in Waco. The first 18 years I lived in Hewitt, avoiding downtown Waco like the plague. Then, on a whim and despite having no familial or emotional connections to the university, I decided I would apply to Baylor. As most people do, I immediately fell in love with the campus, the people, and the idea of feeling like I wasn't in Waco.
Because Baylor is the most expensive school in the entire world (maybe a slight exaggeration), I was forced into a very unconventional freshman year. Originally, I planned to live at home with my mom to save money, but I ended up couchsurfing my entire first year of college. From crashing on an air mattress with a very cute dog named Oliver for two months, to becoming a "futon guy" for the spring semester, I was exposed to more life in those nine months than I had collectively experienced in the rest of my life.
Without a doubt, living off campus was tough. I made very few friends my freshman year at Baylor, but I got to truly experience my city for the first time. Rather than going to class or studying (sorry Mom), I spent my time running around a (then) vacant downtown, tugging on doors, and finding my way onto nearly every rooftop in the downtown area.
When I moved into the Waco High Lofts in February of 2013, I had only ever intentionally spent time in the downtown Waco area for the annual 4th of July fireworks show. Then, all of a sudden this vacant space was my new home. I spent my days trying to tread water in school and my nights falling in love with my city. Then, I spent the rest of my undergrad years sharing my favorite spots with any and everyone who would let me. I think the final count is around 300 students that I was able to introduce to my city via rooftops, abandoned buildings, and hole-in-the-wall spots. I was fortunate enough to work with 4 consecutive incoming classes of students, so I have had the honor of seeing the narrative about Waco change over the last 4 years.
Waco has historically been the butt of jokes (and with good reason most of the time), but there has been something special going on here for the last five years. I have had a distinct honor of growing and maturing (a little) alongside my hometown in the last half-decade. I have seen shops open (and close), a boom of civic pride hit the downtown area, and the least anticipated tourism explosion in the history of Waco. I have seen young people put their foot in the ground and commit to making this place better. I have seen my peers decide to move back home to see what the hype is about. I have seen the tension between "old Waco" and "new Waco" reach a boiling point. There has truly never been a more interesting or exciting time to call Waco home.
With the unprecedented growth Waco has seen recently have come some hard realities. You can no longer park 30 feet away from the front door of your favorite restaurant at any given time. You can no longer get literally anywhere in less than 10 minutes. You may have to wait 20 minutes to grab a seat at your breakfast spot. You may even have to honk your horn at a Magnolia mom or two coming at you the wrong way down 5th Street.
Growth is never easy. People don't like change, and they especially don't like change that they may not personally benefit from. Waco is a hot bed for change right now. My hometown, the place I fell in love with for its simple beauty, has transformed into the number two tourist destination in America. The abandoned buildings and rooftops that I used to sneak into and onto are now clothing stores, coffee shops, and downtown gyms. The secret places I used to enjoy as vantage points of my city are now Instagram hotspots. For a while, that change was a little too much, too fast for me. I felt like I had a secret that had gotten leaked. (I was also 19 and had a ton of maturing to do, which probably explains a lot.)
I graduated from Baylor about 18 months ago, and I have the best job in the world. I get to share my city with college students, connect them to cool things going on in town, and ultimately connect them to job opportunities with the hope of keeping them in Waco whenever they graduate. I get to spend time on each of the five college campuses in Waco, hear the stories of students trying to figure out their next step, and tangibly help them get closer to their goal. I am literally paid to brag about my city and help people fall in love with it. Life is crazy.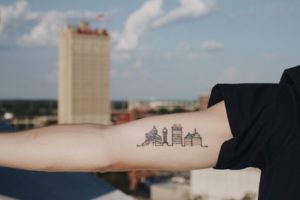 I love my city. I have grown up alongside my city. I have my city on my arm (literally). Waco is a special place. You will have a hard time finding a place that makes you feel the way this place does. Waco has a rough history and has had to reconcile with some of the horrible things that have happened here. Because of stories like that of Jessie Washington, Waco has scars. Because of the tornado of 1953, Waco has scars. Because of the racial disparity highlighted by the contrasting experiences of Wacoans on either side of the river, Waco has scars. Through all of this, Waco has persisted, and will continue to grow closer to being a place for all people, and I can't wait play my part in that story.
---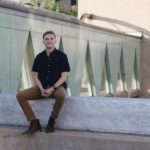 Evan Hebert is a native Wacoan and graduate of Baylor University with a degree in Corporate Communication. He is passionate about the Downtown Waco area and helping people get connected to their city.