Nurse Family Partnership: Developing Your Baby's Brain
by Claire Hutson and Elizabeth Keomanikhoth
We are all aware of the physical changes a baby undergoes in its first few years of life. It's easy to observe: from sitting up to crawling to walking and talking, babies develop a great deal. But what about the mental changes that go on underneath all of that? Those are a lot less easy to observe, especially to the untrained eye, but helping your baby's brain grow is just as important as helping the rest of its body grow. So how do you do that?
Talking and Reading to Your Baby
A baby's brain develops through their interactions with their parents and the environment around them. Simply talking to your baby is incredibly important for building the brain. But communication with your baby does not just mean spitting out words at them. It can also be shown through mimicking the faces and movements that they make, and putting an emotion title to the faces or attitudes they express. For example, if your child is laughing and smiling, you could say, "You seem to be very happy right now!" This simple acknowledgment places context to certain words and enables them to gain a better understanding of the world around them. Exploring what will happen when they fuss, blow bubbles, giggle, babble, and even throw food on the floor helps further their brain development. These experiments allow them to communicate with you and other caregivers, and are the building blocks for a properly wired brain. Research shows that talking to and interacting with your baby in the first 3 years of their life builds the ultimate foundation for what will be needed to support later reading and thinking skills.
You are your baby's first teacher. Learning to read depends greatly on having and hearing a large vocabulary. Reading to your baby allows them to hear words that you may not normally say to them on a daily basis. It also puts pictures and a story to the words that you are saying. You are exposing them to new vocabulary and concepts such as numbers, letters, colors, and shapes. It will build memory, vocabulary, and listening skills. When your child hears more words, it increases the number and variety of words they will understand and use later on in life.  Reading books will keep them entertained, especially if the book includes a song for you to sing, and will make talking to your baby much easier and more engaging.
What is the Nurse Family Partnership?
But I am only acutely aware of these things because of almost four years of training on the subject, and even so I would be quite nervous to actually put it into practice and raise of child of my own. Many moms do not know the importance of these building blocks, and for many, these simple interactions do not come naturally. So how do we help moms in our community turn this into the status quo of parenting? That is where Nurse Family Partnership (NFP) comes in. NFP is an evidence-based organization for first time expecting mothers. They provide education, empowerment, and access to resources in our community. They teach first time mothers the importance of things like talking to your baby. NFP provides ways for women to be the best mothers possible. To be eligible for this program you have to meet the basic requirements. This includes being a first-time mother (at any age), at or less than 28 weeks pregnant, and you must be a McLennan County resident.  If you know of any first-time mothers in McLennan County, have any other questions, or would like to volunteer, please feel free to contact the office at 254.202.1130.
---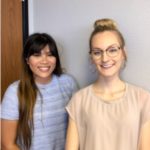 Elizabeth Keomanikhoth (Pictured left) will be a senior at Baylor University. She is majoring in Child and Family Studies, and following a pre-medical track in hopes of pursuing pediatrics.
Claire Hutson (Pictured right) will be graduating from Baylor this August with a Bachelor's degree in Public Health.  
The Act Locally Waco blog publishes posts with a connection to these aspirations for Waco. If you are interested in writing for the Act Locally Waco Blog, please email [email protected] for more information.
(Visited 52 times, 1 visits today)