Five things that make Waco a Great Place to do Business
By the Greater Waco Chamber of Commerce Staff
What is it about Waco that makes it so appealing to new businesses? At the Greater Waco Chamber of Commerce, our economic development team is constantly working to grow the economy through the attraction of new businesses to the region and the expansion of our existing industry base. Having already announced $119 million in new industrial investment for 2018, the level of interest in the community is strong. Not only has Waco become a desired destination for visitors, more businesses and individuals are taking notice of our strong assets and choosing this city as the ideal location for both professional and personal success. In fact, McLennan County is outpacing the seven-county region, Texas and the U.S. in labor force, making Waco a magnet for talent and commerce.
Here are five things that we think make Waco a great place to do business:
1. Waco is centrally-located. Waco's location in the "Texas Triangle" positions the community as a central point for connectivity and growth. Identified as one of 11 mega-regions in the United States, is roughly formed around the D/FW region, Austin, San Antonio and Houston, with Waco located right in the middle. A recent article published by D Magazine in Dallas, indicates this region is home to more than 20 million people and produces nearly $1.3 trillion a year in economic output, ranking 17th among world economies. Interstate 35 also plays a big part in Waco's economic success, providing easy access throughout Texas and the United States.
2. Waco is home to five outstanding, diverse institutions of higher education. Waco is fortunate to have higher education opportunities for people of each and every walk of life, which is important to businesses who are looking for a strong talent pipeline. Baylor University, the oldest institution of higher learning in the state of Texas and the largest Baptist university in the world, offers a combined 258 baccalaureate, masters and doctoral programs, according to the Baylor website. McLennan Community College (MCC) offers multiple associate degree programs at affordable costs that are designed to be transferable to bachelor's degree programs at senior-level institutions. Through its partnerships at the University Center at MCC with universities across Texas, including, Texas Tech University at Waco and Tarleton State University Waco, students can easily transition into affordable bachelor's degree programs without having to leave Waco. Texas State Technical College (TSTC) is the technical training college for Texas. Headquartered in Waco, this diverse two-year technical college focused on student success in learning and preparation for future careers offers over 40 associate's degree and/or certification programs and boasts a high student job placement rate after graduation.
3. Waco provides an awesome quality of life. The cost of living is affordable, and the business climate is supportive and welcoming. With initiatives like Start Up Waco, partnering with resource providers across Greater Waco to provide knowledge, work space and access to capital, entrepreneurs will have more connectivity into the Waco-McLennan County entrepreneurial ecosystem than ever before. Already, new businesses are popping up across the community and finding success entering the marketplace. Waco is home to an abundance of natural resources, including the Brazos River and Lake Waco. Cameron Park is one of the largest municipal parks in the state, with beautiful trees, a natural habitat zoo, access to the Brazos and Bosque rivers, and a huge network of trails that vary from beginner to expert level.
4. Waco has a strong spirit of collaboration. Waco believes in partnering for success. Few places see local governments, the business community, education institutes, and non-profit organizations working together on common goals for growth and success.  We all are working together to grow and diversify our economy and create prosperity for everyone.
5. Waco's flourishing tourism market is evidence of what an incredible place Waco truly is. With over two million visitors every year, it's obvious that people enjoy visiting Waco. Visitors see Waco in a different light – they meet the kind, loving community of people who live here; they interact with the positive, supportive businesses; they have wonderful experiences that keep them coming back again and again.
Waco has transformed into a truly vibrant community that is primed and ready for new businesses to put down roots. We're experiencing a very unique, exciting time here in Waco, and we are so thankful to have opportunities to show off our city.
---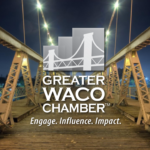 Written by Greater Waco Chamber of Commerce Staff.
The Act Locally Waco blog publishes posts with a connection to these aspirations for Waco. If you are interested in writing for the Act Locally Waco Blog, please email [email protected] for more information.