Trails and Trials: IRONMAN® 70.3® Waco training camp
(This post is a part of a regular series "Trails & Trials," a monthly adventure series inspiring others to experience the physical, mental, and social benefits of cycling, running or swimming in Central Texas. For more posts in this series, click here: Trails and Trials.  – ALW)
By Natasha van der Merwe
Last weekend we had the pleasure of hosting over 60 athletes in Waco. They came in from cities all across Texas, Oklahoma and Arkansas, for the inaugural Bicycle World IRONMAN® 70.3® Waco training camp.
What exactly does a Triathlon training camp entail?
This camp was specifically targeted at helping athletes feel as prepared as possible for the inaugural IRONMAN® 70.3® Waco Triathlon on October 28th.
The first goal was to familiarize the athletes with the race course. The second goal was to make sure every athlete left with as much information on how to execute all the small but important elements that would make their race day a success. We covered topics such as day-to-day nutrition, race day nutrition, race day pacing, carb-loading, taper week protocols, cycling equipment, and much more. All elements are just as important as the other.
Outside of these two goals for the athletes, an added bonus is that a triathlon community was built.
There is nothing like getting a group of like minded, and enthusiastic people in the same room conversing about their favorite subject – triathlon. The conversation flowed and many new friends were made.
The camp started on Saturday mid-morning, where we took athletes through a transition clinic. The quickest way to transition from the 1.2 mile swim to the 56 mile bike ride, and from the bike ride to the 13.1 mile run.
Transition times are important, as they add to one's overall time. We showed the athletes a few tips and tricks to make the process as time efficient as possible.
Athletes were advised as to what a pre-workout and race warm up routine should look like. This included activation exercises, specifically targeted at getting muscles ready for the upcoming activities, as well as running specific drills focused on building running efficiency and making sure we have the body feeling loose and ready for the workout session or race ahead.
Following our activation exercises and warm up we sent the athletes off to run part of the IRONMAN® 70.3® Waco run course, which ran them on a beautiful and mostly shaded path along the Brazos River.
Thanks to the volunteers from the Waco Triathlon Club for all their assistance. They   ensured that the campers had a great impression of Waco. We had water stops along the route for them to stop, chat and take in the views before heading back.
Next on the agenda was a group swim at the beautiful Waco Family YMCA pool. Our group was so large that we had to split them in two groups. Aaron Shapley, a Bicycle World Racing Team athlete and an ex collegiate swimmer, gave an informational session in the bleachers.  I then took a group through their paces of a triathlon specific workout that can be done in the pool.
After a short break, all the athletes got together at Downtown 301, which is located right behind the new Bicycle World store. Athletes got to mingle with others over a steak and sweet potato dinner, which we recommend prior to big races due to its nutrient density, which is perfect in preparing the body for a big event.
Bicycle World's CEO and President, Todd Behringer, and local triathlete Erik Romanov took us through the bike and run courses so that athletes got familiar with the course before riding and running it the following day.  I then got the opportunity to speak on several topics and details that would help them make their race day as enjoyable as possible.
Sunday morning, while the athletes were enjoying breakfast, our volunteers setup course signage and aid stations on the bike and run course.  When athletes arrived in the morning, they setup their transition in the IRONMAN® 70.3® Waco transition area. We then set athletes off in various pace groups led by the Waco triathlon community and Bicycle World Racing team. All campers got to ride the entire 56 mile bike course which is described on the Ironman website as a single-loop course through the scenic Central Texas rural roads.
The day finished with running one loop of the challenging two loop run course that takes athletes along the Brazos River and into the hills of Cameron Park, and finishing on the suspension bridge which offers a picture perfect and memorable finish line.
After the ride and run, athletes, coaches, and volunteers all congregated under tents enjoying a well-deserved and delicious lunch from Luna Juice, while reminiscing about their big training weekend. One of our athletes, who was brand new to the sport of triathlon, finished the day in tears of joy. She exclaimed how proud she was of herself because never in a million years did she think that she was capable of doing a triathlon. It was her longest ride and run to date, and training for IRONMAN® 70.3® Waco was the big goal that kept her mind off recent heartbreak she had experienced in her life. Like many of us that enjoy the sport, training for a triathlon had given her day purpose, and she was proving to herself that she was strong enough to handle anything that came her way.
We all come to the sport of triathlon for one reason or another. Mine started out as simply needing a bigger purpose to workout and take care of myself, other than just to look or feel good.
Well, I got this and so much more…
It turned into an Enduring Passion.
It improved my overall quality of life.
It became a career that allows me to compete and help others on their journey through the sport.
It created new and long-lasting friendships within a close-knit community.
Lastly, training for a triathlon and race day brought about joy and living life to the fullest.
It is a great experience when crossing that finish line at the end of a race. Months and months of preparation are celebrated.
I personally cannot wait to see the many tears and exclamations of joy from nearly 3000 triathletes on that suspension bridge on October 28th.
---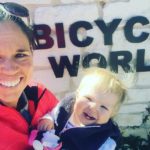 Natasha van der Merwe is originally from South Africa. She is mom to a 19-month old girl, former professional tennis player and tennis instructor, and a professional triathlete representing Bicycle World and Waco Running Company.  She has multiple top 10 finishes in Ironman and 70.3 events around the world. She is Director of Team Programs for Bicycle World, Texas
The Act Locally Waco blog publishes posts with a connection to these aspirations for Waco. If you are interested in writing for the Act Locally Waco Blog, please email [email protected] for more information.
(Visited 38 times, 1 visits today)