Street Art in Waco: By the People, For the People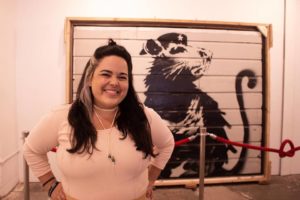 (The current exhibit at local art and culture hot spot Cultivate 712 is called "Writing on the Wall."  It features the street art of world-renowned, anonymous street artist "Banksy," specifically his/her installation "Haight Street Rat: This is where I draw the line" in addition to artwork by Waco and Central Texas artists.  Bringing the work of this famous/infamous street artist to town made us wonder about the state of street art in Waco.  Steve Veracruz of the Central Texas Artist Collective (CTAC) agreed to dig into it a little for us.  Thanks for writing, Steve! The "Writing on the Wall" exhibit is free and open to the public during Cultivate 7Twelve's open hours until Saturday Nov. 17.) – ALW)
By Steve Veracruz
Street art is not new to Waco.  Sometimes it seems like street art and graffiti styles fill up any place resembling wall space. There is a fine line between calling graffiti "street art" and actual works of art. It all depends where you draw the line I suppose.
There really are no boundaries when it comes to street art because the actual environment becomes the canvas. Street art can be about the statement…a street artist has something to say and it will be revealed on a grand scale, with a touch of controversy perhaps.  But, that is not always the case. It may also be about reflecting a particular area with some visual form of identity.
One particularly talented individual in Waco with experience in street art goes by the name Skcoobaveli. He has created outstanding works of art everywhere, from bridges to buildings. He is also one of Waco's famed tattooists, as well as the winner to one of CTAC's special art exhibitions!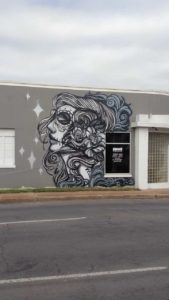 Skcoobaveli acknowledges the many street and graffiti artists before him.  Building on that, he hopes to create a brand known for its tasteful qualities. Businesses have reached out to him to help encourage traffic through the attraction of his art.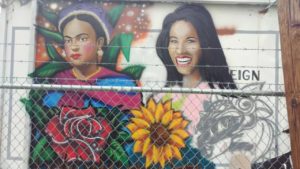 Skcoobaveli explains that areas with the less attractive graffiti and even vulgarity are mere places for practice. They are places where adolescent behavior grows into work to be shared, for the people.  He also noted that sometimes a wall becomes a space for something amazing to be created…a legacy gets left behind.
"It feeds the soul to be remembered," says Skcoobaveli. "Keeps the Ghost alive. And without ghost to chase, Scooby Doo wouldn't have a job.  Feed the memory. Be a ghost chaser. Spread the stories. RIP Benjamin Franklin, may I always have you in my pockets, close by."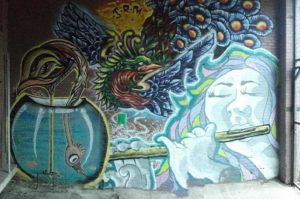 Sal Valesco is another former street artist in Waco. He has seen and worked with some Waco's street art pioneers. His take on the movement is to recognize its value. It truly exercises the right of free speech, given it is done properly.
"To me the street art in a city always gives me a reading," explains Sal, "like a pulse of what's happening in that city." Sal understands the necessary information that street art can reveal. It can promote style, politics, and more importantly, culture.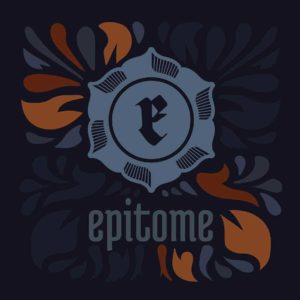 Since his street art days, Sal has taken his skills to the next level and created his own company, Epitome.  Through Epitome he provides advertising and marketing for many of the sprouting local businesses waking up in Waco. His once hidden designs developed while decorating the street under the cover of night, now help businesses explain and promote their identity.
Sal likes a quote from soccer star, Pele, "Success is no accident. It is hard work, perseverance, learning, studying, sacrifice and most of all, love of what you are doing or learning to do." "Those words couldn't be more true," says Sal. I'm looking forward to embarking on this new venture and to putting our best foot forward. Follow @epitome_tx to keep up with our new projects and to get more info." (#epitome)
Any form of art continues to generate, encourage, influence, and plant the seeds for so much more we have not yet seen. I feel absolutely honored to be able to work with so much of Waco's talent so far. The best quote to take us out with is, "We have not seen anything yet!"
---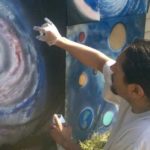 Steve Veracruz is Co-founder and communicator for Central Texas Artist Collective. He is a multimedia artist and strong advocate for collaborative success. He likes to say, "No big accomplishments are created alone, and our city is on the way."  For more information about the Central Texas Artist Collective (CTAC) email [email protected] .
The Act Locally Waco blog publishes posts with a connection to these aspirations for Waco. If you are interested in writing for the Act Locally Waco Blog, please email [email protected] for more information.