Workforce Development with Communities In Schools: Turning Passion into Careers!
According to the Prosper Waco website, one of our goals in the community of Waco is to "Increase youth employment." In my job as Workforce Coordinator at Communities In Schools (CIS) that goal is in the front of my mind every day.  When asked about writing a success story about our Workforce program, it was hard for me to pick!  There are countless successful youth that I could highlight in an article. I could point to many of our clients who have challenged themselves to overcome their barriers and have worked tirelessly to be victorious in education and employment.  For example, the young person I will profile in this post balanced a multitude of responsibilities and has been extremely successful in her educational and employment journey.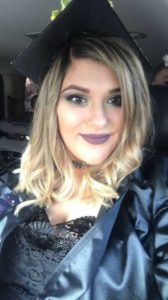 Selena Hernandez originally started in the Communities in Schools program at La Vega High School.  After high school graduation, she was referred to the Workforce Development (WIOA) program as she had a strong interest in obtaining her nursing degree. After attending MCC for her prerequisite courses and meeting the rigorous nursing school requirements, she was accepted into the Registered Nursing Program at MCC. Selena was able to maintain her responsibilities as a mother, keep up her grades and work overnights at Providence Hospital Emergency Room in Patient Registration. While on her journey to become a nurse, Ms. Hernandez ran into some educational challenges but with the help of Communities in Schools and her own self-determination she was able to push through.
There were many times she would visit the office and have her children with her. They would play and we would work on job readiness activities and talk about her aspirations and struggles. She is the definition of a multi-tasker! Ms. Hernandez received her Licensed Vocational Nurse (LVN) credentials in Summer 2017 and completed the RN Program in December 2017. She dedicated her time to her family and her studies and became a licensed RN in 2018.
Selena is now employed at Quality Care Nursing Facility as a Nurse Supervisor and works PRN (as needed) at the Atrium Nursing Facility as a Registered Nurse.
She was able to attend her classes and clinicals, meanwhile balancing employment and her responsibilities as a wife, mother, and daughter! She is a true rock star. To know Selena is to know an outgoing and compassionate heart. She shows such amazing compassion for her family, patients, and those around her. She has a positive outlook on life and she is certain to make you laugh with her humorous personality. When you look at Selena's journey you will find that the path to success is paved with dedication, time, and finding a way to move past setbacks. She has taught us that if you have a passion, you should follow it with every twist and turn!
The Workforce Development Program at Communities In Schools provides career coaching to youth ages 16-24, both in and out of school, to assist them in educational attainment and reaching their post-secondary goals. The Workforce Development program provides academic assistance, GED preparation, career exploration, assistance with entry into post-secondary education, and job placement opportunities. For more information, please visit www.cishot.org or email [email protected] today!
The Act Locally Waco blog publishes posts with a connection to these aspirations for Waco. If you are interested in writing for the Act Locally Waco Blog, please email [email protected] for more information.
(Visited 120 times, 1 visits today)