An extraordinary opportunity to learn about an extraordinary man…an evening with Winston Churchill biographer Andrew Roberts
By Cheyenne Atchison
"I felt as if I were walking with destiny, and that all my past life had been but a preparation for this hour and for this trial… I thought I knew a good deal about it all, I was sure I should not fail." In one of his most iconic quotes, Winston Churchill described what he felt after he became the Prime Minister of England in 1940.
This quote also serves as the title for Andrew Roberts' new Churchill biography, Churchill: Walking with Destiny, a New York Times best seller released last October. On Wednesday, Feb. 13, McLennan Community College will host author and scholar Andrew Roberts, as he travels the state on a promotional tour. The book has been hailed by the Wall Street Journal as "the best single-volume biography of the man."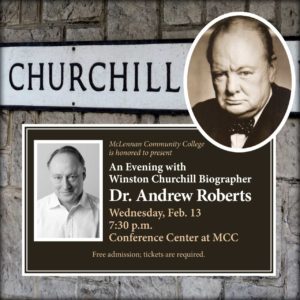 MCC is honored to host this popular author and an evening of learning about a prominent historical figure, with the help of Judge Ken Starr. "Our friendship with Judge Ken Starr and his wife Alice has taken the student experience at MCC to an entirely new level. Judge Starr engages with our Presidential and Honors College Scholars every semester…" said Kim Patterson, executive director of the MCC Foundation and coordinator of the Roberts' event. "His connections in Washington and around the world are enabling us to offer MCC students learning opportunities they wouldn't get anywhere else."
Dr. Andrew Roberts, received a PhD from Cambridge, is a visiting professor at the War Studies Department of King's College, London, the Lehrman Institute Distinguished Lecturer at the New-York Historical Society, and the author of 13 books.
As a journalist and historian, he has researched and written about a variety of public and historic figures, but Winston Churchill is arguably his most studied. His enthusiasm toward Churchill is obvious in the collection of memorabilia close at hand in his study, which includes a hairbrush, bow tie and invitation to the lecture at Westminster College in 1946, in which Churchill delivered his infamous "Iron Curtain" speech. Despite his interest and admiration of Churchill, Roberts makes a point to recognize the mistakes the prominent leader made in both his political and personal life. More importantly, Roberts wanted a biography that would not only acknowledge faults but also explore how Churchill grew from them. Through his missteps, Churchill developed into the historical figure he is today.
Walking with Destiny offers an understanding of Churchill from a new perspective. The last major publication about Winston Churchill was Churchill by Roy Jenkins in 2001. Since its release, works surrounding Churchill have been deposited into the archives at Churchill College. In addition to these documents, the Queen of England granted Roberts access to her father's diaries. This marks the first time a Churchill historian has read King George VI's personal writing.
King George VI and Winston Churchill became close during World War II, with Churchill serving as England's prime minister under the king's reign. Despite initial aversion toward the new prime minister, it was the efforts of the war that helped them develop a relationship. This makes King George VI's diary the ideal collection and perspective of both their friendship and of Churchill himself. This document serves as primary evidence never seen or read in any previous Churchill biography until now.
A large reason Roberts wanted to write this biography was due to his belief that the criticism Churchill faces is a result of inaccurate sources or a lack of context surrounding specific controversies. With access to new archives and the king's diaries, Roberts can unveil a new side of history.
"It is simply extraordinary for our students to have the opportunity to meet and hear from one of the world's leading Churchill scholars, right here on our campus," Patterson said. "We have always said that MCC is not like other community colleges … MCC is more like a four-year liberal arts college offering outstanding teaching and enriching experiences."
"An Evening with Sir Winston Churchill Biographer Andrew Roberts" will be held on Feb. 13 at 7:30 p.m. in the McLennan Community College Conference Center. Admission is free to the public, but tickets must be reserved at www.mclennan.edu/andrewroberts. Copies of Walking with Destiny will be available for purchase at the event.
---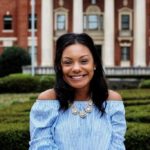 Cheyenne Atchison is a junior at Baylor University studying Marketing and Public Relations, and currently serves as an intern in the Marketing and Communications Department at McLennan Community College.
The Act Locally Waco blog publishes posts with a connection to these aspirations for Waco. If you are interested in writing for the Act Locally Waco Blog, please email [email protected] for more information.