Better Living for Texans: From the heart, for the heart
By Lindsey Breunig
It is difficult to avoid Valentine's Day reminders. There are decorations, cards, and candy in every store, and the radio, TV, or social media ads tend to highlight a gift for that special someone. Many restaurants might even have a special menu to celebrate the holiday. Whether you love the tradition or would prefer to avoid all things red that day, this post is dedicated to starting a new tradition on February 14th, a heart-healthy tradition. This Valentine's Day give something from the heart for the heart!
The National Institute of Health estimates that the heart will beat 3 billion times in an average human lifetime. How amazing is that! The heart pumps blood through the network of arteries and veins supplying the body with oxygen and nutrients essential for our survival. It is no wonder why we need to take care of our heart!

During this time of year, it's easy to get caught up to get the perfect gift to convey our love to those special people in our lives. While it may be nice to give (and receive) a box of chocolates, an even greater show of love is to share a heart-healthy gift to let the those know you care. Instead of offering an over-sized piece of cake or a box of sweets, give something that takes care of the heart. Below are some fun recipes to make for someone you care about.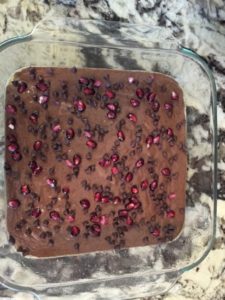 For all the chocolate fans reading this, here is a recipe for brownies with some extra twists! For Valentine's Day try making these Chocolate Pomegranate Brownies. The chocolate and pomegranate create a delicious combination! Additionally, these brownies are made with black beans and prunes that you cannot taste.
Including fruit in dessert is a great way to get sweet flavors while also intaking wonderful vitamins and minerals. You can experiment with your favorite recipe by using unsweetened applesauce or mashed ripe bananas instead of butter. Or, try baked apples or peaches with cinnamon and a sprinkle of sugar instead of pie.
Like fruits, vegetables provide us with many vitamins and minerals that are great for our body. This next recipe is a favorite and uses red tomatoes to keep us in the Valentine's Day spirit! Tomatoes are high in lycopene which according to the Harvard Medical School is a powerful antioxidant that eliminates dangerous free radicals that can damage DNA and other fragile cell structures. How thoughtful of you to use tomatoes this Valentine's Day! Enjoy this Cowboy Salad.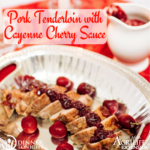 Our final recipe is sure to impress! This easy pork tenderloin with a cayenne cherry sauce is healthy, while still feeling indulgent. Additionally, this recipe is stamped with the American Heart Association® Heart-Check Mark. The Mark helps consumers recognize that the recipe meets Heart-Check nutrition requirements that limit saturated fat, trans fat, sodium and added sugars, and promote consumption of beneficial nutrients. Check out this Pork Tenderloin with Cayenne Cherry Sauce or watch here.
The menu is set and now it's time to include some physical activity as part of your Valentine's Day! In addition to eating food that is good for our heart and bodies, remember it is also beneficial to have an active lifestyle that includes regular exercise to improve or maintain heart health. After a meal have fun walking around Waco with family and friends and think about gifts that encourage healthy habits such as running shoes, or reusable water bottles. Time together allows you to laugh, mingle, dance, and play games. Focus on fun and enjoy the company of others. I hope this Valentine's Day is a lovely day for everyone and their heart!
---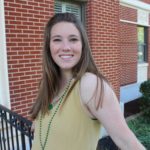 Lindsey Breunig is a graduate of Baylor University and currently works as the Better Living for Texans Educator for the Texas A&M AgriLife Extension Service. She is originally from Grapevine, TX and now calls Waco home. Here in Waco she loves to venture out to Cameron Park, visit the local Farmers Market, and try out the awesome eateries in Waco. If you see her and hear a loud bark, that's her pup Lucy just saying hello.
The Act Locally Waco blog publishes posts with a connection to these aspirations for Waco. If you are interested in writing for the Act Locally Waco Blog, please email [email protected] for more information.
(Visited 35 times, 1 visits today)