By Barbara Bridgewater
I was swimming the other morning at the Doris Miller YMCA on Elm Street, enjoying the feel of the water as it flowed over my broken body, aware of how kind the water was to me. I don't swim like my friend Ruth, quick laps up and down to get good exercise! I float and let the water flow over and around me. The water is so kind.
I'm grateful that I have a place to do this in Waco: I've been a member of the YMCA since 5 years ago when I had to have a hip replaced. Since then, I've had to have 2 other surgeries and have been very grateful that water is so kind to me. Although I would prefer other kinds of aerobic exercise like running, playing basketball or hiking, my body right now is only able to handle the kindness of water.
Although I like the larger Family YMCA for all the programs and pools they offer, I prefer the Doris Miller YMCA because it is closer to me and because I really enjoy the people that attend swimming with me there at the 8:00 aerobics class. I often can swim by myself if I get there early or late, but most of the time, I choose to start my days by floating with my classmates. I hear all the local sports and political news, learn new recipes, and enjoy hearing of life experiences from the others in the class. I'm grateful for all of them. I'll miss them for the next 6 weeks until I recover once again from surgery. I'm already eager to return!
When I traveled to Portland, Oregon this summer, I was surprised that they didn't offer a local YMCA pool for me to swim in. When I went to Ohio last year, I noticed that they didn't have such an offering, either. It had not occurred to me that we are so lucky here in Waco to have so much kindness offered.
I feel God's love and grace surrounding me in the midst of the water. I feel my body, a little like a penguin, enjoying graceful movement, while on "land", I have to limp and hobble around. Perhaps there are others who need some kindness to their bodies: come join me (in 6 weeks, anyways) at one of the local YMCA's pools…
---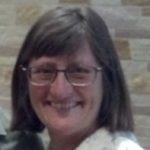 Barbara Bridgewater has lived with her husband, Phillip, and 2 daughters in the diverse north Waco neighborhood of Sanger Heights for 17 years. She teaches English to adults through MCC and works with homeless families at Compassion Ministries (while Phillip works with Habitat for Humanity International). Barbara attends a church in that neighborhood called Hope Fellowship, where Casa Azul was born.
The Act Locally Waco blog publishes posts with a connection to these aspirations for Waco. If you are interested in writing for the Act Locally Waco Blog, please email [email protected] for more information.
(Visited 22 times, 1 visits today)