Goodwill "Rise" program provides an alternative path to an accredited high school diploma
By Tiffany Gallegos
A lot of people are familiar with the retail side of Goodwill. Did you know those donated items fund Goodwill's services and programs to help put people to work and build their skills for successful careers? If you're thinking "no," don't worry! I must admit, before I started working at Heart of Texas Goodwill four years ago, I was not aware of the mission side of Goodwill. I also did not know there are 161 independent, local Goodwills across the U.S and Canada that customize mission programs according to the needs of the community. I have a passion for community development, so once I learned how Goodwill operates, I jumped onboard to help carry out the mission of building an inclusive workforce. Part of my role at Heart of Texas Goodwill is to share our services and programs with the community, so I invite you to engage with me in this blog post and beyond (I'm a fan of coffee meetings) to explore what we do and how we can work together as I share an exciting update for our new program, Rise, an accredited online high school.
2019 has been an eventful year so far and it is only March! In January we had our first woman step into the role of CEO/President (shout out to Shannon Wittmer, our former Mission Vice President who does not like shout outs but I'm doing it anyways).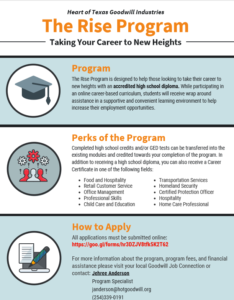 We also implemented Rise to kick off the new year. The purpose of the Rise program is to help individuals advance their careers and achieve financial stability by obtaining an accredited high school diploma.
We found in a community assessment conducted in 2018 that people without high school diplomas earned the least yearly income in our territory and often struggle to advance their job skills and earn higher wages. As a result, we decided Goodwill could offer an alternative path for people to earn a high school diploma. Rise's career-based curriculum is delivered through Ed2Go, an online learning platform that allows students to work through the program self-paced. This also gives folks, especially those that need to work or meet other obligations, the flexibility to work around their schedules.
Completed high school credits and/or GED testing can be transferred and credited towards completion of the program as well. What I love most about this career online high school is that there are no quizzes or testing. Instead, the course gives students small wins as they build competencies and progress through the program. This is great for people like me who have testing anxiety and/or have faced obstacles in a traditional classroom setting. At the same time, students have access to online counselors through Ed2Go that know the curriculum and are trained to address educational trauma. We also have a wonderful program specialist that will provide weekly check-ins and coaching to help students successfully complete the program.
Our mission for Rise is to foster a culture of lifelong learning by connecting students to postsecondary education training options. In addition to working towards a high school diploma, students can receive a career certificate in the following fields: Food and Hospitality, Retail Customer Service, Office Management, Professional Skills, Child Care and Education, Transportation Services, Homeland Security, Certified Protection Officer, Hospitality, and Home Care Professional.
Our program specialist will work alongside Rise students after they obtain a high school diploma to help them move into higher wage jobs and pursue additional education/training. This could look like enrolling in a technical/trade school, apprenticeship, college/university, or a workforce training program that offers industry-recognized certifications/credentials.
I think overall, providing an alternative path to obtaining a high school diploma is one way our organization can help upskill our workforce and build an additional pipeline of students accessing postsecondary education and training.
I have to say I'm excited we are in the process of enrolling our first cohort and are able to provide financial assistance to six students. If you or someone you know would like to talk more about Rise enrollment, program fees, financial assistance, or perhaps sponsoring a student for Rise, feel free to reach out to me at 254-753-7337.
I also can't wrap up a blog post without giving a shout out to our four Job Connections in Waco, Temple, Belton, and Killeen. We have awesome staff at each of these centers that can help folks with job searching, resume writing, interview skills training, and beginner/intermediate computer classes at no cost. We are able to provide all of these services thanks to our community donating goods to our retail stores, so next time you clean out your closet or are tidying up your home, consider dropping by your closest Goodwill store to donate!
---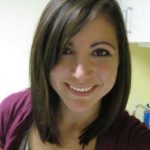 Tiffany Gallegos is the Development Director at Heart of Texas Goodwill and has called Waco home the past 10 years. She graduated from Baylor University in 2011 and earned her Master of Social Work degree from the Diana Garland School of Social Work in 2015. She is the proud mom of a soon-to-be toddler and enjoys gardening, home projects with her husband, and spending time with friends and family. Feel free to contact Tiffany at [email protected] or 254-753-7337.
The Act Locally Waco blog publishes posts with a connection to these aspirations for Waco. If you are interested in writing for the Act Locally Waco Blog, please email [email protected]for more information.