"Water for All" matters world wide – we can do our part in Waco too!
By Melissa Mullins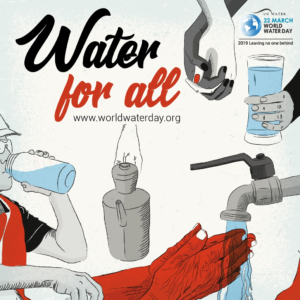 The theme for this year's World Water Day (celebrated annually on March 22) is Water for All . What does this mean? Access to clean water and sanitation is a basic human right and the United Nations Sustainable Development Goal 6 establishes 2030 as a target for achieving this (which is right around the corner). 2.1 billion people live without safe water at home. In many parts of the world, people cannot simply turn on the faucet and have water come out. If water is not supplied to households or easily accessible central locations, how do people get water? Securing the family's basic water needs daily often falls mainly to women and girls, and can take up such a large amount of time that it affects their ability to obtain education or thrive in other ways. Similarly, many people cannot simply flush their toilets to dispose of human wastes. On a global scale, more than 700 children under 5 die each day from diarrhea related to unsafe water and sanitation .
Here in the U.S., communities struggle with issues such as lead-contamination of drinking water – we've all heard of the on-going struggles in Flint, Michigan. But getting concerned about Water for All on a global scale for may be difficult because, after all, we can turn on a faucet and flush a toilet pretty much anywhere we go. What about water issues closer to home?
Water for people can be water for fish and wildlife too, although there may be competing demands for water. Balancing these demands to try to ensure adequate water for all, especially in places subject to drought (sound familiar?) or water scarcity is one of the major things that natural resource and other public agencies deal with. If you want to learn about, help protect, or just experience and enjoy our water resources in the Waco Community, there are so many opportunities do so and they are growing all the time! Here's a few suggestions:
Learn: Where does your water comes from and how does it get to you? Where does it go when you flush the toilet and how is it treated? If you don't know the answer to these questions (and it will be different depending on where you are in the Greater Waco area), I challenge you to figure it out!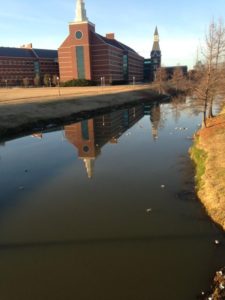 Keep it Clean and Conserve: Join Keep Waco Beautiful for the quarterly Brazos River Cleanup coming up on April 13th, or for one of their rainwater harvesting classes. Group W Bench litter patrol non-profit regularly plans clean-ups around our community. Everyone's probably seen the upsetting picture of the sea turtle with the plastic straw up its nose . Did you know that 80% of ocean pollution begins on land (including plastics, but also other pollution)? That means that Whataburger cup and non-trash pollution that starts here in Waco can end up in the Gulf of Mexico (yes- Waco Creek flows to the Brazos River, and the Brazos River flows to the Gulf!)
Check yourself and ask local businesses and governments what they are doing: Being a good steward of water means more than turning off the faucet when you brush your teeth or taking shorter showers. Could we reduce the need for so many river clean-ups if we didn't use disposable water bottles and straws in the first place? Could we support businesses that provide better alternatives to the waste generated with our "convenience lifestyle"?
Many people don't realize that energy production is a major user of water in the U.S. Can you carpool some places you don't already or even walk? Can you attend public meetings (such as have been occurring recently in Waco) regarding setting community-wide goals for transitioning to sustainable energy sources? The City of Waco's long-term goals include improved public transportation and improvements to our city's walkability and bikability , but there's still a lot of work to be done, and your voice and energy as a community member are valuable.
Enjoy our water resources: Take a walk on the Waco Riverwalk that links Cameron Park, Downtown, and the Baylor campus, on both sides of the river (free!). Or, get out on the water- did you know that we have not one but two Texas paddling trails in downtown Waco? There are two paddling companies where you can rent canoes or kayaks, and for those with their own boats the Waco Paddle Club organizes outings on local water bodies. There's a pontoon boat tour that is fun for residents as well as Waco visitors. Want to head out to the lake? You can purchase an annual pass from the US Army Corps of Engineers that gives you access to all the parks around Lake Waco. Want your kids to be safe while at the lake? The Corps offers water safety programs designed to reduce water-related fatalities; in addition to always wearing a life jacket, swimming lessons are one of the best things you can do to ensure your family's safety around water, and swimming lessons are available through the YMCA of Central Texas (including financial assistance). Take your dogs on a hike or practice your nature photography or birdwatching skills at the beautiful Lake Waco Wetlands – or join Cameron Park Zoo staff for National Frog Month to explore and search for frogs at the Wetlands every weekend in April.
Celebrate: There are many community events that are affordable or free and have water-related connections. Of course, Act Locally Waco keeps us up to date on all the happenings. Keep the "Water for All" celebration going throughout the year!
---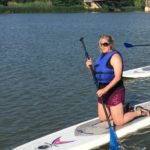 Melissa Mullins is a water educator who works at Baylor University's Center for Reservoir and Aquatic Systems Research. The Center celebrated World Water Day by facilitating citizen science water quality testing in after-school science clubs, at the Mayborn Museum and at Girl Scouts of Central Texas STEMfest.