"Spring onto Summer Food Drive" helps feed kids – Donations and Volunteers needed
Press Release – The community's help is needed to deal with the serious problem of child hunger in McLennan County, which worsens in the summer when many children are home from school and cannot receive free, nutritional meals provided in schools. A special spring food drive is being conducted to aid in this effort. The ninth annual "Spring Onto Summer Food Drive," which will take place on Saturday, April 13, 2019, is designed to help local food pantries better meet the increased demand for supplemental food that is expected during the summer—a time when there is also a decrease in food and monetary donations to these organizations.
Pantries to receive food donated through this drive are Shepherds Heart Food Pantries, Salvation Army, and Caritas of Waco.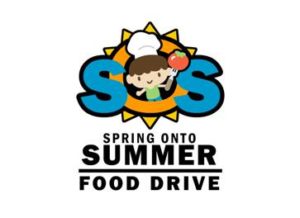 When school is out families in need have more mouths to feed at home. The demand for food is much greater at local pantries. We are asking the community to help stock the shelves of these local pantries to assist them in caring for people in need.
Individuals are encouraged to donate food on April 13th between 9 a.m. and 5 p.m. at one of the following locations:
Wal-Mart, 1521 N IH-35, Bellmead
Wal-Mart, 600 S. Hewitt Dr., Hewitt
Wal-Mart, 4320 Franklin, Waco
Wal-Mart 733 Sun Valley Blvd, Hewitt
Sam's Club, 2301 E. Waco Drive, Bellmead
Brookshire's Food Stores, 100 Peplow St., Robinson
Brookshire Brothers, 406 N Frontage Rd, Lorena, TX 76655
Volunteers will be handing out lists of needed food items and encouraging shoppers to purchase such items while in the store and to place this food in specially marked containers before leaving. Among needed food items are canned meats, canned vegetables, cereals, baby food, peanut butter, macaroni & cheese, dry beans, rice, corn meal and pasta/sauces. Monetary donations are also accepted.
Wal-Mart and KXXV-TV–Channel 25 are serving as corporate sponsors for the drive.
For information about how to donate to the food drive, please go to www.shepherdsheartpantry.org or contact Bob Gager at 254-722-9517 or [email protected] or Buddy Edwards at 254-722-7698 or [email protected].