2nd Annual Central Texas Historically Black Colleges and Universities Community Fair Offers Students a Variety of Local Resources
By Bridget Heins
Educators and parents know that a student's journey to college begins long before their senior year. Exploring higher education options begins as early as middle school and in some cases earlier. While this task may seem overwhelming, college fairs are one tool in determining what each institution of higher education has to offer.
Every college is unique and offers its own brand of experience for students. Some choose a college that excels in their particular field or has a reputation for successful job placement upon graduation. Others may choose a particular institution based on academic rigor, sports prowess, or family connection. Students have options, and narrowing the choices to the find the right fit depends on knowing what questions to ask. The best way to practice this skill is to speak with college recruiters whenever possible.
Central Texas students have the opportunity to attend a unique college fair this weekend in Waco…and it's FREE! The 2nd Annual Central Texas Historically Black Colleges and Universities Community Fair will take place in the City of Waco's Multi-Purpose Building on Saturday, March 30, 2019, from 2:00 – 4:00 pm. This event is possible through a partnership between Rapoport Academy Public School, Alpha Kappa Alpha Sorority, Inc., Delta Alpha Omega Chapter, Cen-Tex African American Chamber of Commerce, Centex Hispanic Chamber of Commerce, and the Doris Miller Y.
Founded before the Civil Rights Act of 1964, Historically Black Colleges and Universities initially existed to serve African-American students. Today, there are over 100 HBCUs nation-wide admitting students regardless of race. With a service mentality, they make an impact on all students but especially those underrepresented in higher education. Waco was once home to an HBCU, Paul Quinn College, before its move to Dallas in 1990. While Paul Quinn is no longer located on Elm Avenue, the campus still serves as a site to educate and promote the spirit of HBCUs as it provides the venue for this event.
While the event highlights the opportunities of attending an HBCU, this is not your typical college fair as it also focuses on college-readiness and supportive resources available in our community. There are three components of the fair intended to demystify the process: College – Community – Education.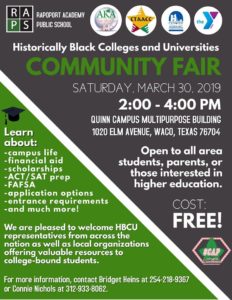 Attendees will have the opportunity to speak with admissions counselors about entrance requirements, campus life, application deadlines, and prospective majors. Students are encouraged to bring copies of their transcript and resume as recruiters may take the option of admitting students on the spot. Colleges expected to attend include Paul Quinn College, Xavier, Morgan State University, North Carolina Central University, Prairie View A&M, Fort Valley State University, Lincoln University, Charles R. Drew University of Medicine and Science, Arkansas Baptist, Texas State University, Jarvis Christian College, Wiley College, Texas Tech-Waco, and the University Center at MCC.
Local community organizations will be on-hand to offer valuable resources for college-bound students. Those resources include scholarships, mentorships, tutoring, leadership opportunities, SAT/ACT prep, assistance in understanding and completing the application and financial aid process, and much more. Over 15 organizations are committed to attending including members of the Sororities and Fraternities that make up the Divine Nine, Prince Hall Masonic Lodge, MAC College Money Program, CAP – VOICE, Mentor Waco, Jack and Jill of America, Links, Communities in Schools, East Waco Library, Creative Waco, with more expected. College and Career Counselors from Rapoport Academy, University High School, and Waco High School will also be available to answer questions related to college readiness, testing options, and pathways to dual-credit classes.
Alpha Kappa Alpha will lead the education component of the event using their CAP (College Application Process) which seeks to provide support and guidance in navigating the college application and enrollment process. Sessions include maximizing your financial aid led by VOICE, Demystifying the TSI (Texas Success Initiative) led by TSTC, and FAFSA (Free Application for Federal Student Aid) Facts led by the Waco Foundation's MAC Money Program.
Colleges from across the country will travel to Waco in hopes of recruiting students from our community. Among our students, they will find those who are already earning college credit through dual-credit opportunities at McLennan Community College and Texas State Technical College and even earning an Associate's degree before graduating from high school. They will encounter others who have taken advantage of leadership opportunities and internships offered by businesses and community organizations committed to providing our young people with experiences that inspire them to make and achieve their goals. They will also discover students who have benefitted from the creative, innovative programs offered through our local schools in a community that actively advocates for its children. Most importantly, they will engage some on the first step of the journey, those who are just beginning to dream.
Students in the Greater Waco Community are equipped with the skills and knowledge necessary to take the next step into their future, and this will be their time to shine!
The HBCU Community Fair is FREE and open to all area students, parents, or those interested in higher education. To register a student for the event, please visit rapoportacademy.org or the Central Texas HBCU Community Fair event page on FaceBook (@centexhbcu). Registration is encouraged but not required. Community organizations with resources for students may participate by contacting Bridget Heins at 254-218-9367.
---
Historically Black Colleges and Universities Community Fair
Saturday, March 30, 2019
2:00 – 4:00 pm
Multi-Purpose Building
1020 Elm Avenue, Waco, TX 76704
Cost: FREE
---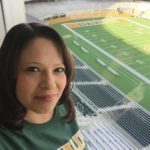 Bridget Heins is the Director of Community Relations for Rapoport Academy Public School and a proud, life-long resident of the Waco Community.
The Act Locally Waco blog publishes posts with a connection to these aspirations for Waco. If you are interested in writing for the Act Locally Waco Blog, please email [email protected] for more information.
(Visited 57 times, 1 visits today)