Waco Downtown Merchants to Locals: We love ya! We need ya!
By Ashley Futris
First things first, I am NOT a writer. Ashley Bean Thornton reached out after seeing a recent post of mine and asked if I would expand upon it a bit. So here I am. My name is Ashley Futris, owner of Bolt Boutique downtown. Prior to that I worked for the Waco Chamber as VP of Sports and Special Events. Many of you may have seen my post recently on my Bolt Facebook/Instagram page.
I chose to sit down and write said post after having so many of the same conversations with customers & other merchants downtown. Without knowing the impact, I wrote it on a Saturday while at the store and scheduled it to post the following week. I was at the gym when it posted and came out to an outpouring of messages and similar sentiments by so many local businesses. Being the new kid on the block, even I had assumed, surely not all these other well-established businesses are met with the same struggles I am currently battling. Well friends, I'm here to tell you, even I was blinded. Like I said below, and as Hanna Braud mentioned in her post on her Hanna Braud Design account, that business you think is killing it, still very much needs you. If you missed my post on Bolt's social channels here is what it said:
"This post is something that's been heavily on my mind lately, especially with Spring at the Silos approaching [the all inspiring Hanna Braud recently touched on the subject]. I haven't had quite the right words and I'm not sure I ever will, but here we go…recently I've spoken to so many downtown merchants and the truth is, contrary to popular belief, it's tough out here. Yes, we have lots of tourists coming to Waco, most would assume that if you're a downtown merchant that must mean you're killing it. Nope. We do see a small percentage of the visitors, but I assure you it isn't the majority.

What I'm trying to say is Waco, we need ya. We love ya. We are essentially here for the locals! Waco is transforming, and it has grown quite a lot. BUT, we still need your support. I promise it isn't as crazy downtown as it seems. There is MORE parking than you think. We can only do what we do, make this city "cool," change the "there's nothing to do in Waco" if you're supporting it. I assure you we are doing everything we can to love our locals and provide for you! Marking that "you're interested" in an event on Facebook so that it shows up on your feed to all of your followers (even if you don't plan on attending), attending said event, liking or sharing a photo/post, telling friends, choosing us instead of online…means the WORLD to us. We are competing against some giants these days, but we are committed to making what we offer unique!

Please don't get me wrong, the outpouring of support has been outrageously great for me and I am blown away by it. But, just when you think that small business you see on social media is killing it, just know at any level of success or business size, we are grinding. We are struggling. We chose this life and we wouldn't trade it for anything, but that is the reality. YOU inspire us to do what we do and we do what we do for YOU."
This simple honest post, without a boost or paid ad, reached 25,567 people, 427 likes, 33 comments and what shocks me most, is that it was shared 124 times. The shares tell me A LOT. This post was felt by so many local business owners. I wrote the post mentioned above, right before Spring at the Silos. I was super prepped for Spring at the Silos and excited for the influx of people (January/February were rough retail months). I ordered extra inventory for the store, reserved a golf cart to help shuttle people around downtown to my store, prepped branded water bottles, had a pop-up tent at the Live Oak LuLuBelle Market…I.was.ready!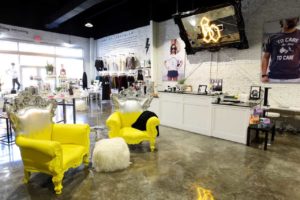 The truth is, the days leading up to the event were busy days, Spring Break was in full effect and my locals were out and about downtown. The week was looking to be a busy one! Spring at the Silos rolled around, and I have to say, it was lackluster in terms of business for me. In talking with other businesses downtown the sentiment was the same. While it makes sense, the people visiting the Silos are spending a lot of money with the vendors at Spring at the Silos and not in many other stores downtown. I'm so excited and proud for all the local small businesses that participated in that, and how successful it was for them! (I hope to be able to one year myself!) The frustrating part of it all is that the locals, understandably, do not come downtown during a busy event like that. The media outlets are sharing information that "crowds pack downtown businesses", and while that's true for the few, it was not the many. Leading to a huge misconception that we are all battling.
Some of my closest friends are shocked when I tell them, yeah, I'm struggling. The response is usually but there are so many people visiting and downtown? The truth is, locals, you are our bread and butter.
I think there's another misconception that as downtown merchants we don't try to attract the locals and only care about the tourists. I can only speak for myself, but that is not the case. Naturally, like everyone else, we see the tourist numbers being reported and we are going to at least try to attract them if we can. But, what allows us to stay and make it, is you. Again, the support has been outstanding, all I am asking is that you think twice and try to shop local when you can.
In addition to that, I hope it opens your eyes to the many merchants that are struggling that you may not have otherwise had any clue about, because, how would you? As businessowners we aren't going to shout it from the rooftops or social media that we are struggling. We are going to post the best of the best and put our best face on. So occasionally skip that Target trip and try to find that gift locally, pass on Starbucks and grab a local coffee, try on some clothes in a local store and let us help you find the perfect fit, and check out that event that we put together to try to bring you into our space! Locals, we love ya!
---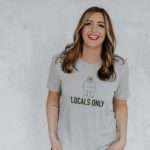 Ashley Futris, owner of Bolt Boutique downtown.
The Act Locally Waco blog publishes posts with a connection to these aspirations for Waco. If you are interested in writing for the Act Locally Waco Blog, please email [email protected] for more information.
(Visited 79 times, 1 visits today)