Have you ever explored your city through the eyes of a tourist?
By Autumn Outlaw
My family of five tries to visit the many museums, shop the local boutiques and explore Cameron Park as often as we can. It's hard to find the time, even living right here in Waco. A few weeks ago, two of my friends and I decided we wanted to have a girls' day with our daughters. Our goal was to experience Waco as tourists. We set out with our walking shoes on to see why two million people have flocked to our city each year and why they keep coming back!
We started the beautiful Saturday with brunch. I have heard many of my friends and co-workers mention how tough it is to find a bunch location that isn't overly busy on a Saturday morning, so I explored our options. We decided on the restaurant inside Hotel Indigo. We arrived at about 9:45 a.m. and we were only one of two tables seated – it wasn't busy at all! The food and service were incredible! Even our girls liked the food – but who doesn't love chocolate drizzled waffles?!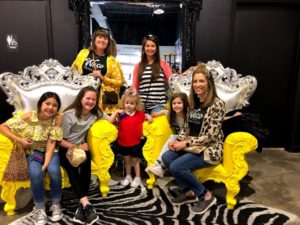 From Hotel Indigo, we drove to the corner of Franklin and University Parks to park our car. We were happy to have no problem finding parking. We visited Giddy Up Boutique and walked to Bolt Boutique. Bolt has those hard-to-find-gifts and super fun t-shirts that the owner screen prints herself. She also had champagne and rosé for customers.
From Bolt we walked to the Dr Pepper Museum. Now, I must be honest, I am the biggest (self-proclaimed) Dr Pepper fan and love to visit the Museum, so I may have been the one who led us there. We decided to stop by the soda fountain for a Dr Pepper float and we perused the gift shop. Although it was busy, we were able to get through the line quickly.
From the Museum, we walked to a place you might have heard of – Magnolia Market. It was about 1 p.m. and it was pretty busy but very manageable. We took a ton of photos, explored the garden area, bought gourmet popcorn, and the girls lounged on the cushions on the lawn. I will tell you that the line to buy tea in the glass mason jars at Alabama Sweet Tea was quite long – it must be delicious! I can't wait to go back soon to try it!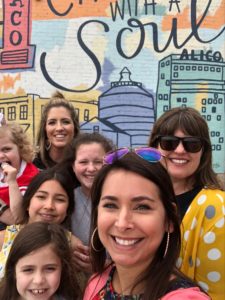 Next, we walked the short block over to the Findery. The two-story building holds beautiful home goods and trendy clothes and jewelry. If you venture outside to the back of the building, you'll find the "City with a Soul" mural. In full tourist fashion, we had a group photo taken in front of the mural to document our day as tourists.
We then walked just next door to The Backyard, where they were setting up for a concert that evening, but that added to the atmosphere. The girls played cornhole and we enjoyed food and drinks.
I think the best part of the day for our girls was riding the trolley. The City of Waco Transportation Department offers free trolley rides. We hopped on in front of the Findery and rode to Austin Avenue. The trolley driver had a fun personality and added interesting facts along the drive. Our first stop was Caliente, and although I have driven by dozens of times, I had not visited it before. We also visited Simply Irresistible, another gem of a shop!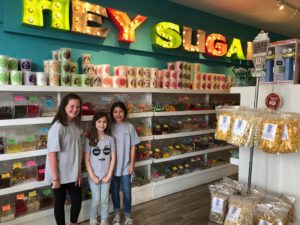 We were going to wait for the trolley to take us to our car but decided to start walking back, and I am so glad we did! We walked two blocks to Hey Sugar! This was one of the highlights of the day for the girls. They each bought a sweet treat – it was the afternoon pick-me-up they needed to walk the next few blocks.
We stopped in to Adorn, and unfortunately, we just missed the hours of Linen and Cake. We did look through the window and this is another place that is on my list to visit soon!
As we walked down Austin Avenue, we were all in awe of how alive downtown was. It's the first time I appreciated the busyness – we were actually a part of it, not working to maneuver through it as a Wacoan, but enjoying it as a "visitor." I saw the quaint, adorable things that tourists fall in love with while visiting. It made my Waco-loving heart full and happy.
We continued walking and headed into Interior Glow. They offered us a Dr Pepper (a Waco staple), and we stayed a bit longer to look at the pretty home decor and men's products at Brazos River Dry Goods.
I can confidently say that we absolutely enjoyed the very full day. Our girls are still talking about how much fun we had. I am so glad we finally took the time to look at Waco through a different lens and experience what tourists love about our community – from friendly shop owners to a knowledgeable trolley driver to the beautiful murals, fabulous food and the excitement we felt in the air, I cannot wait to plan the next Waco day and find new ways to experience our wonderful town.
Wacoans, I hope you take the time to explore Waco through the eyes of tourist and discover a new love for our changing city.
---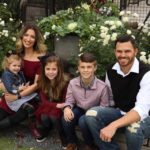 Autumn Outlaw works in marketing and communications. She grew up just outside of Waco, in Clifton. She resides in the China Spring area with her husband, Mark, and three children, Knox, Ellis and Jetta. The Outlaws are very involved in youth sports and volunteering at the Dr Pepper Museum.
The Act Locally Waco blog publishes posts with a connection to these aspirations for Waco. If you are interested in writing for the Act Locally Waco Blog, please email [email protected] for more information.
(Visited 93 times, 1 visits today)