Curious about Freemasonry?
By Robert William Marshall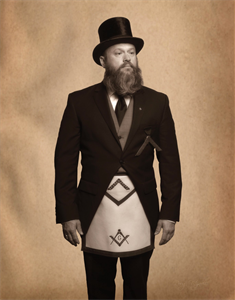 Every third Thursday, officers of one of Waco's most secretive organizations gather in the Saloon at 5th and Austin to engage the public in a sort of information session. The longest existing organization of any kind in McLennan County, Waco Masonic Lodge, decided to start these sessions to counter misinformation that has grown rampant in recent years. "Freemasonry: Facts and Fiction" is an opportunity for the public to ask questions about freemasonry, its impact on Waco history, and it current activities in the community. Some of Waco's biggest names were members of the lodge: Sul Ross, Pat Neff, Lehman Sanger, Roger Conger, et al. Even the inventor of Dr Pepper, Charles Alderton, once spent a year as the leading officer of the Waco Masons.
Freemasonry is a fraternal system of philosophy and charitable efforts with two goals: 1. Improve the community and 2. Improve one's self. Many conspiracy theories have abounded through the years regarding the secretive nature of the Masons and Waco Masonic Lodge is using the Backyard Saloon as a neutral ground venue to let people discuss those theories with real Masons who can share the truth. Currently, more than 500 of the Waco area's leading citizens are Masons. Many of them have differing views on politics and religion but have found a way through the lodge's teaching to come together in brotherhood and work towards a greater good. The Masons have given thousands of dollars in scholarships over just the past few years. Historically, they contributed in many ways to the community.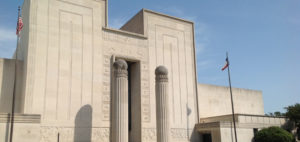 It was the Masons who originally built and owned the Suspension Bridge, laid the cornerstones or served as architects for most of Waco's historic churches, donated land that became Cameron Park, and many other activities that have continuously benefited the Heart of Texas community. Several Waco Mayors, three Texas governors, Waco history's most important photographer, and a few famous sports figures are found on the old membership rolls of Waco Masonic Lodge. Even the "Father of Waco," George Erath, whose statue stands in front of the Texas Ranger Hall of Fame & Museum, was a San Jacinto veteran and charter member of Waco Masonic Lodge. In the early 1900s, the Lodge was successful in attracting the governing body of Texas Masons which is still located in Waco on Columbus Avenue today. Known as the Masonic Grand Lodge of Texas, the stupendous edifice houses a museum dedicated to those who died in WWII. It is open to the public five days a week and affords Wacoans the opportunity to see such artifacts as Sam Houston's handgun or a lock of his hair, a flag that flew during the bombing of Pearl Harbor, and even items that belonged to Nazi German soldiers. There is also a 2,000 person auditorium that is available for rent as well as a library containing many early Waco books and manuscripts.
Though they peaked at a quarter million in the 1960s, the Masons of Texas still number 70,000 today. The Texas Masonic Charities Foundation enables millions of dollars of giving to local students and other worthy causes while the Masonic Hospitals(Scottish Rite and Shrine) provide medical care to needy children.
The relationship between Waco Masonic Lodge and the Saloon began at its sister venue, The Backyard, a couple years ago with the annual Waco Masonic Concert. This event has enabled the public to join the lodge in supporting Waco ISD students on their way to college and have fun while doing it! It was originally organized by current lodge leader Dave McHam and historian Robert Marshall and takes place during the annual statewide Masonic convention held here in Waco every January while 3,000 Masons are in town.
So, maybe your grandfather was a Mason and you want to know what that really means. Or, perhaps, you saw the film "National Treasure" and are curious about just how influential Freemasonry was in the formation of our country. Maybe you just want an excuse to meet some new people. Whatever the case, consider joining Waco Masonic Lodge at the Saloon every third Thursday night. You shouldn't go expecting to learn all the secrets, though, and make no mistake about it. According to lodge historian Robert Marshall, there are secrets. "We certainly have secrets. It is well known that we have secret handshakes and passwords and the like. We even have secret catechisms meant to train new members in the ancient art of Freemasonry. While you won't be learning any secrets at the Saloon, you can find out more about what the secrets are and, more importantly, what they are not."
---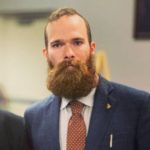 Robert William Marshall is a 7th generation Wacoan whose 1800s ancestor worked as a tollkeeper on the Suspension Bridge. He graduated from Robinson High School in 2008, Baylor University in 2012, and has been an officer of Waco Masonic Lodge for 10 years. 
The Act Locally Waco blog publishes posts with a connection to these aspirations for Waco. If you are interested in writing for the Act Locally Waco Blog, please email [email protected] for more information.
(Visited 269 times, 1 visits today)