The Business of Health: Other Roles besides Doctors and Nurses
By Glenn Robinson
When you think of patient care, doctors and nurses are usually at the forefront of everyone's mind. However, hospitals are increasingly utilizing supplemental programs in addition to the excellent care provided by their clinical staff to fulfill their mission of caring for "the whole patient."
This month, we take a look at three lesser-known roles in health care that are just as vital to the patient experience and road to recovery as that of a physician or nurse.
Patient Navigators
If you're going on a long journey to somewhere you've never been before, the best bet to get to your destination is being aided by navigation. The care process for a terminal disease or chronic illness is often described as a journey – physical, emotional, and spiritual – so one of the ways many health systems are making the road to survivorship easier is by offering patient navigation.
A patient navigator is a partner for patients and families from the time of the initial diagnosis and throughout their journey – wherever that may lead. A patient navigator strives to help patients make decisions and find their way through the complexities of the healthcare system so they can focus on recovery.
Navigators connect patients with resources and information to help them better understand their diagnosis and treatment options. They can also help remove barriers, whether they be financial or practical – like transportation to and from appointments.
Additionally, patient navigators serve as personal advocates to help ensure patients are receiving high quality care and have all the answers they need… even if it means challenging the status quo.
Another critical job of a patient navigator is to provide emotional support. Patients sometimes have a hard time expressing their fears and sadness even to their closest loved ones, so a navigator can be that listening ear.
On the road to survivorship, to some patients, the help and support navigators provide may be as important as the caregivers delivering the treatment.
Community Health Workers
Community health workers have emerged as an effective strategy in engaging patients and caregivers in lowering costs for healthcare's "frequent flyers" – patients who often visit emergency rooms and fill hospital beds.
Community health workers have been part of healthcare worldwide for decades. They generally are not doctors or nurses, and often are recruited directly from the communities they serve. Their purpose is to help individuals navigate the healthcare system, manage chronic illnesses more effectively, and access preventive care.
They also help patients tackle important health-related issues such as food and housing insecurity. Community health workers often serve people in impoverished communities who lack access to quality healthcare, lack the means to pay for healthcare, do not speak English fluently, or have cultural beliefs, values, and behaviors that differ from those the traditional U.S. healthcare system is geared towards.
New research suggests these workers may contribute to fewer days in the hospital for some patients. Patients with help from a community health worker were nearly twice as likely to report receiving high-quality primary care and spent fewer total days in the hospital.
Recognizing the value of these individuals, the Texas Department of State Health Services has a community health worker certification program to develop these dedicated individuals' communication and navigation skills, as well as their knowledge of available community resources.
Though typically not clinicians or administrators, community health workers are playing an increasingly important role in healthcare quality and cost.
Volunteers
Often known as candy stripers in the past, today, hospital volunteers are a diverse group of men and women of all ages who perform a wide range of functions.
Volunteers are vital members of the community and the hospital team who share their time, talents, and passion for helping others, while either directly or indirectly making a difference in the lives of patients and families.
There are many different roles for hospital volunteers. Some oversee the hospital information desk and provide directions and a warm smile to patients and visitors. Others deliver flowers and packages to patients, run the gift shop, or perform a full range of back-office administrative tasks so other staff can keep their focus narrowed in on patient needs.
Many hospitals also have special volunteer programs. For example, pairing former patients who have successfully overcome a serious condition, such as heart disease or cancer, with patients who are now on that same journey. Or even more innovative programs like volunteers who share their musical or artistic talents with patients as a form of therapy. There are even animal-assisted therapy volunteer programs at some hospitals in which four-legged volunteers join their two-legged team members to bring smiles to patients' faces.
Programs like these have been shown to raise the spirits of patients and can contribute to a better patient experience. But volunteers also benefit. Research has demonstrated that volunteers are often healthier, happier people.
Hospital volunteers truly create a win-win-win situation – for themselves, for patients, and for the hospital.
---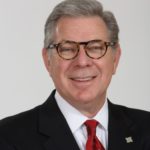 Glenn Robinson is the President of Baylor Scott & White Medical Center – Hillcrest. He has over 30 years of experience in hospital and health care management, and currently serves on several Boards associated with the Texas Hospital Association and the American Hospital Association. In addition, Glenn is Past-Chair and an active member of the Greater Waco Chamber of Commerce, and serves on the Prosper Waco Board.
The Act Locally Waco blog publishes posts with a connection to these aspirations for Waco. If you are interested in writing for the Act Locally Waco Blog, please email [email protected] for more information.
(Visited 128 times, 1 visits today)