Better Living for Texans: Hydrate, Hydrate, Hydrate!
(As I'm sure most of you probably know, one of our Prosper Waco community goals is "McLennan County residents will live healthier lifestyles and access the best available care." With that in mind Act Locally Waco is teaming up with Better Living for Texans to bring you a monthly blog post full of tips for healthy living. For more of the posts in this series, click here: Better Living for Texans.– ALW)
By Lindsey Breunig
Summertime is here! You might be free from the classroom or still stuck in the office, but we cannot hide from the fact that with summertime comes higher temperatures. Recently I have found myself turning the fan on or up to combat the heat. As Texas begins to warm up, we need to protect our bodies from the hotter temperatures. Keep safe by remaining hydrated which means we are replacing water that has left our bodies. Today the focus is water because what better way to replace water than with water!?
Plain and simple water is critical to our overall health. It is widely accepted that humans can survive for more than a month without food, but only a few days without water. Water helps transport nutrients to working muscles, while also transporting waste products through urination, perspiration, and bowel movements. Water also helps digest our food and lubricates our joints, organs, and tissues, and protects your spinal cord and other sensitive tissues. Additionally, water keeps your temperature normal, so no wonder you need more water during the summer season! As temperatures begin to increase let's think of ways to get more water in our diet.
While sweet drinks are delicious, it is better to choose water instead of sugar-sweetened beverages. This helps in preventing cavities and with weight management. Substituting water for one 20-ounce sugar sweetened soda will save you about 240 calories.
If you enjoy the sweet side of sodas try switching to 100% fruit juice. To reduce even the natural sugar, try to mix the juice with water. Now, before you call me crazy, (trust me it has happened) try by adding just a little water. For example, start with a ratio of ¾ juice to ¼ water – it might not taste as sweet, but you can slowly work your way to less juice and more water. Before you know the flavor is still there, sugar is reduced, and you have saved money!
If you enjoy the fizz of sodas try switching to sparkling water. There are many brands and flavors on the market but try the plain and add your own sweet flavor. Something I have done is add a splash of juice or frozen fruit that will infuse the drink. You may have seen the drink infusers at the store or online which take water to another level by adding new flavors to plain or sparkling water. When using plain water, you can let the fruit infuse over a couple hours. Think of your favorite juice combos and try to recreate! Some fruit and veggie combos to try are below:
1. Strawberries + Kiwi + Cucumber
2. Cucumber + Lemon + Lime
3. Orange + Lemon + Lime
4. Raspberries + Lemon + Mint
5. Blueberries + Lemon
In addition to drinking water, we can also get water through the foods we eat. Eating foods with high water content adds volume but minimal calories to the diet. Foods with high water content promote a feeling of fullness. Fruits and vegetables are two food groups that have generally high-water content.
Fruits that are high in water content are: watermelon, citrus fruits, grapes, apples, papaya, and strawberries. Vegetables that are high in water content are: carrots, bell peppers, lettuce, tomato, cucumber, squash, and broccoli. Did I mention a favorite? Great, stock up for the summer!
This month we have two refreshing fruit and veggie drinks to try from the Texas A&M AgriLife Extension's Dinner Tonight program! (https://dinnertonight.tamu.edu/) The below recipes will be more flavorful than infused water but full of natural sweetness (0 grams of added sugar). Check them out and this summer, hydrate, hydrate, hydrate!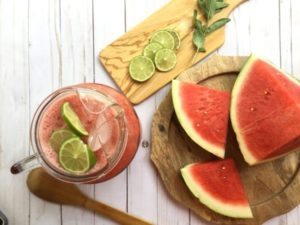 Aguas Frescas Watermelon and Lime (https://dinnertonight.tamu.edu/recipe/aguas-frescas-watermelon-and-lime/)
Ingredients:
5 cups seedless watermelon cubed
3 cups water divided
5-6 mint leaves
1 lime sliced for garnish
1 cup Ice
Instructions:
Combine watermelon, 1 cup of water, and mint leaves into a blender untill liquefied.
Pour the watermelon mixture into a 2 quart pitcher, add 2 cups of water and ice, stir together.
Garnish the drink with thinly sliced lime rings and enjoy.
Serve or store in refrigerator up to 2 days.
Tip: Use a strainer when pouring the liquefied watermelon into the 2 quart pitcher for a thinner consistency.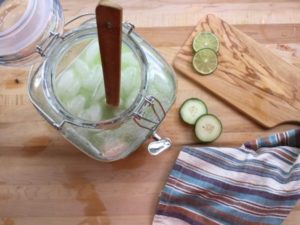 Aguas Frescas Cucumber and Lime (https://dinnertonight.tamu.edu/recipe/aguas-frescas-cucumber-and-lime/)
Ingredients:
2 medium Cucumbers peeled and sliced
5 cups water divided
1 Lime with peel wedged
1 cup Ice
Instructions:
Combine cucumbers with 3 cups of water in blender until liquefied.
Using a strainer over the mouth of a 2-quart pitcher, pour half of cucumber mixture slowly to strain the liquid.
Add the wedges of a lime to the other half of cucumber mixture in blender. Blend together for a few seconds until chopped up into medium pieces. **Note: Blending the lime longer or into smaller pieces may give a bitter taste.
Pour the remaining mixture over strainer.
Add 2 cups of water and ice into the pitcher and stir well.
Serve or store in refrigerator up to 2 days.
---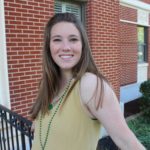 Lindsey Breunig is a graduate of Baylor University and currently works as the Better Living for Texans Educator for the Texas A&M AgriLife Extension Service. She is originally from Grapevine, TX and now calls Waco home. Here in Waco she loves to venture out to Cameron Park, visit the local Farmers Market, and try out the awesome eateries in Waco. If you see her and hear a loud bark, that's her pup Lucy just saying hello.
The Act Locally Waco blog publishes posts with a connection to these aspirations for Waco. If you are interested in writing for the Act Locally Waco Blog, please email [email protected] for more information.
(Visited 141 times, 1 visits today)