Voices for our Community's Children: CASA Advocacy As a Working Professional
(This post is part of a series of posts about CASA – Court Appointed Special Advocates. – ABT)
By Jennifer Whitlark
Welcome to our 4th and final blog post in our CASA series.
Today, we have some Q&A with advocate Jennifer Whitlark, a working professional who makes time to contribute to her community even amidst her busy schedule.
How did you initially become interested in CASA?
I heard about CASA around town for several years before I got involved. I knew it was a great organization and I waited until I had some more space in my work life in order to join the organization.
What made you decide to get involved?
I work as a school administrator in Waco but I deal mainly with academics in my work and I was really interested in being more involved with the family side of things with the students. Being a CASA allowed me to experience this piece in a new way. Also, given the population I work with in my job, I knew the needs of children in hard situations and this gave me an avenue to work with them and try and make a difference. I also just feel called to love children and care for them.
Can you tell us a bit about your experience with CASA training and how it prepared you for your advocacy?
The training was a great time to learn the law as well as the good and hard points of being a CASA. It was helpful to hear stories of others' experiences and also hear about all of the supports in place for advocates.
How does your CASA Supervisor support you in your advocacy? Has that coaching relationship been valuable to you?
My CASA supervisor has been a great sounding board for me. He has answered my questions, given my advice, and encouraged me. It has been a very beneficial relationship and his help has been invaluable.
How do you balance CASA and working full time?
I have to work to intentionally balance CASA responsibilities with my job. I have to carve out time to see my CASA child, write reports, and make phone calls. There are seasons when this is harder than others but it has been fine once I found ways to make this happen.
What is a highlight from your CASA advocacy so far when you felt like you made an impact?
At the beginning of my first case, the mom was very standoffish. She didn't know me and didn't trust me. She was shy, self-conscious, and defensive. I had to work to slowly break down the wall she had built around herself. Fast forward to 1.5 years later she was truly a different person. At her last court hearing her case was finally dismissed and she got her kids back. The whole courtroom clapped and cheered and she cried. She gave me a big hug and we celebrated. I drove her home from court that day and she told me how much she had grown and how much she had learned. She said she never wished this upon anyone but she explained how much more confident she felt as a mom and how this process has helped her in life. It was such a great conversation and as I reflected on how much she had truly grown from when I met her it was a confirmation that CASAs can make a difference in lives.
---
To learn more about CASA of McLennan County and the need for more advocates, visit our website at www.casaforeverychild.org or find us on social media @casamclennan.
If you have questions or are ready to begin advocating for children in foster care, email our CASA Recruiter, Kate Gilbert, at [email protected].
---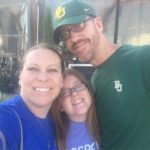 Jennifer has called Waco home for 20 years. She is originally from California but came to Waco to attend Baylor and never left. She has worked at Rapoport Academy since 2003, first as a 4th grade teacher for six years, then she stepped into administration as the Dean of Academics over the Elementary Campuses. Her husband, Jason, teaches at Baylor University and they have a 12-year-old daughter, Hannah. In her free time, when she's not working or advocating for her CASA kids, Jennifer likes to read and work on cross stitching.
The Act Locally Waco blog publishes posts with a connection to these aspirations for Waco. If you are interested in writing for the Act Locally Waco Blog, please email [email protected] for more information.
(Visited 207 times, 1 visits today)