Better Living for Texans: Tips & Tricks to Saving Money when Buying Healthy Groceries
(As I'm sure most of you probably know, one of our Prosper Waco community goals is "McLennan County residents will live healthier lifestyles and access the best available care." With that in mind Act Locally Waco is teaming up with Better Living for Texans to bring you a monthly blog post full of tips for healthy living. For more of the posts in this series, click here: Better Living for Texans.– ALW)
By Flor De La Garza
The belief that "eating healthy and nutritious is expensive" is a common misperception. There are several ways to save money and buy healthy foods for you and your family. Today's focus is to provide tips and tricks to save money when buying healthy groceries by 1) identifying the in-season fruits and vegetables 2) comparing unit prices, and 3) planning meals in advance.
Know Your Seasonal Produce
You may have noticed the recent influx of watermelons, cucumbers, zucchini, corn, and many more fruits and vegetables at your local grocery store. This is because there are certain fruits and vegetables that harvest in the summer, just as there are fruits and vegetables that harvest best in other seasons (spring, fall, and winter). Knowing the "in-season" produce for each season may help you save money because the in-season food items may cost less. For example, as summer reaches its peak, you may find watermelons to be at a cheaper price than in the winter season. If your favorite produce is not in season, an alternative to eating healthy and at a cheaper price is to buy canned or frozen produce without added salt or fat. Below is a Seasonal Produce guide made with information retrieved from the U.S. department of Agriculture – SNAP Ed (https://snaped.fns.usda.gov/seasonal-produce-guide) that can serve as a guide as you shop for in-season produce next time you are shopping for groceries.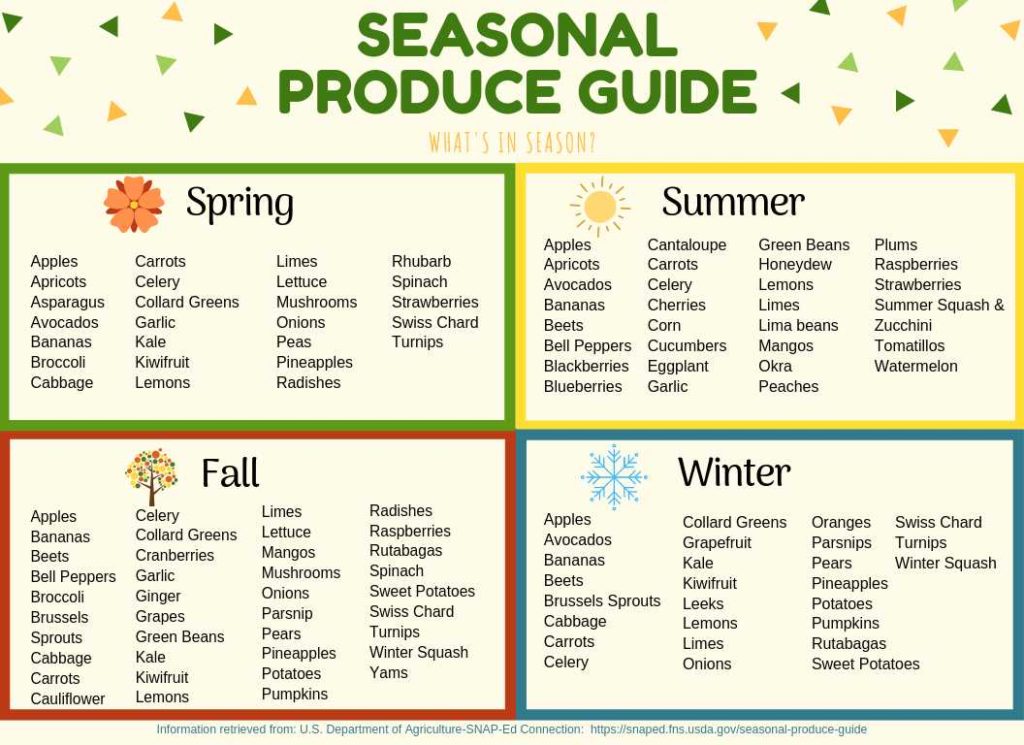 The grocery store is not the only place you can save money when shopping for produce. Starting your own garden or shopping at the farmers market is a great way to obtain inexpensive, freshly picked in-season produce. The Waco Downtown Farmers Market opens every Saturday from 9 AM – 1 PM and is located at 500 Washington Ave, Waco, TX. 76701 – you can save money, enjoy the outdoors, and contribute to local small businesses all in one trip! If you are interested in starting your own garden, the McLennan County Master Gardeners can provide you with advice, direction, and answer any questions you may have. They are available to answer your gardening questions Tuesdays and Thursdays from 1:30 PM – 4:30 PM at (254) 757-5180. You may also connect with the McLennan County Master Gardeners at the farmers market as they set up a semi-monthly booth to provide outreach on a variety of gardening topics.
Remember: fresh, frozen, canned, and dried – it all counts!
Comparing Unit Prices
To decide on the "cheaper option" within food items, one common way to compare prices is to look is to look at the total price of two items and simply compare them to determine which price is the lowest. However, this tactic may not always work because of the packaging, weight distribution, or size difference of both items. A more beneficial alternative is to compare unit prices. The unit price is the cost of an item based on a specific unit, such as a pound, ounce, or quantity per container.
Knowing the unit price can allow you to compare the cost of a food item based on brand and size. For example, (see below for picture) when buying XYZ Yogurt, it may appear that the total price of the 6-ounce (oz) yogurt is the cheaper option when compared to the 32 oz yogurt. However, when comparing the unit prices, the 32 oz yogurt is .07 cents cheaper per ounce.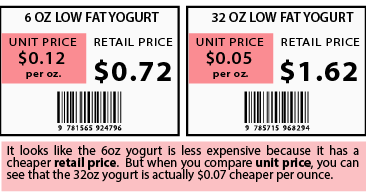 Planning Meals in Advance
Scenario: You go to the grocery store. You buy some spinach, zucchini, cucumber, and corn because you know these items are "healthy" and "in-season". You get home. Now what? You look up healthy recipes and realize you need a few more items to complete the recipe. You make a trip back to the store and buy more items than you needed. Now you are back home, and you are over your groceries budget.
The scenario above is very common. You can prevent going over your budget by planning your meals and writing a grocery list before going to the grocery store. You can plan healthy meals that use "in-season" produce and follow the MyPlate food groups (vegetables, fruits, protein, grains, and dairy). Once you arrive to the grocery, you know exactly what you need to make healthy meals for yourself and your family without being distracted by food items you may not need. In return, you will save money and prepare healthy meals!
If you have not tried these tips and tricks before, I encourage you to practice them while shopping for groceries this month! Enjoy saving money and healthy foods!
Recipes
This month we have three refreshing recipes that call for in-season produce! All three recipes are bright and refreshing for kids, teens, and adults! Feel free to pair any of the recipes to your Fourth of July celebration. The recipes come from the Texas A&M AgriLife Extension's Dinner Tonight Program (https://dinnertonight.tamu.edu) and the USDA – "What's Cooking?" website.
Ingredients:
For Salad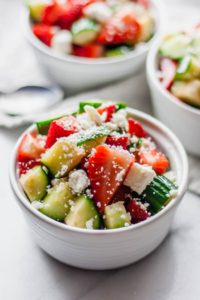 3 large Cucumbers skin removed, chopped
3 cups strawberries quartered
1/2 cup red onion finely chopped
1/4 cup basil leaves chopped
1/2 cup Fat Free feta cheese crumbled
For Dressing
1/3 cup lime juice
1 tablespoon olive oil
2 tablespoons honey
Instructions:
Wash your hands and clean your preparation area. Rinse vegetables, fruits and herbs under cool running water before chopping.
In a large bowl, combine the cucumbers, strawberries, red onion, and basil.
In a small bowl or jar combine lime juice, olive oil, and honey. Whisk or shake until combined.
Pour the dressing over the cucumber mixture and toss to combine. Top with feta cheese.
Watermelon Cucumber Balsamic Salad
Ingredients:
4 cups watermelon cubed
2 cups cucumber cubed
1/2 cup red onion sliced
1/4 cup basil chopped
2 tablespoon olive oil
1/2 cup balsamic vinegar
2 ounces Fat Free feta cheese crumbled
Instructions:
Mix together watermelon, cucumber, red onion and basil.
Mix together olive oil and balsamic vinegar then pour over the watermelon mixture.
Top with feta cheese and enjoy!
Ingredients: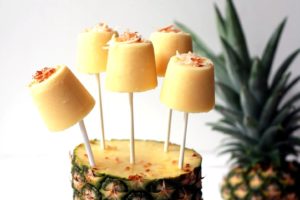 1 cup crushed pineapple
1 cup yogurt, low-fat fruit (8 ounces)
6 fluid ounces orange juice, frozen concentrate (thawed)
Instructions:
Mix the ingredients in a medium-size bowl. Divide into 4 paper cups.
Freeze until slushy – about 60 minutes. Insert a wooden stick half way through the center of each fruit pop.
Freeze until hard or at least 4 hours. Peel away the paper cup before you eat the fruit pop.
Note: You can mix ingredients and freeze in ice cube tray instead of cups, making great "ice cubes" in fruit juice. Try other fruits or juice concentrates for variety.
---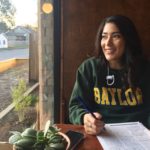 Flor De La Garza is currently pursuing a Master of Public Health degree at Baylor University. She is completing her summer practicum with Texas A&M AgriLife Extension Service in McLennan County and is working with the Better Living for Texans program. Flor is originally from Denton, TX. and has lived in Waco for about four years now. She especially enjoys learning how Waco's organizations are working together in collaborations to reach the overall goal to improve the health and quality of life of McLennan County residents! In addition, she loves Cameron Park hiking trails, the local restaurants and food trucks!
The Act Locally Waco blog publishes posts with a connection to these aspirations for Waco. If you are interested in writing for the Act Locally Waco Blog, please email [email protected] for more information.