Karla's story: how group prenatal care helps prevent 40 weeks of guesswork
By Carlos Hinojosa
Centering Pregnancy is a fairly new concept that seeks to take prenatal care out of the exam room and into a comfortable and communal setting. It blends regular prenatal visits together with support groups of expecting mothers with similar due dates. Expectant mothers meet for their monthly check-ups, where physicians and nurses facilitate sessions and answer questions that the mothers and their partners have about different aspects of pregnancy. The goals of Centering Pregnancy are to increase the amount of time providers can spend with their patients, improve birth outcomes, help patients build a community of support, and impart a level of knowledge to the patients so they can best care for themselves.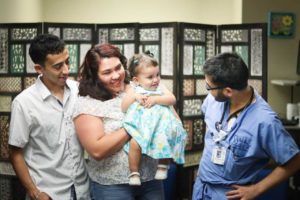 Karla, one of Family Health Center's patients, recently went through the program herself. Karla has been a patient of Family Health Center since she was born. Her care at FHC actually goes back even further. Her mother was an FHC patient and received her prenatal care here as well, but didn't experience anything quite like Centering Pregnancy.
When Karla learned she was pregnant, she and her husband were very excited – and a little nervous. There was so much to learn, and neither Karla nor Juan knew quite what to expect. Karla's doctor talked to her about Family Health Center's Centering Pregnancy program, and Karla's mother encouraged her to go.  Karla was glad she did. "It was an open and fun way to learn about what was going on inside of me." 
Each meeting, participants gathered in the Centering room at FHC, and one by one, mothers-to -be stepped back into a private area to have their vitals checked and measurements taken to track their progress.  After everyone had seen the doctors, the class sessions began.  Resources books were issued, and classes featured different activities corresponding to what was happening at that stage of pregnancy.  Classes also allowed ample time for questions. "I always had questions, but Juan had even more questions than I did," Karla said. "You could be sure that if you had a question and were afraid to ask, someone else would ask it."
The group sessions used the activities to help foster conversation, and those conversations helped everyone get to know each other. Members of each class are encouraged to keep in contact with one another after the classes were over, and Karla has maintained a friendship with one of the members of her group. "It's nice to know other people who are going through the same things I am, and it helps to be able to talk to someone else."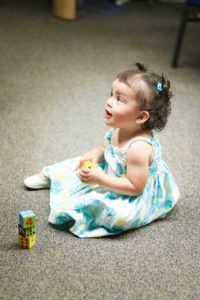 When the time came for Karla to deliver, she felt prepared and confident. She didn't feel overly nervous, and she thanks the team at FHC for preparing her so well. "Centering Pregnancy taught me all of the things I needed to know before my daughter arrived."
Centering Pregnancy is just another tool Family Health Center is using to improve the health of our community and make a difference for the families we serve. When asked her thoughts on the program as a whole, Karla said, "It was so great that I tell all my friends who are pregnant to go! The next time I have a baby, I plan to go again."
---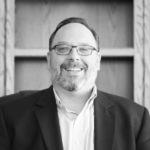 Carlos Hinojosa serves as Development Director for Family Health Center in Waco. He holds a bachelor's and master's degree from University of Mary Hardin-Baylor and has been living in Waco for 18 years. When not at work, Carlos loves to spend time with his wife and two sons taking walks, making up silly games, and perfecting the art of dad jokes.
The Act Locally Waco blog publishes posts with a connection to these aspirations for Waco. If you are interested in writing for the Act Locally Waco Blog, please email [email protected] for more information.