Get informed: Sustainable Waco Conference coming soon!
By Melissa Mullins
Unless you've been living under a rock or in a cave (no judgement if you do), you probably hear quite a bit of talk, at least in the public sphere, about climate change. You may have heard it come up in politics. You may have heard your neighbor say he doesn't believe in it. You may hear it invoked when there's threats of bigger, badder weather events. You may, if you are like me, sometimes feel overwhelmed by it all.
The truth is, both government and industry scientists have known for over 50 years that carbon dioxide levels are increasing in our atmosphere, that the increase is due to human activity, and that this will have impacts on the Earth's climate system*. And most Americans now believe this to be true. Recent research shows that we are not a nation of climate deniers, but we are a nation of climate avoiders. Because we think it's too big, we can't do anything about it, we just avoid it. Most Americans don't discuss global warming with their friends and family, and many reasons are given in surveys for why this is: it doesn't come up, they think everybody already agrees, or conversely, are not interested in it, it is too political, or people feel like they don't know enough to talk about it.
How can we avoid avoidance? Michael Smyer suggests that we picture a place that we care about, picture it being affected by climate change or extreme weather as well as how we'd like it to look in 50 years, then think about something we can do NOW to work towards our desired future vision. It's that last part that's hard sometimes. One thing that you can do TODAY is register for the Sustainable Waco conference, which will be held Monday August 5th.
The McLennan Community College Sustainability Committee, with support from Waco Friends of Peace-Climate and Baylor University-Center for Reservoir and Aquatic Systems Research, has been hard at work organizing Waco's first ever community-wide conference on climate and sustainability that is open to everyone, and YOU are invited. Conference organizer Michaela McCown says the reason for having the conference is so that our entire community can become more sustainable. "We want to help people understand that there are lots of things individuals can do, and actions that communities can take, to make a difference in saving money, helping our planet, and making Waco a better place to live."
The conference is only $15 to attend which includes lunch, and CPE credits are available for educators. Speakers from Waco and other communities in Texas will give presentations on a wide variety of sustainability topics, including recycling, city-wide composting, solar for residential use, of course climate change, and many others. To register, call 254-299-8888 or go to https://cereg.mclennan.edu/ and search "Sustainable Waco". You can also find the event on Facebook for all the latest updates.
* Check out "Losing Earth: The Decade We Almost Stopped Climate Change" by Nathaniel Rich- it's at the Waco-McLennan Co. Library, engagingly written, fascinating and infuriating.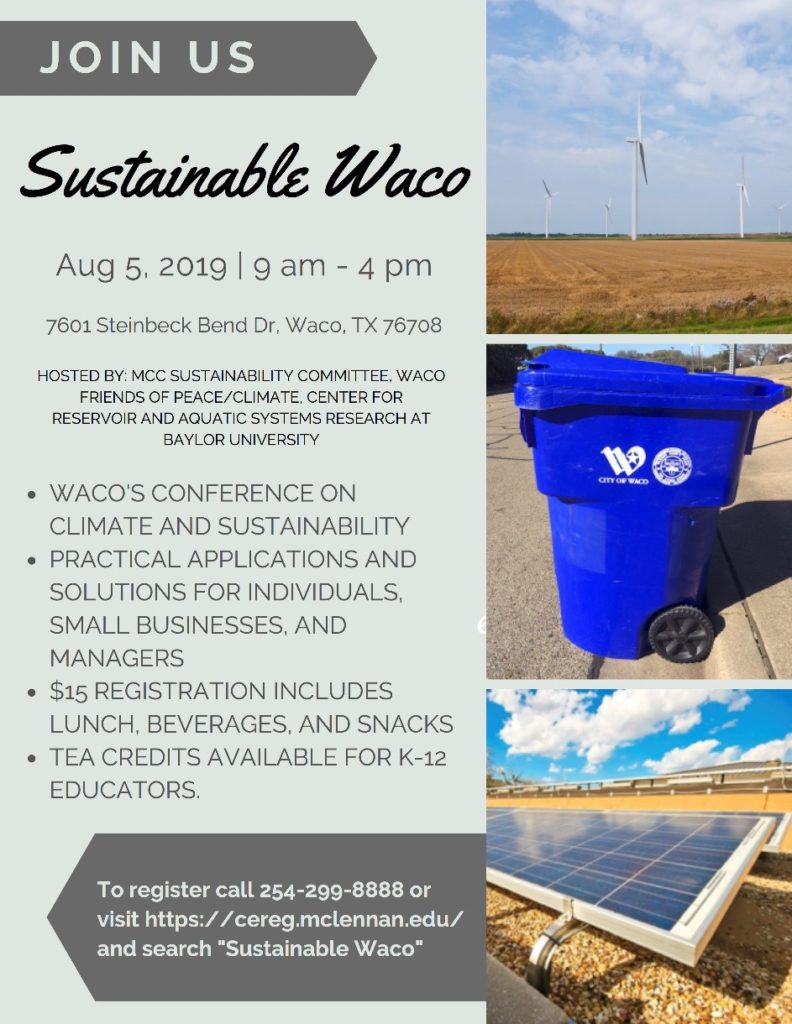 ---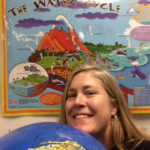 Melissa Mullins coordinates education and outreach at Baylor's aquatic research center.  She serves on the Project WET (Water Education for Teachers) USA Network Council, which has recently developed climate change education resources for K-12 audiences.  Water and climate are intricately linked!  The views expressed here are solely those of the author.
The Act Locally Waco blog publishes posts with a connection to these aspirations for Waco. If you are interested in writing for the Act Locally Waco Blog, please email [email protected] for more information.
(Visited 242 times, 1 visits today)