Top 10: On Rivers and Rye: a Farmers Market Update
Top 10 "Most Opened" Blog Posts of 2019: # 4
By Bethel Erickson-Bruce

Right now the perennial question for the Waco Downtown Farmers Market is: WHEN ARE YOU GOING TO MOVE BACK TO THE RIVER? I answer by deflecting, like a good politician. (If you really want the answer to the question of the river, please continue reading about all of the projects related to local food we are actually excited about – the river is addressed at the end).

First off – if you haven't been to Market since we relocated to the Courthouse, you're missing out. Yes, it's hot in summer. But we have more space for more vendors than we did down by the riverside. And much higher visibility than down by the good old riverside.

Second, we started a new thing. Can't make it on Saturdays to buy groceries? We've got you covered. Now you can pre-order through our online store called Market in a Box. We have all the local things – from honey to heavy whipping cream, mini loaves to mushrooms, peaches to purple hull peas. We even have conveniently packaged $15 produce bundles – featuring 1 seasonal fruit and 4-5 seasonal veggies. Think of it as a multi-farm CSA (Community Supported Agriculture) box without a subscription. Through this new online system we are able to work with local producers who are unable to participate at Saturday market – while reducing time expenditure of the producers and increasing everyone's access to local produce and carefully crafted artisan food goods. We hope to expand to more convenient bundles (like a Breakfast bundle with coffee and breakfast sausage) – and add more items like gristmill grains and bread subscriptions. Take a gander at our current offerings at: http://waco.localfoodmarketplace.com.

Third, we now distribute WIC vouchers to be used for locally grown fresh fruits and vegetables for families currently receiving benefits. Without getting too high up on my political soapbox, let it be known that the amount of fresh produce (or canned) that a family on WIC receives is ridiculous. Like $11 for the month for a family of 2 eligible WIC recipients. (I speak from my personal experience.) Through our partnership with Grow North Texas in Dallas, the Texas Department of Agriculture sponsors $30 in WIC vouchers for each eligible family member. We can only distribute the vouchers once person Market season (defined by TDA as April-October) but as most families know, every dollar counts. As a recovering social worker, I'm delighted by any and all opportunities to increase access to – and affordability of – locally grown fruits and veggies while at the same time supporting livelihoods of the farmers and their families growing our food.

Fourth, the rye bit. If you love the market but: A) can't wake up early on Saturday or B) can't remember to place your online order by Monday at noon – we've got just the opportunity for you. Join us at Balcones Distilling on Thursday, August 8th from 6-8pm for "Grains & Growers, a farmers market friend-raiser." It costs $40 but you'll receive a free cocktail a la Balcones or a mocktail a la Luna Juice. And we have all the tastiest of finger foods from our friends at Milo All Day, Brazos Valley Cheese, Falk Bakery, Heritage Creamery. You'll also be supporting the work of the Waco Downtown Farmers Market to strengthen our local food system – from the farmers to the folks on a food budget and the friendly faces opening fancy food establishments. Tickets can be purchased through our Square page here: https://squareup.com/store/wdfm.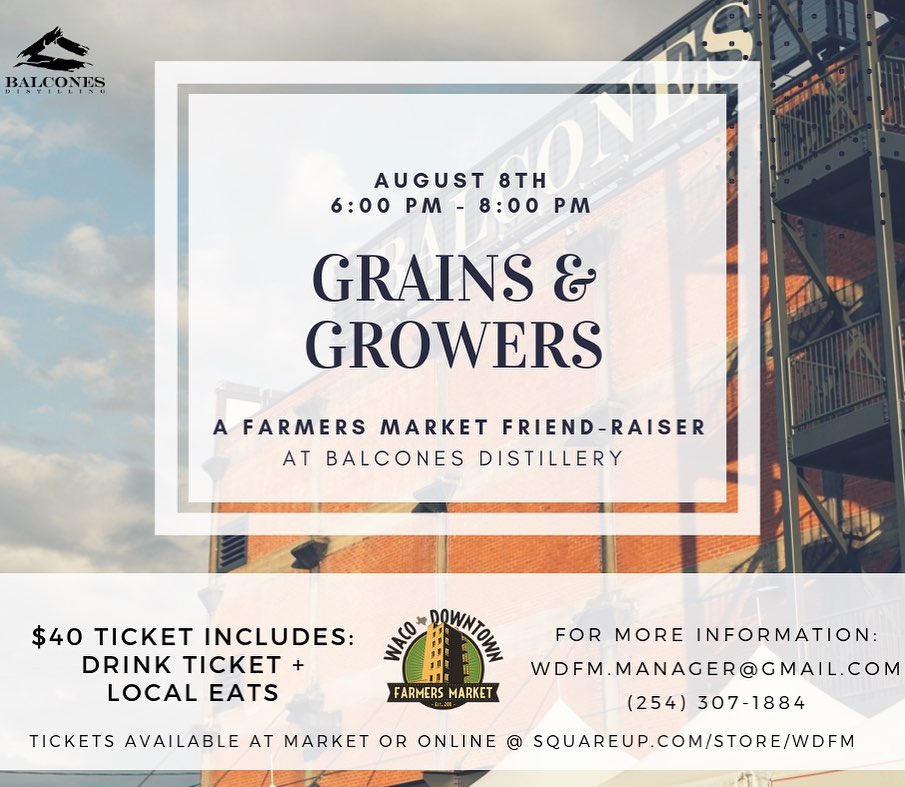 And now for the answer, you've all been waiting for – MAYBE IN TWO YEARS. MAYBE NEVER. And you know what, that's okay. We'll happily keep running the farmers market each Saturday between the corners of 5th and 6th street in the shadows of the iconic Courthouse and ALICO buildings until some magical, farm-friendly, family-friendly opportunity presents itself.

---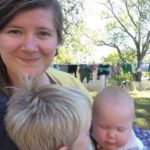 Bethel Erickson-Bruce likes to eat and grow vegetables, run around with her wild little humans – Jasper Jack and Angus Augustus, and star-gaze with her husband (and Rapoport teacher) Jonathan. She also runs the Waco Downtown Farmers Market.
The Act Locally Waco blog publishes posts with a connection to these aspirations for Waco. If you are interested in writing for the Act Locally Waco Blog, please email [email protected] for more information.