Better Living for Texans: Tackling the Fall Season by Understanding Nutrition Labels and Using USDA MyPlate Guidelines.
By Flor De La Garza
Although the Texas heat continues, summer is quickly coming to an end. While summertime may steer most of us into unusual schedules, August is the busy month when we try to get back to a daily routine and prepare for the "back-to-school" rush. Unfortunately, unhealthy eating patterns are often paired with busy schedules. When planning for the fall season, don't forget to plan for healthy food choices. Understanding nutrition labels and using the USDA "My Plate" guidelines can lead you to choose healthier meals for yourself, your children, and family!
Understanding Nutrition Labels:
As of 2016, the FDA approved a new Nutrition Facts label for packed foods. This new nutrition label aims to make it easier to make better and healthier food choices. Most large food packaging manufacturers are required to adapt their products to the new labels, but smaller manufacturers have until 2021 to fully comply with this new regulation. (See an example of the new label below.)
There are six main parts to the label: 1) serving size, 2) calories, 3) saturated fats, 4) added sugars, 5) sodium, and 6) nutrients.
The "serving size per container" tells you how many portions are included in the container. This is important because if there are supposed to be three servings per container, and you eat the whole thing – then all the nutrition facts, such as calories, triple. Paying attention to calories consumed makes a big difference whether you are trying to lose, maintain or gain weight.
The type of fat, the amount of added sugars, sodium, and the different nutrients in a serving size help you understand whether the item is healthy or not. When determining the value of these three categories, the percent daily values (%DV) can indicate if the category is low or high for the serving size. If a category has a %DV that is "5% or less" it is classified as low and if it is "20% or more" it is classified as high. Therefore, within the food consumption in one day, it is advised to not go over 100% for fats, sodium, and added sugar and it is encouraged to reach 100% of the nutrients.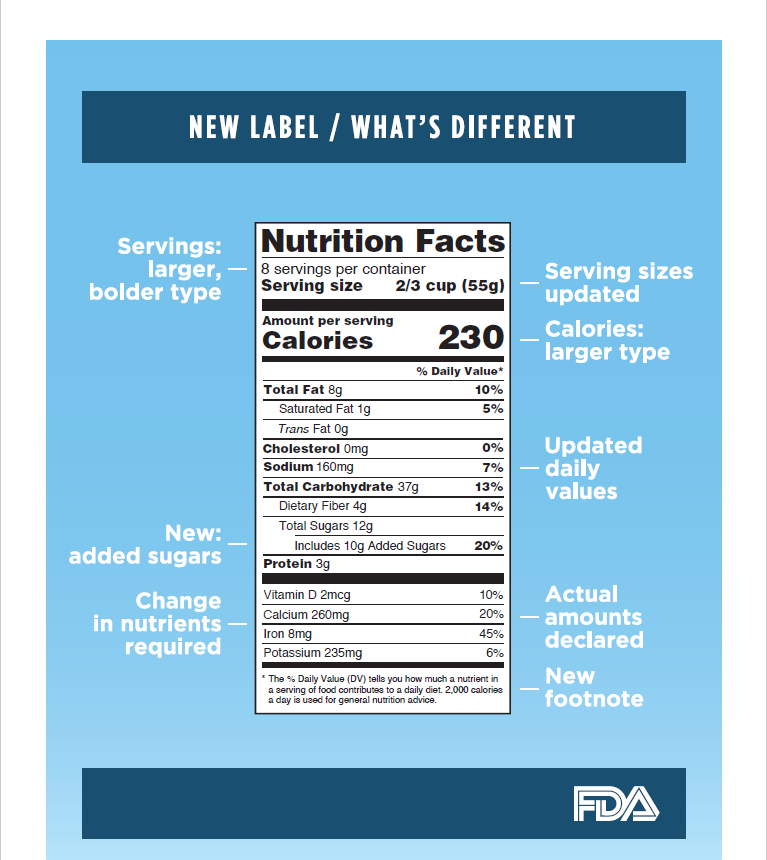 Source: https://www.fda.gov/food/food-labeling-nutrition/changes-nutrition-facts-label
Using USDA MyPlate Guidelines:
Using the MyPlate guidelines can help you make sure you are eating a healthy variety of foods. MyPlate is composed of five main food groups: fruits, vegetables, grains, protein, and dairy. Incorporating vegetables and fruits to fill up half of your plate for breakfast, lunch, and dinner can increase your vitamins and minerals intake while decreasing your caloric intake as most fruits and vegetables are low in calories. When one has a small rush of cravings between lunch and dinner time, a small piece of fruit can satisfy as a snack or dessert. As stated last month, all fresh, frozen, canned, and dried fruits and vegetables count towards your MyPlate guidelines!
When choosing your grains, choose whole grains that are listed as the first of second on the ingredients list. Oatmeal, popcorn, corn tortilla, whole-grain bread, and brown rice are a healthy alternative to incorporate in one's grain consumption. When choosing healthy alternatives for dairy, low-fat, fat-free, or non-dairy calcium-fortified products can taste just as good as regular whole-fat dairy products. Many have the perception that meat is necessary to complete a meal. However, not all meats are healthy because of the high-fat content. Opting for lean meats, such as turkey, chicken, and seafood, and plant-based protein, such as beans, peas, unsalted nuts, seeds, soy products, and eggs can complete the protein component of MyPlate.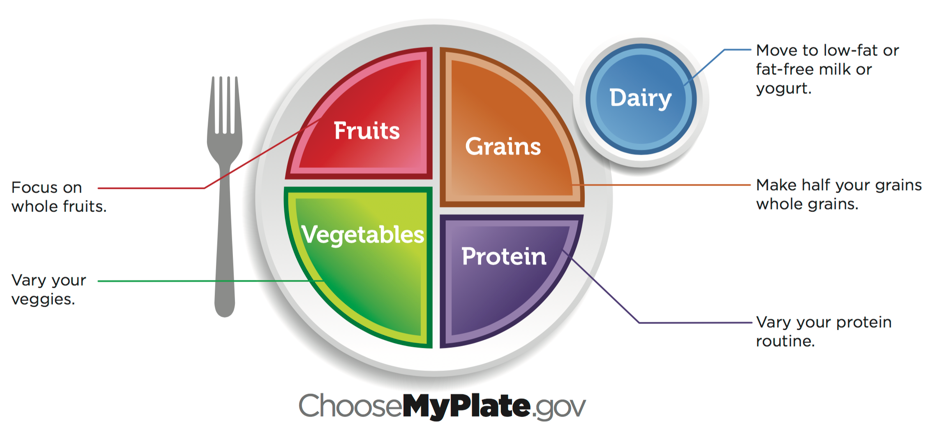 Source: https://choosemyplate-prod.azureedge.net/sites/default/files/tentips/mini_poster.pdf
---
Recipes
This month we have three easy recipes! The recipes come from the USDA – "What's Cooking?" website. Below are some easy recipes that can serve as a lunch or dinner option for you or your children. They are simple, quick, and healthy!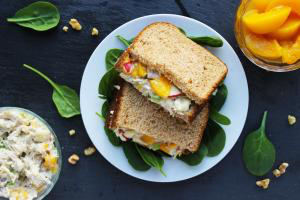 Ingredients
4 slices of whole grain bread
1/2 cup cooked chicken (diced)
1/2 cup canned peach slices (drained and diced)
1 small celery stalk
1/2 cup apples (Fuji, Gala, or Braeburn)
1 small onion
1 1/2 tablespoons mayonnaise (nonfat)
1 tablespoon chopped walnuts
Directions
Mix together the chicken, apples, peaches, celery, onions, walnuts and mayonnaise in a small bowl.
Spoon mixture onto 2 slices of the bread.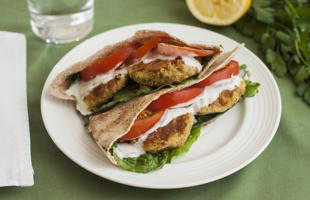 Ingredients
1 cup dry garbanzo beans (chickpeas, sorted and rinsed)
3 cups water
1/4 cup oil
1 garlic (clove, crushed)
1 onion (medium, chopped)
1/3 teaspoon parsley (1 sprig or about 1 teaspoon, chopped)
1/4 teaspoon salt
2 teaspoons lemon juice
1/3 teaspoon hot pepper sauce
1 cup plain yogurt (low-fat)
1 onion (medium, chopped)
4 Whole Wheat Pita bread (pockets)
Flour to sprinkle
tomatoes, sliced (optional)
lettuce (optional)
Directions
Put beans and water in large pot and soak by the overnight or quick-soak method.
Cook until tender, about 2 hours. Add more water if necessary. Drain.
Slowly heat oil and sauté garlic and onion until tender (5 to 7 minutes).
Mash cooked beans, sautéed vegetables, parsley, salt, lemon juice and hot pepper sauce until smooth.
With floured hands, form ovals with bean mixture (about 1/4 cup each). Roll in flour.
Fry falafel, with the remaining oil in skillet, until golden brown. Drain on paper towel.
Combine yogurt with remaining onion.
Serve falafel in pocket bread topped with yogurt.
Ingredients
1 can canned chicken (drained, about 12 ounces)
3 tablespoons mustard
2 tablespoons honey
1 cup apples (diced)
1⁄4 cup raisins
1⁄4 teaspoon black pepper
2 tablespoons parsley or cilantro (chopped, optional)
Directions
In a large bowl, combine chicken, mustard, honey, and apples. Mix well.
Sprinkle raisins and pepper on top of salad. If using parsley or cilantro, add that too.
Serve on a lettuce leaf or on a slice of homemade bread.
---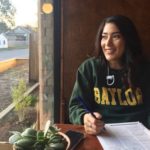 Flor De La Garza is currently pursuing a Master of Public Health degree at Baylor University. She is completing her summer practicum with Texas A&M AgriLife Extension Service in McLennan County and is working with the Better Living for Texans program. Flor is originally from Denton, TX. and has lived in Waco for about four years now. She especially enjoys learning how Waco's organizations are working together in collaborations to reach the overall goal to improve the health and quality of life of McLennan County residents! In addition, she loves Cameron Park hiking trails, the local restaurants and food trucks!
The Act Locally Waco blog publishes posts with a connection to these aspirations for Waco. If you are interested in writing for the Act Locally Waco Blog, please email [email protected] for more information.
(Visited 101 times, 1 visits today)