Back to School for College on a Budget? Don't forget Goodwill!
By Amy Hammerton
August has somehow sneaked up on us again, which means back to school season is in full swing. For college students, going back to school means lots of additional expenses. Between tuition, text books, and housing costs, it's no secret that college is expensive. With all these costs, it can be hard to find room in your budget for the fun stuff like a new wardrobe for the new semester and cute dorm decor. But don't worry because there is a solution for all your budget-conscious needs: shop at Goodwill. Thrifting is the best, most sustainable option for updating your wardrobe, decorating your dorm room, and finding just what you need to start off the school year right.
Buying secondhand at Goodwill means you can find stylish (even name brand!) clothes at a tiny fraction of what you would normally pay—perfect for the tight college budget. And Goodwill has something for every occasion. So whether you're looking for workout gear, an outfit for a night out, or that pair of comfy sweatpants you're probably going to live in come finals week, Goodwill has got you covered.
You can also find almost everything you need to deck out your dorm or apartment. Need a lamp, end table, desk, or chair? Why not check Goodwill for some of the best deals you're likely to find anywhere. You can also find wall décor and picture frames perfect for displaying all your favorite college memories. And don't forget to check the glassware section for storage options for all your desk supplies and knickknacks. Especially if you get a little creative with it, the possibilities are nearly endless.
Not only can you score great finds at even better prices when you shop at Goodwill, you can feel good about doing it. One of the best parts about shopping at Goodwill is that you know exactly where your money is going. Every penny you spend at Goodwill supports their many mission service programs. These programs help empower people through work, creating opportunities for those with disabilities or other disadvantaging conditions to develop the skills and resources they need to find sustainable employment. So when you shop at Goodwill, not only do you know you're getting good prices, you know that your money is going to support the community—a great deal all around.
---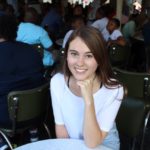 Amy Hammerton is a Baylor University Senior studying English Literature, Journalism and Graphic Design.  This summer, Amy has worked as a Heart of Texas Goodwill Marketing Intern developing social media content, creating brand collateral and promoting the mission of Goodwill through various media outlets.  In her final project, she leans on her own experience as a college student living on a budget.  In this blog series; Goodwill Goes to College, Amy shares how Goodwill can serve as a significant resource for her fellow student body to save money, get organized and be socially responsible keeping unwanted items out of the landfill through donations. 
The Act Locally Waco blog publishes posts with a connection to these aspirations for Waco. If you are interested in writing for the Act Locally Waco Blog, please email [email protected] for more information.
(Visited 117 times, 1 visits today)