MCC is a Great College to Work For. Here's why it was made official.
By Stacy Burger
McLennan Community College has received a special recognition highlighting its devotion to faculty and staff.
The Waco college of about 9,000 students was named a "2019 Great College to Work For," a designation recognizing 85 colleges and universities nationwide. MCC was one of 25 two-year institutions recognized.
MCC received special honors in two categories: teaching environment and compensation and benefits.
The Great Colleges to Work For program utilizes a two-part assessment: results of an internal faculty, administrative and support staff survey and a comprehensive questionnaire of employment data and workplace policies and practices.
The college serves a diverse community that encourages faculty and staff to go beyond the norm in the classroom.
"We would prefer, as academic leadership, that you try innovative and exciting things and take some risks, than just always do what you've been doing," said Dr. Chad Eggleston, Dean of Arts and Sciences.
To develop innovative teaching and trust inside and outside of the classroom, MCC has focused on building the relationship between faculty and staff.
"I think we have a culture that tries to have an administrative faculty and staff relationship that trusts one another," Eggleston said. "So when we're all doing that, you've got a culture of trust and a culture of collegiality. And that's part of what makes this such a great place to work."
Providing fair compensation and benefits packages to more than 850 employees was another major factor in the recognition.
The seven-member Board of Trustees and the administration has worked to bring compensation to state and regional standards. MCC was able to provide substantial increases in compensation over a three-year period, starting in the 2018-19 fiscal year.
"Every employee has specific circumstances in their life and has priorities when making employment decisions," said Dr. Stephen Benson, Vice President of Finance and Administration. "Our hope is that we offer a combination of compensation and other benefits that make us a top choice."
Benefits such as health insurance, retirement contributions, 90-minute wellness allowances per week, generous vacation time and free tuition for MCC classes have rewarded employees for the value they bring to the college's mission of increasing access to higher education.
"The health insurance coverage provided to employees is at no cost to the employee," Benson said. "We provide a generous leave plan and free tuition for employees and dependents to take courses at MCC. We also offer an excellent work environment that shows we value our employees."
As MCC continues to invest its resources in its employees and in the classroom, the college always aims to improve even more.
"We're always going to be innovative as teachers," Eggleston said. "We're going to learn as much as we possibly can on the faculty side."
---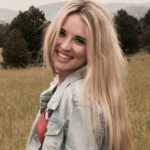 Stacy Burger is a Marketing and Communications Intern at McLennan Community College. She is a senior at Baylor University studying Marketing & Public Relations and hopes to work in sports or entertainment. As a Colorado native, she enjoys all things outdoors.