Feeding Families and Uniting Communities
By Sion Firew
As the holiday season approaches, it's wonderful to recognize the joy within one's own life through family, community and giving. It's also the perfect time to share personal blessings with others who may be less fortunate. During this week, National Hunger and Homelessness Awareness Week, there are many opportunities to give back to the community and spread light to those who may not be looking forward to the holiday season. One opportunity that has changed the lives and filled the stomachs of many for the past 30 years is the Food For Families Food Drive on Nov. 22. This one-day food drive happens all over Central Texas and gives members of different counties and communities the chance to donate non-perishable food items to their local food pantries.
The Longhorn Council, Boy Scouts of America, H.E.B. Grocery Company and KWTX News 10 sponsor Food For Families annually the week before Thanksgiving, that way food pantries throughout Central Texas have plenty of food to offer the people during the holiday. In McLennan County, Caritas of Waco helps facilitate volunteer and donation services, making sure there are enough people on Nov. 22 to help collect the food items that were donated. The staff of Caritas also prepares their warehouse to receive a large influx of donations.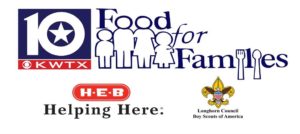 According to the KWTX website, the first Food For Families Food Drive in November 1990 collected 84,435 pounds of food. As this operation has grown over the past 30 years, Food For Families has become a collaborative effort bringing prominent organizations and businesses in Central Texas together. According to the KWTX website, in 2018 alone, 2,221,369 pounds of food were raised all over Central Texas. In McLennan county, 498,000 pounds of food were collected in 2016. This goes to show the power of community, caring and collaboration.
Buddy Edwards, the executive director of Caritas of Waco, talked about the importance of the food drive for his organization's successful community engagement.
"Food For Families is really a critical aspect for operations of several food pantries here in our area," Edwards said. "It helps us in terms of our direct assistance to people in need, [with] Waco having a very significant poverty rate, 25 to 30% of the Waco population living in poverty."
He explained how the food drive has grown significantly since he started working at Caritas 10 years ago, and how this initiative allows his organization to reach members of his community personally. Edwards also emphasized the importance of teamwork in order to make this food drive grow throughout his time with Caritas. Through the efforts of the sponsors and other organizations, they have been able to spread awareness about not only Food For Families, but also the hunger and homelessness situation that Waco faces. While it's important for the leaders of different counties and communities to support this event, it's up to the members of these communities to donate, spread the word and volunteer.
This holiday season, share a blessing with the members of your community and take part in the Food For Families Food Drive on Nov. 22. While grocery shopping, you can purchase any number of non-perishable food items (canned meats, tuna, cereal, rice, peanut butter and more) and leave them at the doors with the volunteers. Help fight food insecurity by contributing to the food drive and filling the shelves of your local food pantry. When people come together for a common cause, lives can be changed for the better.
For more information, visit: https://www.kwtx.com/content/misc/Food-For-Families-448669003.html
---
---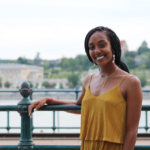 Sion Firew is a communications intern at Prosper Waco. She is a Journalism and International Studies major at Baylor. She is the president of The East African Student Association and an Ambassador for the Baylor Journalism Department.
The Act Locally Waco blog publishes posts with a connection to these aspirations for Waco. If you are interested in writing for the Act Locally Waco Blog, please email [email protected] for more information.
(Visited 71 times, 1 visits today)