Join Family Abuse Center in support of Teen Dating Violence Awareness Month
Press Release – One in three teens in the U.S. will experience physical, sexual or emotional abuse by someone they are in a relationship with before they become adults. 1 February is Teen Dating Violence Awareness Month, and Family Abuse Center has joined The National Domestic Violence Hotline and its project for young people, loveisrespect, to end teen dating abuse.
The theme for this year's campaign is "#1Thing." Pronounced "one thing" or "hashtag one thing," the campaign challenges everyone to learn one thing about dating violence and share it with a friend. Sharing one thing sparks a series of conversations that foster awareness and bring us closer to the end of teen dating violence.
Here's #1Thing to think about, "In a single year, nearly 1.5 million high school students nationwide experience physical abuse from a dating partner." 2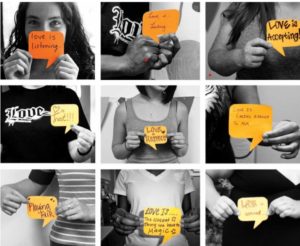 For ideas on how you can join the movement, visit loveisrespect.org/teendvmonth. There, downloadable action guides are available that contain educational material, social media resources and practical ideas for ways you can prevent teen dating abuse.
For more information about teen dating violence or inquiries for presentations and community education on teen dating violence, please email [email protected] Visit loveisrespect.org for more information about Teen Dating Violence Awareness Month.
Loveisrespect is a project of The Hotline. Its purpose is to engage, educate and empower young people to prevent and end abusive relationships. The organization provides information and support to concerned friends and family members, teachers, counselors, service providers and members of law enforcement. Free and confidential phone, live chat and texting services are available around the clock by visiting the chat at loveisrespect.org, texting "loveis" to 22522* or calling 866-331-9474.
It is the mission of Family Abuse Center to eliminate domestic violence in Central Texas by sheltering victims of domestic violence and by preventing abuse from occurring through intervention and education. If you or someone you know is at risk, please call our 24-hour hotline at 800-283-8401.
Notes:
1 Vagi, K.J., Olsen, E.O.M., Basile, K.C., & Vivolo-Kantor, A.M. (2015). Teen dating violence (physical and sexual) among US high school students: findings from the 2013 National Youth Risk Behavior Survey. JAMA Pediatrics, 169 (5), 474-482.
2 Centers for Disease Control and Prevention, "Physical Dating Violence Among High School Students—United States, 2003," Morbidity and Mortality Weekly Report, May 19, 2006, Vol. 55, No. 19.
(Visited 190 times, 1 visits today)