Best-selling Author Stephen Harrigan to Visit McLennan Community College for Conversation and Book-Signing
Press release – McLennan Community College is proud to host best-selling author Stephen Harrigan for a wideranging conversation about the vast history of Texas.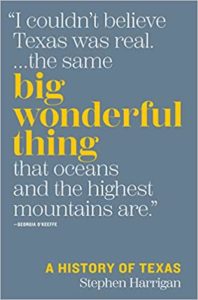 Harrigan, the author of ten books of both fiction and nonfiction, will sign copies of his latest book, "Big Wonderful Thing: A History of Texas," which will be available for purchase.
He will also answer audience questions after a public conversation event with Dr. Richard Driver, an associate professor of history of MCC.
The free event is set for 7 p.m. on Thursday, March 26 at the Conference Center at MCC. It is hosted by the McLennan Honors College, a program for MCC students taking specialized course work, exposing themselves to new educational opportunities, and participating in individual mentoring. Students in the program must apply and undergo an interview process for acceptance.
MCC President Dr. Johnette McKown and Honors College Advisor Dr. John Spano will welcome guests and introduce the speaker. Free coffee and water will be available.
"Big Wonderful Thing" has brought rave reviews for Harrigan. In a review for The Wall Street Journal, Willard Spiegelman noted that the book is "brimming with sass, intelligence, trenchant analysis, literary acumen and juicy details. . . It is popular history at its best." And Michael Schaub, in his review for NPR, wrote that "It's hard to think of another writer with as much Lone Star credibility as Stephen Harrigan. . . Harrigan, essentially, is to Texas literature what Willie Nelson is to Texas music."
He is a longtime writer for Texas Monthly, and his articles and essays have appeared in a wide range of other publications as well, including The Atlantic, Outside, The New York Times Book Review, The Wall Street Journal, Conde Nast Traveler, Audubon, Travel Holiday, Life, American History, National Geographic and Slate. He was a finalist for the 2015 National Magazine Awards for his commentary on film and television for Texas Monthly. "Off Course", a piece for Texas Monthly about a trek Harrigan made to the mountain summit where his father died in a plane crash before he was born, won the Edwin "Bud" Shrake Award from the Texas Institute of Letters in 2016 for best work of journalism.
Harrigan is also the author of "The Eye of the Mammoth," a book of essays which includes an examination of mammoth remains in Waco.
Among the many movies Harrigan has written for television are HBO's award-winning "The Last of His Tribe," starring Jon Voight and Graham Greene, and "King of Texas," a western retelling of Shakespeare's King Lear for TNT, which starred Patrick Stewart, Marcia Gay Harden, and Roy Scheider. His most recent television production was "The Colt," an adaptation of a short story by the Nobel-prize winning author Mikhail Sholokhov, which aired on The Hallmark Channel.
Event Details
What: Best-selling author Stephen Harrigan at McLennan Community College When: Thursday, March 26 at 7 p.m. Where: Conference Center at MCC. Inside the Community Services Center on campus, at 4601 N. 19th St. Waco, TX 76708
Tickets: Free tickets are available at: www.mcchonors.eventbrite.com. Tickets, which may be printed or downloaded on the Eventbrite app, must be presented at the door. Those without tickets will be admitted 5-10 minutes before the event starts.
Parking: Free parking is within walking distance of the event. Lots N, Q, P, and S are closest. Check out a campus map here.
This event is a gun-free zone, and MCC is a smoke-free, tobacco-free, and vape-free campus.
Media Contact: Lisa Elliott, Director of Marketing and Communications. 254-299-8640 [email protected]