COVID-19 Buzzwords: How physical distancing and sheltering in place can flatten the curve
By Glenn Robinson and Jim Morrison
We anticipate several new words will be added to the Oxford English Dictionary before the end of 2020, including "shelter in place" — the act of remaining safely indoors with the exception of essential activities. With the recent mandates from city and county leadership to follow this practice, many people are asking if it can really make a difference.
The answer to that question is "yes."
By sheltering in place, we can all help slow the spread of COVID-19. While it may mean adjusting to a new, inconvenient, or uncomfortable way of life, these temporary changes can make a big difference in our community and our world.
In times of uncertainty, Texans rise to the challenge.
You may be thinking, "I feel fine, so a quick beach vacation can't hurt anyone. I'm not sick." But we have now learned that people can spread this infection before they even know they're sick. Regardless of your current health or your personal level of risk, the effectiveness of shelter in place hinges on each of us doing our part to stay home.
When you do need to leave your house for essential activities, it is important to practice "physical distancing" — our second buzzword, meaning to deliberately increase the physical space between you and others (at least six feet). This applies to all people, whether you are at-risk, symptomatic, or completely healthy.
It takes a strong community of Texans to heal Texas.
Physical distancing is not easy. You may feel disconnected or isolated from your family, friends, and loved ones. But, by physical distancing, we are actually coming together as a community in a powerful way. We are uniting under a shared goal: to keep our community healthy and strong.
Our healthcare system is working tirelessly each day to care for those in need and to prepare for an influx of patients. But we need your help. We are urging you, your friends, and your loved ones to help keep the healthy healthy by staying in, keeping a safe distance between others, and washing your hands often. By doing this, you can help us "flatten the curve" — our last buzzword, which means avoiding a huge increase of sick people at the same time and, instead, spreading out the number of new cases over a longer period of time. The goal of flattening the curve is to keep hospitals from being overwhelmed and allow them to better manage their resources.
Texans stand together, even while physically apart.
Thank you for helping us protect each other and our community. Please stay home, follow proper handwashing, and check out other guidelines issued by the Centers for Disease Control and Prevention.
These are challenging times we're facing, but we are in it together!
---
Glenn Robinson, President, Baylor Scott & White Medical Center – Hillcrest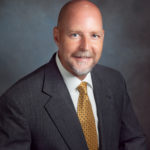 Jim Morrison, M.D., Chief Medical Officer, Baylor Scott & White Medical Center – Hillcrest
(Visited 329 times, 1 visits today)