Support is available for those living with Alzheimer's or other dementias and their caregivers
By Maggie Sanders
With the current COVID-19 Shelter-in-Place guidelines, we are all having to adjust to new ways of doing things. Working and learning at home, cooking instead of eating out and meeting digitally instead of face-to-face are just some of the ways we are coping.
For those living with Alzheimer's or other dementias or their caregivers, the new guidelines add an extra layer of stress. Already confused, our loved ones are now even more so. Unable to understand why they must stay home if they are used to going out. And they may have trouble remembering to wash their hands or to keep their distance. Those residing in facilities, most of which are on lockdown, do not know why their families are no longer visiting.
Caregivers previously benefitting from support groups or seeking information may not know where to turn. Although these groups are not meeting in person, the Alzheimer's Association provides support with call-in and virtual options. For a list of virtual support groups, visit www.alz.org/crf
Our local staff are working remotely and are available to help virtually as well. The toll-free 24/7 helpline (800) 272-3900 continues to provide information and connections to resources, and Links to online chats, resources and support groups can be found at www.alz.org. Caregivers and persons living with Alzheimer's or dementia can join message forums on a variety of subjects at www.alzconnected.org.
Take care of yourselves and your loved ones. Be safe. We will get through this.
---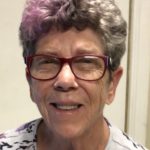 Maggie Sanders is a free-lance artist and writer. Now retired from McLennan Community College, sheo cares for her mother, Vivian Sanders, who is living with severe dementia. Maggie volunteers with the local Alzheimer's Association chapter and is a member of the Walk to End Alzheimer's committee.
(Visited 151 times, 1 visits today)